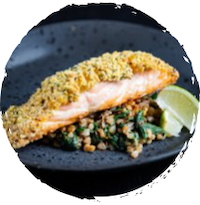 Mindful eating is more than just understanding where food is coming from — it's about how it's prepared, what goes into it, and what you get out of it.
Sustainability and lean protein are major considerations in the mindful eating space. This makes lighter, nutrient-dense dishes like salmon a natural fit as we mindfully step into spring.
Corporate Chef Jaime Mestan details how this baked salmon, crusted with Griffith Foods' Ancient Grains Creative Coaters, is designed to be full of nutritional benefits and approachable for any sector or palate.
Easy on the Planet.
Sustainably-farmed salmon stars in this dish, bringing high counts of lean protein and omega-3s to the table. The Creative Coater's black pepper and herbs are harvested through the Griffith Sustainably Sourced program, ensuring higher yields, improving the wellbeing of farmers, and enabling traceability from farm to table.
Easy to Eat.
Griffith Foods' Ancient Grains Creative Coater breading system offers what we like to call "stealth health" benefits. Made from quinoa, amaranth, turmeric, and other sustainably-sourced herbs and spices, the Creative Coater offers extra protein and fiber to the dish. Additionally, it's a no-fry batter — you get a flaky filet that's crispy and crunchy on the outside without the fat or grease from frying.
By nature, sustainably farmed salmon takes on a bright color and mild taste. The universally-appealing flavors of garlic and herbs in the Creative Coater make the dish extremely approachable. Pair its versatile flavor profile with dark, leafy greens or a grain salad to take the dish in any direction.
Easy on the Eyes.
Its visual appeal is heightened by the unique definition found in the whole grains. A touch of turmeric adds a rich, golden color to the crust, giving this non-traditional, baked, or broiled coating system the traditional look of deep-fried foods.
"It's different. When thinking about breading and coating systems, I think about breadcrumbs. There are a few different ways that breadcrumbs or batter can look. The Creative Coater brings a whole new landscape to your eyes, looking at all those little nooks and crannies and seeing the rings from the quinoa, little tiny yellow amaranth, and flecks of flax. It's very pretty."
Easy to Prepare.
It's also straightforward to prepare, requiring just two steps compared to the traditional three-step process of battering and deep-frying. The fish filet is dipped in an egg wash or a Griffith Foods just-add-water batter before being topped with the Ancient Grains Creative Coater. Then, it's baked or broiled until the coating technology crisps and turns a beautiful golden color.
Get Creative with Griffith Foods Creative Coaters
The Ancient Grains Creative Coater is extremely versatile. While standard meats like chicken are always a hit coated in crumbs, alternative proteins and vegetables are compatible. No matter the substrate, the Creative Coater technology is:
Designed to mimic the crispness, crunchiness, and color associated with deep-frying.
Made for baking or broiling, eliminating the need for additional equipment or frying oil.
Freeze/thaw stable, so it can stand up to being thawed or cooked from frozen without flavor, texture, or appearance degradation.
Available in a variety of packaging specific to your sector. Get Creative Coates in large totes suitable for mass production of fresh or frozen proteins or small, resealable pouches that can maintain freshness and reduce back-of-house waste in restaurant settings.
Gluten- and allergen-free so it can be used in any production plant or restaurant without risk of contamination.
If you're interested in seeing how our Creative Coaters products can enhance your offerings and fit into your operations, we're here to help you start creating better together.
Let's Create Better Together
We're here to help inspire creations that keep your product portfolio on trend. Contact your Griffith Foods representative or reach out to our sales team to learn more about our ongoing research and innovative offerings.