Consumers are increasingly mindful of what they put into their bodies. Many make a conscious effort to nourish their bodies and minds with nutrient-rich ingredients and whole foods.
92% of US consumers consider both emotional/mental health and physical health important to creating an overall sense of well-being.
(Source: Datassential 2022 Trends Report)
From increased vitamins and collagen-rich proteins to reduced sodium intake, consumers are more intentional about making holistic choices regarding nutrition.
Healthy Eating Trends — Superfood is the Word
Functional foods are no fad. With 30% four-year menu growth, superfoods earn major points for their role in supporting gut health, mental wellness, and immunity. (Source: Datassential MenuTrends)
59% of consumers in Mexico agree that "immunity-boosting" is a key driver ingredient that influences their purchasing decision. (Source: GlobalData Consumer Survey Mexico Q1 2021)
33% of Canadian consumers and 36% of US consumers claim that "strengthening my immune system" is a top health priority. (Source: Mintel Global Consumer Survey – 2021 The Holistic Consumer)
Let the Label Do the Talking
Packaging and labels may speak louder than ever as consumers actively seek out these additional health benefits. Short ingredient lists containing items like kale, matcha, bone broth, mushrooms, and other adaptogens appeal to consumers. Direct health claims are clear indicators that products and menu items may align with their health and nutrition goals.
88% of US grocery shoppers say clear nutritional information is important on food packaging. (Source: Mintel Food Packaging Trends US 2021)
88% of consumers in Mexico consider "rich in vitamins" to be an appealing claim. (Source: GlobalData Consumer Survey – Mexico 2021 Q1)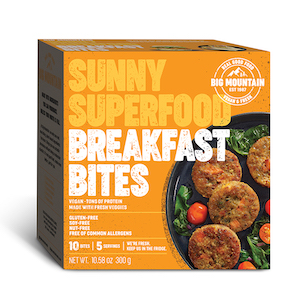 37% of consumers in Canada buy packaged food or drink with "superfood" on the label at least occasionally.
(Source: GlobalData Consumer Survey Canada Q2 2021)
Photo from Big Mountain Foods
Holistic Foods Start with Whole Ingredients
With a heightened focus on holistic dining and ingredient integrity, consumers want transparency in where their food comes from (and where it's been along the way).
In Canada, 52% of consumers say they consider "free of artificial ingredients" an important food claim, and 50% consider "locally produced" important.
(Source: Mintel The Natural/Organic Shopper – Canada 2021)
Whole foods are minimally processed and packed with nutrients. Chefs can replace highly-processed starches with whole food options like sweet potatoes, brown rice, kamut, quinoa, and wheat or rye berries to cater to the more health-conscious consumer.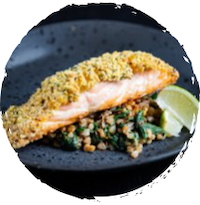 Ancient Grains Top Crusted Salmon: Replace traditional breading with Griffith Foods Herb & Garlic Ancient Grains Coating System for a whole-grain option with the added benefits of fiber, vitamins, minerals, and healthy fats.
Saying So Long to Sodium
Any foodservice provider with a role in the "chicken wars" knows that sodium is a real concern for many consumers. With links to high blood pressure, heart problems, and other health concerns, there's a wariness surrounding foods with high levels of sodium:
79% of consumers in Canada find a "low salt" claim appealing (Source: GlobalData Consumer Survey – Canada, Q3 2021)
48% of consumers in Mexico do not want their favorite brands to carry the "excess sodium" stamp (Griffith Foods Online Survey – Mexico 2021)
From crispy chicken to savory snacks, our Sodium Flex solution is designed to reduce sodium yet maintain quality, enhance flavor, and maximize flavor profiles. For products that can't afford to lose the flavor or preservative benefits provided by sodium, Sodium Flex may be the solution to a more mindful offering.
Let's Create Mindful Meals, Healthy Snacks, and Better Together
We're here to help inspire creations that keep your product portfolio on trend. Contact your Griffith Foods representative or reach out to our sales team to learn more about our ongoing research, innovative offerings, or Sodium Flex solution.