There's no doubt that what's considered "healthy" today is less defined by slimmer physiques and driven more by functional health — or the desire to nourish the body as a whole. From increasing the body's ability to fight illness to reducing cortisol and oxidative stress, this means not just looking healthier, but promoting mental and physical wellness from the inside out.
Here are some of the top functional benefits and nutrient-dense foods we're seeing in online conversations that are also at the heart of our nourishing cuisine trend.
Immune-boosting Foods and Powders
With a pandemic that raised health concerns globally, consumers have increasingly sought out natural and holistic ways to improve immunity and fight off viruses and illnesses.
Enter moringa — a century-old green plant primarily from India and touted by consumers online for its breadth of micronutrients and health benefits:
"Did you know one of the best moringa benefits is its super immune-boosting powers. Maintaining a healthy immune system is essential for helping our bodies stave off infections and illnesses."
"According to moringa advocate and supplier Kuli Kuli, moringa beats matcha in the nutritional stakes with a far bigger nutrient output of fiber, protein, calcium, iron, vitamin A, vitamin C, and vitamin E. In terms of efficiency, moringa also appears to triumph, requiring less investment to cultivate and prepare, and lending itself to a far wider range of uses than the prestigious powdered green tea."
Powdered products like Kuli Kuli's Organic Pure Moringa Powder seem to be most popular and versatile. Thanks to its immune-boosting properties, consumers have been sharing various ways to incorporate this nutrient-dense food into their diets:
Beverages (significant appearance in both English and Spanish online conversations)
Smoothies
Breads
Indian dishes
Guacamole
Porridge/oatmeal
Stir fry
Salads/dressings
Stir Fry Made From Thai Brown Rice Noodles and Moringa Powder
Sourdough Bread Made with Veggies and Moringa Powder
While moringa is certainly shining bright in online conversations, it's not alone. Other popular immune-boosting remedies include fire cider, mushrooms, ginger, and sweetening beef and seafood dishes up with agave nectar.
"Jumping on the fire cider bandwagon…Some people choose to take 1-2 Tbs each day during flu season as a preventative measure. Otherwise at the onset of a cold it can be taken a couple of times a day, even as a shot."
"Eat your way to a better immune system. This impromptu stir fry of asparagus, a great prebiotic, shiitake mushrooms, a powerful immune booster, tempeh, a wonderful source of protein and probiotics, along with garlic and ginger which are anti-inflammatory and anti microbial is a great way to boost your immune system keep your gut healthy."
Anxiety-fighting Adaptogens: Protecting the Body from Stress
Consumers are turning to food as medicine as they look for natural ways to ease stress and anxiety. Herbs known as adaptogens were peaking in both English and Spanish online conversations late last year. Rooted in ancient ayurvedic practices, these herbs help protect the body from stress by promoting homeostasis whenever stress hormones (such as cortisol) are triggered — leading to more relaxed bodies and minds.
Popular methods for consuming adaptogens such as maca and ashwagandha include sauces and dressings. Consumers are also turning to sweeter fixes like waffles and açaí to mask the taste while still gaining the stress-reducing benefit.
Adaptogenic Ginger, Maca and Miso Dressing
Ashwagandha and Banana Adaptogen Waffles
Although the adaptogenic trend may still be relatively new, adaptogen mentions have had significant volume in both English and Spanish conversations online. This points to a larger movement toward foods that not only fill you up, but also help your body adapt and react to the stress around it. Other calming adaptogens to be on the lookout for include ginseng, matcha, and moringa.
Foods that Fight Inflammation
Chronic inflammation can occur when the body has too much oxidative stress, or too many free radicals, and is often tied to long-term illness. Certain foods and spices contain antioxidants that bind to free radicals and reduce the amount of oxidative stress in the body, ultimately reducing inflammation and risk of chronic disease. Conversations surrounding turmeric rose last year as consumers applauded its anti-inflammatory benefits and sought more creative ways to sneak it into snacks and meals.
"For an anti-inflammatory boost I used @apothekaryco follow your gut blend which has turmeric, black pepper, and cayenne for the perfect kick as well as extra black pepper and salt for flavor. Black pepper helps the body to absorb turmeric more effectively, so be sure to pair those together."
"These are my fave chickpea recipes…Turmeric Hummus."
Even tortilla chips seasoned with turmeric have received significant love online. Other products frequently mentioned for helping reduce inflammation include pomegranate. Consumers on social media are touting its ability to improve digestion and suggesting it may be beneficial for treating inflammatory bowel diseases. Blue algae, which is said to help stimulate bacteria in the gut and reduce risk of colon cancer, is also mentioned frequently in digital conversations.
Whole-roasted Eggplant with Tahini Dressing, Fresh Herbs and Pomegranate Seeds
Blue Algae Powder Provides Antioxidants and Vitamin B12 for Fighting Inflammation
Griffith's Holistic Heroes
Griffith's nourishing cuisine trend is where flavor meets function. We're continually tuning in to consumer conversations to find out what people are seeking and how we can provide it through nutritional foods. Our chefs combined their culinary expertise with consumer insights to create these feel-good foods that are high in functional benefits without sacrificing flavor: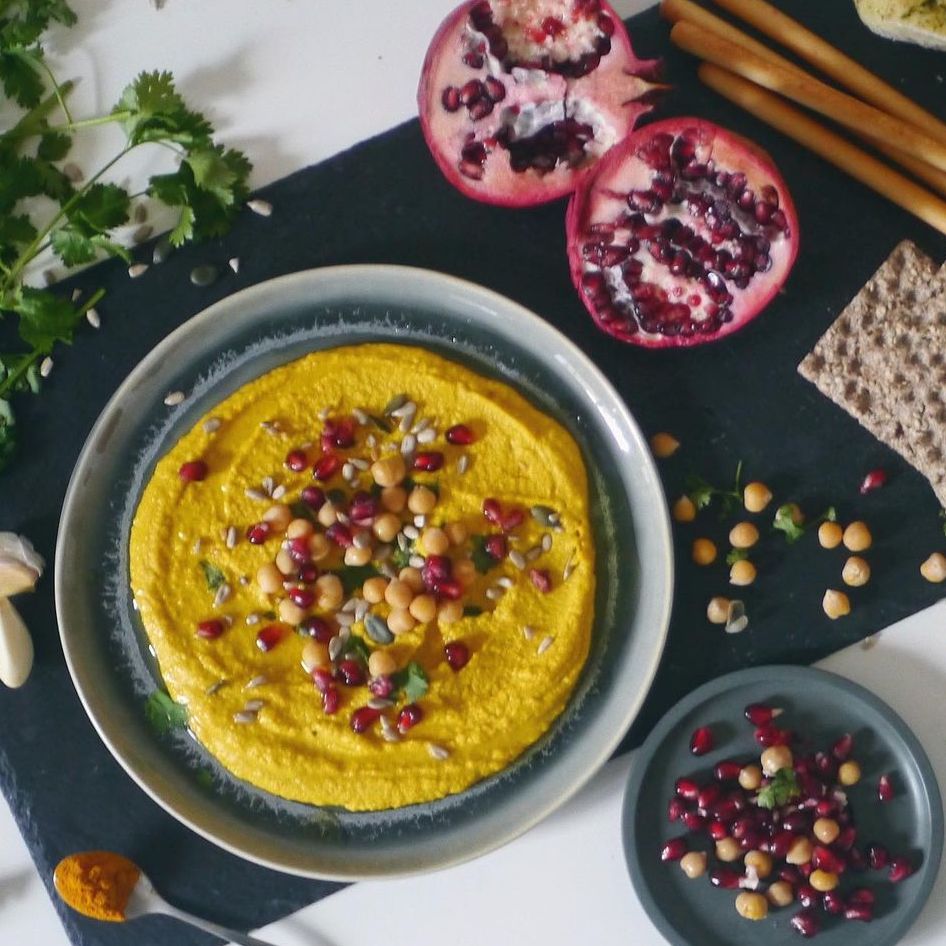 Ginger and Turmeric Moringa Hummus (US)
A feel-good, immune-boosting ginger, turmeric and moringa blend can be mixed with chickpeas, tahini and olive oil for a tasty dip. This hummus creates an easy-to-prepare shareable dish that is full of antioxidants and energy-boosting vitamins, rich on protein and low in fat.
Featured Griffith Foods Products
Ginger, Turmeric and Moringa Spice Blend
"SuperGreen" Goddess Cauliflower Steak (Canada)
This low carb, high-flavor dish is finished with a Green Goddess Flavour Glaze with the added benefit of moringa powder. This glaze could be used in food service or retail to add value to protein or veggies.
Featured Griffith Foods Product:
SuperGreen Goddess Flavour Glaze
Golden Milkshake (Mexico)
This vanilla milkshake is made with a delicious golden syrup topping. Thanks to turmeric, black pepper, and ginger, this sweet treat is anti-inflammatory and improves memory retention.
Featured Griffith Foods Product:
Golden Syrup Topping (Made with Turmeric, Vanilla, Black Pepper, Cinnamon Powder and Ginger)
Griffith prioritizes staying up-to-date on industry trends and conducting consumer research to help you ensure you're meeting consumers' needs. Our nourishing cuisine trend is grounded in consumers' desires to lead healthier lifestyles so they can physically and mentally feel their best—all through a natural and holistic approach. To learn more about our trends or how to create better together with us, reach out to your Griffith account rep or contact our sales team.