Spotlight on the Evolving Sweet Tooth
The world's collective sweet tooth isn't going away, but it is evolving and maturing. As food labels become more transparent, consumers are seeking out products and dishes made with less sugar, and they're becoming more discerning about the source of sweetness. Restaurants and manufacturers can capitalize on the trend toward ditching refined sugar, high-fructose corn syrup and artificial sweeteners by incorporating all-natural alternatives on menus and in products. Ingredients such as pure maple syrup, sorghum, agave nectar, coconut sugar, honey, malted barley extracts and 100% fruit juice add subtle sweetness and depth of flavor while also boasting lower glycemic index values than processed sugars.
Industry Insights

Featured Concepts and Products
Discover the nuanced, complex flavor profiles that alternative sweeteners can provide with these on-trend ideas featuring customized Griffith Foods products. Please contact your Griffith Foods sales representative to request samples of any of these products.
Maple Bulgogi Glazed Duck with Kimchi-roasted Turnips and Pears
Our Maple Bulgogi Glazed Duck with Kimchi-roasted Turnips and Pears video demonstrates a unique pairing of savory Korean flavors with the sweetness of honey, with recipes featuring Griffith Foods Bulgogi and Kimchi seasonings.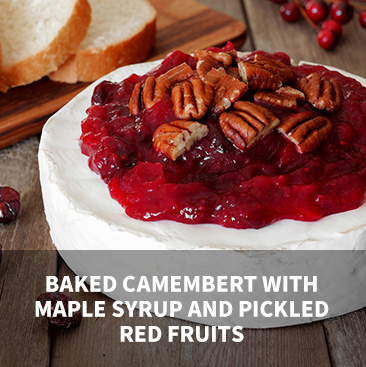 Baked Camembert with Maple Syrup and Pickled Red Fruits
Camembert cheese seasoned with garlic, onion, parsley and rosemary, drizzled with olive oil and baked until smooth and creamy in the center. Accompanied by a red fruit sauce enhanced with notes of vinegar and maple syrup; served with toasted pecans.
Featured Griffith Seasoning, Sauce and Syrup
Griffith Foods Italian Seasoning
Griffith Foods Red Fruits Sauce
Griffith Foods Maple Syrup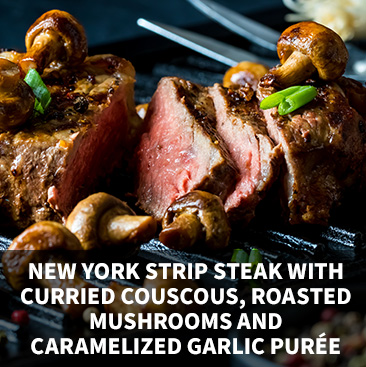 New York Strip Steak with Curried Couscous, Roasted Mushrooms and Caramelized Garlic Purée
A New York strip steak rubbed with a flavorful spice blend of turmeric, cinnamon and paprika. Grilled, sliced and served over Italian-style couscous with balsamic and agave-glazed roasted mushrooms, dressed with caramelized garlic purée.
Featured Griffith Blend, Seasonings, Glaze and Syrup
Griffith Foods Middle Eastern Blend Seasoning
Griffith Foods Toscano Seasoning
Griffith Foods Roasted Garlic Seasoning
Griffith Foods Balsamic Glaze
Griffith Foods Agave Syrup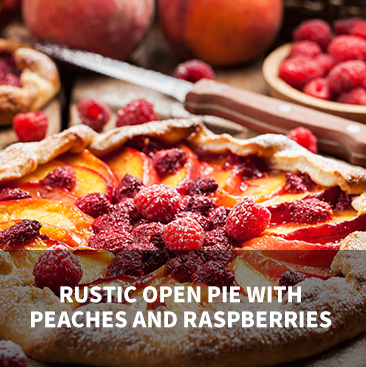 Rustic Open Pie with Peaches and Raspberries
A crispy tart shell seasoned with cinnamon, orange and ginger, brushed with a thin layer of hazelnut glaze and filled with sliced peaches and raspberries. Served piping hot with a drizzle of spiced honey.
Featured Griffith Blend, Glaze and Honey
Griffith Foods All Purpose Breakfast Blend
Griffith Foods Hazelnut Flavor Glaze
Griffith Foods Spiced Honey
Coaxing Intrinsic Sweetness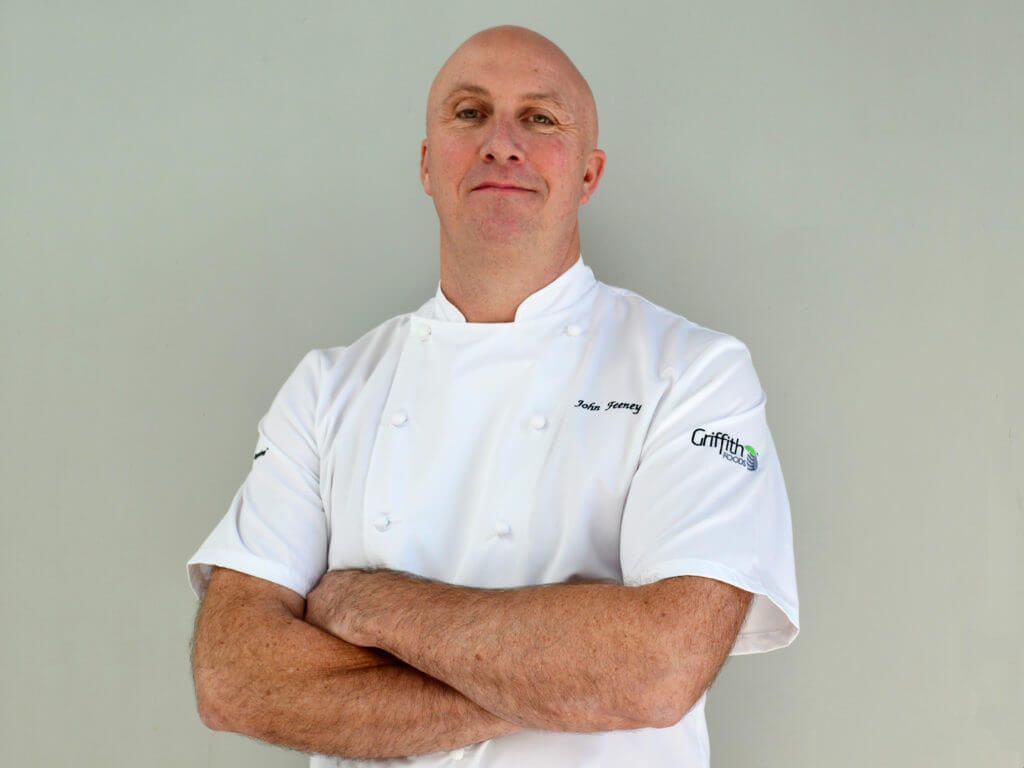 Chef Blog
Chef John Feeney discusses the need for balance when it comes to sweet, salty, spicy and acidic flavors—and how thoughtful preparation techniques can bring out the intrinsic sweetness of fruits, vegetables and grains. Learn how natural syrups, tree sugars and other sweeteners can be used in foodservice and processing in his culinary blog. View blog post.