Nourishing Cuisine
No longer driven exclusively by fad diets, today's global consumers are taking a more holistic approach to health and wellness through nourishing ingredients. The ever-changing definition of "healthy" incorporates a combination of flavor, nutrition and potential functional benefits across dayparts and product categories.
In the US, where consumers are looking for foods that promote a healthy microbiome, items like sorghum puffs and probiotic-rich kimchi are making their way onto retail shelves. Consumers in the UK are interested in functional snack bars with mental health benefits, with varieties that blend nutrients with nootropics and CBD to help improve memory, creativity and relaxation.
In light of the pandemic, consumers around the world are making changes to their dining habits as they focus on improving their overall well-being. For example, the majority of adults in Saudi Arabia say that they are now regularly including immune-boosting foods like fresh fruit and zinc-rich foods in their diets. In Chile, innovative products are coming to market such as cochayuyo (seaweed) burgers, which are low in fat and calories, and high in fiber, vitamins, minerals and omega-3 fatty acids.
As consumers continue seeking a sense of comfort, they turn to traditional dishes with a functional advantage. Foods with positive nutritional attributes are a great way to capitalize on this consumer demand across foodservice segments and retail outlets alike.
---
Join Chef Valeria for a walk through her local farm! She's sharing her favorite nourishing ingredients and thoughts on the role culinary professionals play as providers of simple, yet healthful cuisine to their customers.
---
---
---
QSR/FOODSERVICE:

Operators are offering more opportunities for dietary/health customizations and nutritious options that still deliver on taste.
PROTEIN PROCESSORS:

Protein drives health associations, but consumers will expect additional functional or natural benefits to meet their holistic needs.
SNACKING:

Snack are a great platform for providing either emotional or nutritional "pick-me-ups" with functional benefits, probiotics and immunity-boosting properties.
Culinary Inspiration
Get inspired by these on-trend concepts to create innovative offerings using Griffith Foods products. To learn how this trend can be customized to your product portfolio, please contact your Griffith Foods representative or get in touch with us.
Plant-based Dishes from Our US Chefs
Ginger & Turmeric Moringa Hummus
A feel-good, immune-boosting ginger, turmeric and moringa blend can be mixed with chickpeas, tahini and olive oil for a tasty dip. This hummus creates an easy-to-prepare shareable dish that is full of antioxidants and energy-boosting vitamins, rich on protein and low in fat.
Featured Griffith Foods Product:
Ginger, Turmeric and Moringa Spice Blend
Pumpkin Seed Crusted Tofu with Honey Ginger Turmeric Glaze
We coat tofu with a mix of pumpkin seeds and whole grains for a satisfying crunch. This crusted tofu balances sweetness, spice and flavor with a turmeric glaze.
Featured Griffith Foods Products:
Pumpkin Seed & Whole Grain Coater
Honey-Sweetened Ginger and Turmeric Instant Glaze
Monday Morning Maca
Start the week off right with a warm latte frothed with maca, almond milk and vanilla. A touch of agave adds the right amount of sweetness.
Honey-Turmeric Pork Chops with Roasted Beet and Carrot Salad
Honey and turmeric glaze adds flavor juiciness to roasted pork chops. Serve with a roasted beet and carrot salad packed with plenty of immune-boosting herbs for a complete meal.
Featured Griffith Foods Product:
Plant-based Dishes from Our Mexico Chefs
Golden Milkshake
This vanilla milkshake is made with a delicious golden syrup topping. Thanks to turmeric, black pepper, and ginger, this sweet treat is anti-inflammatory and improves memory retention.
Featured Griffith Foods Product:
Golden Syrup Topping (Turmeric, Vanilla, Black Pepper, Cinnamon Powder and Ginger)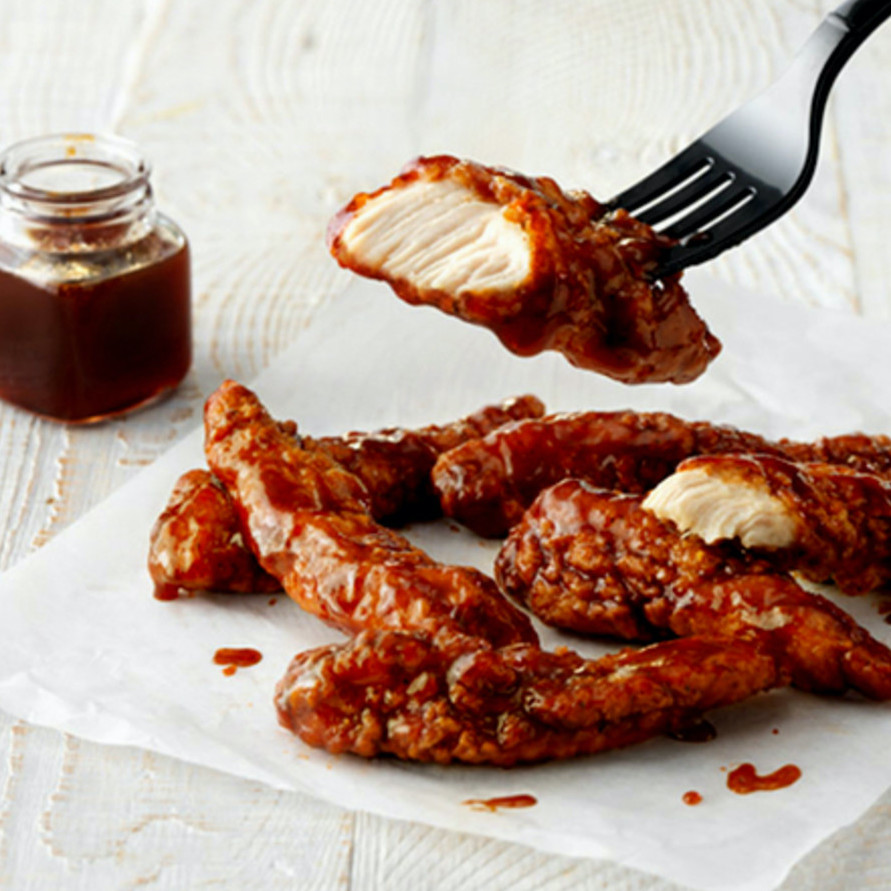 Berry BBQ Chicken Tenders
Chicken tenders are seasoned with sodium-free meat rub and topped with Berry BBQ. Berries contribute more than just sweetness — they contain antioxidants that promote weight loss and boost energy.
Featured Griffith Foods Products:
Berry BBQ Sauce made with Pomegranate, Acai and Berries
Sodium-Free Meat Seasoning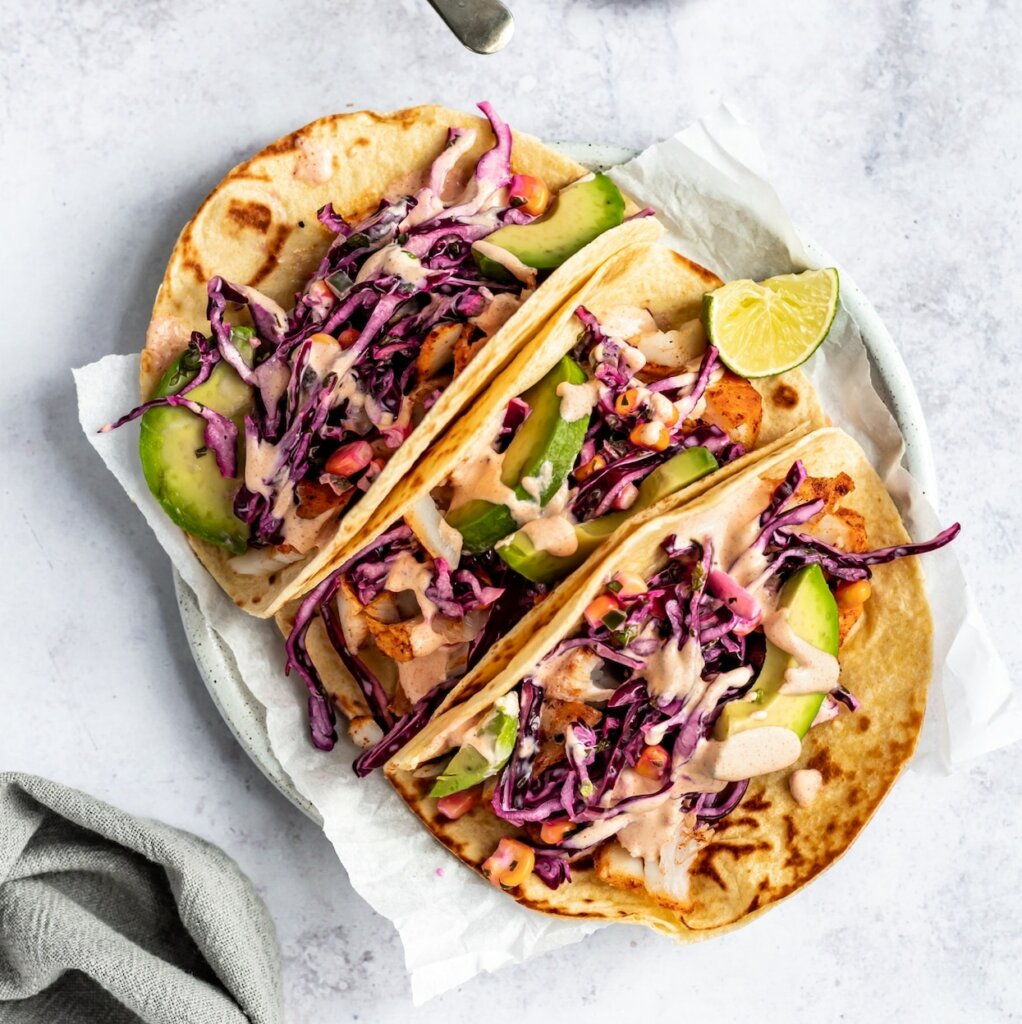 Fish Tacos with Cauliflower Tortillas
Cauliflower flour tortillas are stuffed with sodium-free seasoned fish strips, topped with cabbage and carrot salad and dressed with yogurt. This meal is rich in vitamins & fiber and reduces cancer risk.
Featured Griffith Foods Products:
Cauliflower Flour
Sodium-Free Seafood Seasoning for Fish and Shellfish
Plant-based Dishes from Our Canada Chefs
Black Garlic & Ginger Taiwanese Beef Noodle Soup
Inspired by Taiwanese beef noodle soup, this recipe leverages ingredients high in antioxidants like black garlic, ginger and brown spices.
Featured Griffith Foods Product:
Black Garlic Taiwanese Soup Cook-In-Bag Seasoning
"SuperGreen" Goddess Cauliflower Steak
This low carb, high-flavor dish is finished with a Green Goddess Flavour Glaze with the added benefit of moringa powder. This glaze could be used in food service or retail to add value to protein or veggies.
Featured Griffith Foods Products:
SuperGreen Goddess Flavour Glaze
Chocolate, Turmeric & Black Pepper Latte
This "hot chocolate" has been fortified with health-focused and sustainable ingredients like turmeric, black pepper, moringa powder and green banana powder. Just add this blend to your favorite milk and enjoy hot or cold.
Featured Griffith Foods Products:
Chocolate Turmeric Latte Mix
TEROVA™ is part of the Griffith Foods family of companies, working with farmers around the world to implement certified, sustainable cultivation programs across a range of spices, herbs, horticultural crops and botanicals—including lavender, elderberry, oregano, sage and more.
Kuli Kuli is our strategic partner, a mission-driven company pioneering the sustainable and healthy ingredient moringa. Known as the "Tree of Life" in ancient cultures, the moringa tree grows abundantly in the tropical regions of Asia, Africa, and Latin America. Its leaves have a green, matcha-like flavor that adds a healthful, mild burst of green to smoothies, savory dishes, sauces and more.
---
Culinary Perspective
In the latest episode of "The Blend by Griffith Foods," Chef Christopher Tanner, Corporate Executive Chef for Griffith Foods US, and Chef Martha Sanchez, Executive Chef for Griffith Foods Mexico, shares tips for incorporating their favorite nutrient-dense ingredients into culinary applications, along with advice for developing nutritionally sound products that appeal to health-conscious consumers.
Sources:
Mintel, 2021 FlavorIQ® Global Trends and Insights Report, January 2021