Like it or not, being on top of the delivery game can't come as a second thought for foodservice providers anymore. Between the effects of the Covid-19 pandemic and the growing third-party delivery sector, consumers are accustomed to having convenient options at their fingertips. Staying competitive in the quick-service space often comes down to being able to meet consumers' takeout expectations: in-house restaurant quality they can enjoy within the comfort of their own homes.
The challenge — instead of that food traveling from kitchen to table, the extra travel time between restaurants and consumers' homes introduces opportunities for it to deteriorate in quality, taste, and temperature. Here are three ways quick-service providers can maintain restaurant quality throughout delivery and enhance the experiences they bring to consumers' doors.
1. Use the Right Coatings to Maintain Texture
One of the biggest complaints that restaurants face when it comes to delivery is the food's texture and quality — particularly fried and indulgent items. These items are infamous for their inability to maintain crispiness, deterring consumers from ordering some of their takeout favorites.
"Many (items) tend to be not as hot and also a little soggy."
"I avoid anything fried."
"French fries are too soggy for takeout."
Given that such indulgent foods (think: french fries, wings, and, of course, pizza) are prevalent on many menus, finding a way to extend their delivery lives is non-negotiable. Through carefully selected ingredients and controlled processes, Griffith developed its Creative Coaters™ solution: a crumb structure designed to continuously release moisture and keep food significantly crispier than traditional coating systems. It's ideal for full fry, rapid cook, and combi oven applications, includes a Gluten-Free option, and keeps tricky items like fish fresh — even after four hours of holding. (Not that your food ever has to sit that long, but we like to account for the worst case!)
Food for Thought: Alternative Coatings Add New Life to Fried Options
Online conversations suggest even more opportunities to get creative with your crunch. As consumers continue to seek alternatives that accommodate various diets, we've seen them experiment with ingredients like cassava flour, pretzels, and other low-calorie chips to create crunchy breading alternatives:
2. Preserve and Embellish Flavor with a Glaze
If texture's the bread, flavor's the butter when it comes to successfully delivering quality food to customers' homes. It's important for foods to taste just as consumers would expect them to in a restaurant, or else you run the risk of losing them to competition.
Griffith's insights team found that 69% of consumers in the US and 79% in Canada agreed with the following statement: "If I'm unsatisfied with a delivered/picked-up food item, I'm less likely to order from that restaurant again."
Delivering flavor is essential to keeping consumers satisfied. From foodservice applications to retail home meal replacement, Griffith's Flavour Glaze solution is particularly effective at providing lasting, bold new flavors and enhancing existing ones. Whether adding saucy taste to proteins, seasoning french fries, or enhancing pizza crust flavor, a little goes a long way. The proprietary, oil-based technology only requires about a third of what you would use of a traditional water-based counterpart and is designed to prevent sogginess, keeping foods crisp and crunchy from the kitchen to the couch. Flavour Glaze can be used on top of a Creative Coaters™ solution for enhanced flavor and crispiness that lasts up to four hours.
A combination of Griffith Foods' Creative Coaters™ and Flavour Glaze solutions adds shine, flavor and a saucy taste to chicken wings, while maintaining crispy texture.
Griffith Foods' Flavour Glaze can be brushed on the edges of pizza crust to add long-lasting flavor and texture or used as a lighter alternative to traditional pizza sauce.
Food for Thought: Sweet and Spicy, Flavor Favorites
Sweet and spicy mentions in digital channels were elevated at the end of last year for all proteins — especially fried chicken (a 970% increase in share of conversation compared to the previous year). Popular flavor enhancements included drizzling hot honey over fried chicken patties, balancing the salty flavor with a sweet heat finish.
3. Don't Skimp on Packaging
The package that food arrives in speaks to both the food quality and the brand as a whole. Consumers notice whether packaging is unique and functional, or simply enabling food to go from point A to point B.
"If I order fried seafood, I'm always there before it's ready and I immediately open the container, so it doesn't steam on the way home… I'll never understand so many fried food restaurants that serve to go who do not have containers with the vents in them or just don't open the vents if they are there."
Research shows that consumers also want packaging that is re-sealable, microwaveable, and oven-safe. Highlighting right on the package how to use it now and later is another way to add value to a customer's at-home dining experience.
Food for Thought: Make the Packaging Work for Your Brand
To-go packaging materials and messaging are great opportunities to resonate with consumers by showing a commitment to sustainability. Eco-friendly options and sharing company sustainability initiatives are becoming more common as restaurants in the industry look to reduce their environmental impacts. (Bonus points if the food inside the packaging is sustainably sourced as well!)
Griffith Solutions Deliver Quality, Texture, and Flavor
Griffith's "How Convenient" trend focuses on using technology, packing solutions, insights, and better ingredients to enhance the delivery experience. You can see it in action with some of our featured concepts: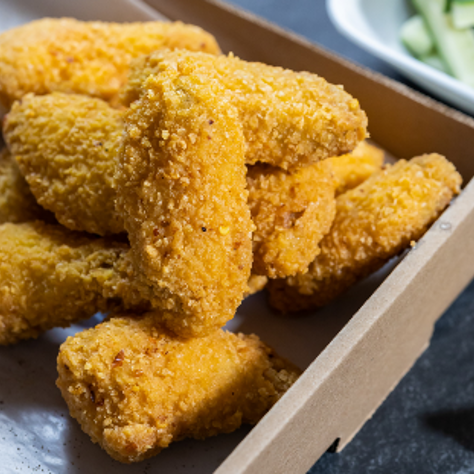 Delivery-Friendly, Spicy Yuzu Chicken Wings
Crispy breaded chicken wings finished and "sauced" with an aromatic spicy chili and yuzu Flavour Glaze. These wings stay crispy for an extended time in delivery containers even when glazed.
Featured Griffith Foods Products:
Creative Coaters™ Predust
Creative Coaters™ Batter
Creative Coaters™ Coater
Spicy Yuzu Flavour Glaze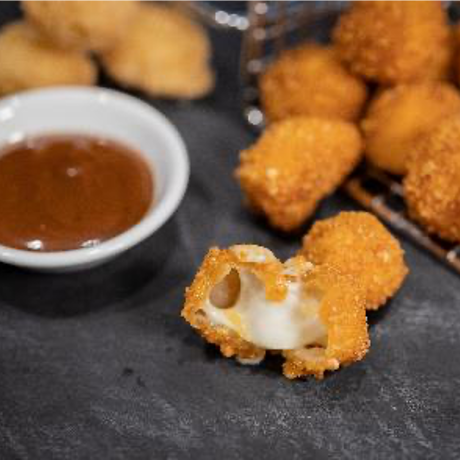 "Gravy" Glazed Crispy Poutine Bites
White cheese curds are coated in a crispy potato flake coater and finished with our Gravy Flavour Glaze. The bite-sized treats are a convenient, delivery-friendly way to enjoy the poutine experience as a side or an appetizer — without any of the soggy texture.
Featured Griffith Foods Products:
Creative Coaters™ Predust
Creative Coaters™ Batter
Potato Flake Coater
Gravy Flavour Glaze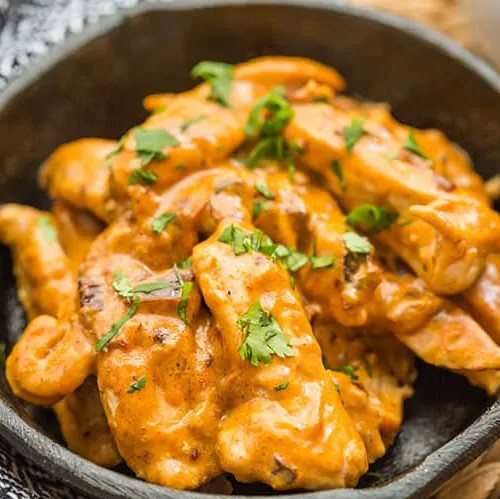 Smoky Chipotle Chicken Fajitas
Chicken strips are marinated in Griffith Foods' Smoky Chipotle Flavour Glaze. This versatile sauce is suited for a wide variety of dishes, including these smoky and firey chicken fajitas.
Featured Griffith Foods Product:
Smoky Chipotle Flavour Glaze
Blending care and creativity to nourish the world is something we don't take lightly at Griffith.
From restaurants to prepared goods, better food applies to both the world we live in and the people who live in it. For more about our delivery and convenience solutions, please reach out to your Griffith rep or contact a member of our sales team.