How Convenient!
Though current stay-at-home orders and dining restrictions vary around the world, the need for convenience has become truly universal.
On the retail side, consumers are stocking up on essentials with fewer shopping trips and supplementing their purchases with premium-quality meal kits inspired by their favorite restaurants. The shopping experience has become even more convenient with the rise of virtual brands and ghost kitchens.
One restaurant group in Chile, for example, has launched a digital market where consumers can purchase their most popular menu items (hotdogs, burgers, barbecue and snacks) to cook at home. In Indonesia, a Taiwanese café offers ready-to-cook family-style portions of traditional dishes alongside their carryout menu. And in China, a popular hot pot chain sells its broth bases in packaged formats for consumers to experience from the comfort of their home.
Operators continue to make dining more convenient and safe for guests, offering curbside pickup, dedicated walk-up windows and seamless digital ordering. Of course, with reliance on carryout and delivery comes the need for tamper-proof packaging that's lightweight yet durable, affordable and environmentally friendly. An Egyptian startup is working to connect consumers to local fruit and vegetable vendors via WhatsApp, with deliveries packed in paper to minimize plastic waste. Innovation in the "plant-based packaging" space may uncover new solutions that maintain the integrity of delivery dishes while demonstrating an operator's commitment to sustainability.
---
---
When it comes to delivery, packaging solutions and portability, attention to detail is everything. Chef Jonny Tomlin shares how our solutions, such as Flavor Glaze and Creative Coaters, can help products maintain their crisp and crunch while adding bold flavor that holds up during delivery.
---
---
---
QSR/FOODSERVICE:

Speed and delivery have been greatly accelerated due to COVID and will increase convenience expectations for the years to come.
PROTEIN PROCESSORS:

Protein can help satiate consumers conveniently and quickly in snacks and customizable protein powders—or provide even more satisfying fuel in ready-to-go meals.
SNACKING:

CPG snacks are an easy and obvious path to convenience. The next level of convenience will consider multi-compartments and mix-ins, verging on mini meals.
Culinary Inspiration
Get inspired by these on-trend concepts to create innovative offerings using Griffith Foods products. To learn how this trend can be customized to your product portfolio, please contact your Griffith Foods representative or get in touch with our team.
Handheld and Convenient Dishes from Our US Chefs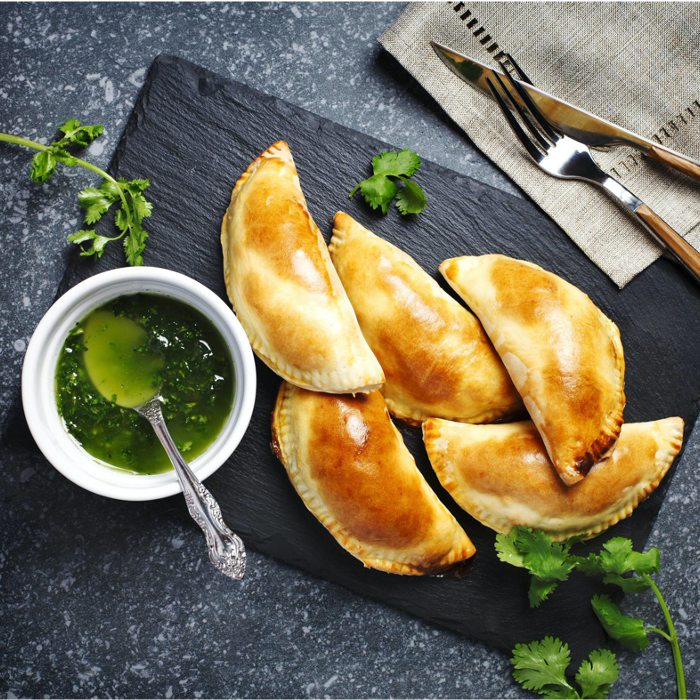 Breakfast Empanadas
Cheesy eggs, bacon, and vegetables are fried inside a puff pastry shell for an on-the-go handheld that will survive any morning commute. Pair the empanada with a chimichurri dipping sauce for a complete experience.
Featured Griffith Foods Products:
South American-Style Chile Lime Seasoning
Chimichurri Seasoning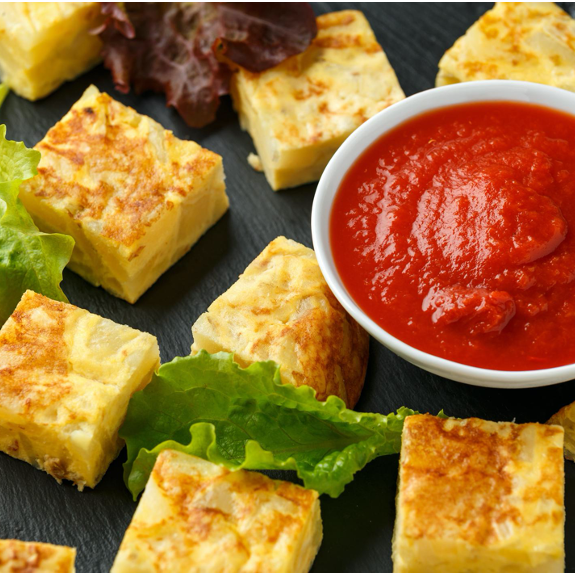 Shakshuka Sous-Vide Egg Bites
A reverse take on the classic Middle Eastern eggs: Poached eggs with a spicy tomato sauce featuring roasted red peppers and delicious Middle Eastern warming spices are cooked into the eggs for a quick, on-the-go and delicious bite.
Featured Griffith Foods Product:
Middle Eastern Seasonings (with cumin, garlic, paprika and a hint of chili)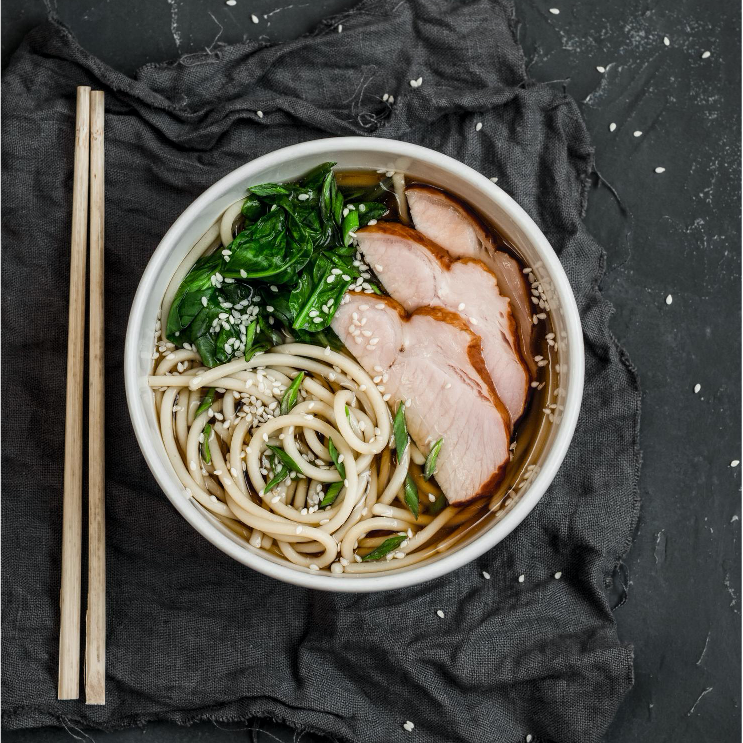 Miso-Marinated Pork Bowl
Sauteed sweet potato, broccoli, glass noodles and bean sprouts are served in a soy-ginger glaze and topped with crispy pork.
Featured Griffith Foods Product:
Handheld and Convenient Dishes from Our Mexico Chefs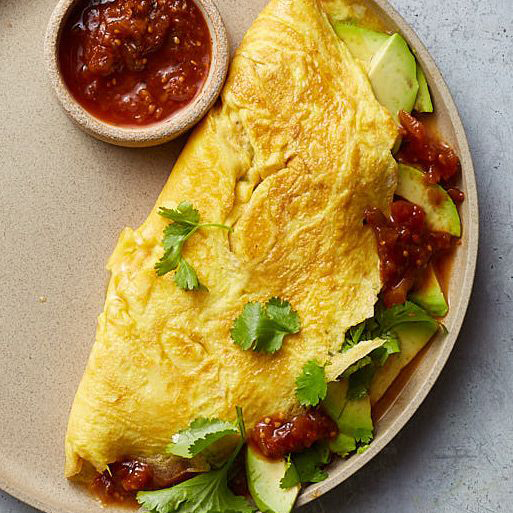 Mexican-Style Omelet
Omelet of Griffith Foods' Zero Egg egg whites filled with cheese and seasoned vegetables. A traditional Mexican sauce is a perfect accompaniment that adds spice and flavor.
Featured Griffith Foods Products:
Zero Egg
Vegetable Seasoning
Mexican Sauce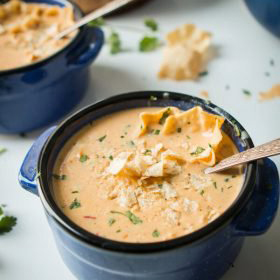 Collection of Mexican Soups
Griffith Foods' powdered soups only need to be hydrated and boiled. In minutes, you have a flavorful soup that can be garnished with your choice of toppings. Avocado, cheese and sour cream are great choices that compliment the rich flavors of the soups.
Featured Griffith Foods Products:
Powdered Soup Bases (available in bean, tortilla, and poblano flavors)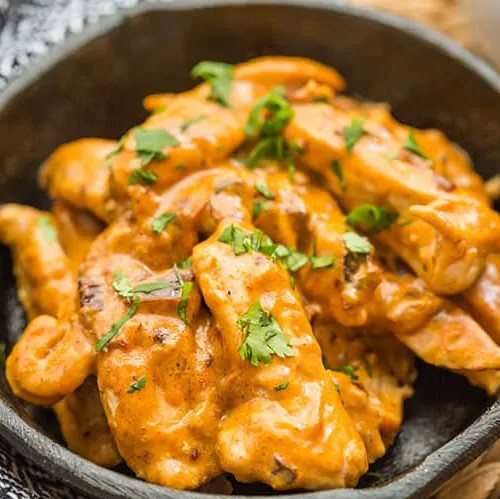 Smoky Chipotle Chicken Fajitas
Chicken strips are marinated in Griffith Foods' Smoky Chipotle Flavour Glaze. This versatile sauce is suited for a wide variety of dishes, including these smoky and firey chicken fajitas.
Featured Griffith Foods Product:
Smoky Chipotle Flavour Glaze
Handheld and Convenient Dishes from Our Canada Chefs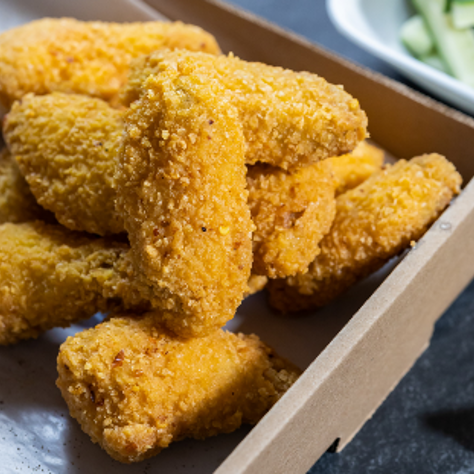 Delivery-Friendly Spicy Yuzu Chicken Wings
Crispy breaded chicken wings finished and "sauced" with an aromatic spicy chili and yuzu Flavour Glaze. These wings stay crispy for an extended time in delivery containers even when glazed.
Featured Griffith Foods Product:
Creative Coaters™ Predust
Creative Coaters™ Batter
Creative Coaters™ Coater
Spicy Yuzu Flavour Glaze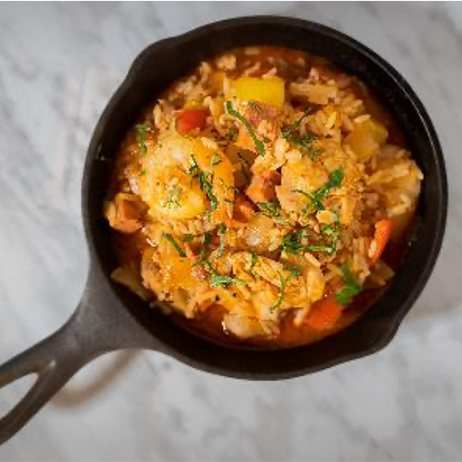 Five-Minute Jambalaya
You can create a bold, flavorful southern jambalaya in under five minutes. Combine Griffith Foods' sauce base and seasoning packet, rice, vegetables, and protein for a hearty and convenient meal.
Featured Griffith Foods Product:
Jambalaya Sauce Base
Jambalaya Seasoning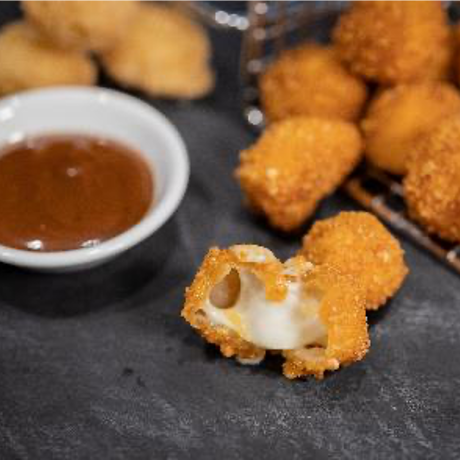 Gravy-Glazed, Crispy Poutine Bites
White cheese curds are coated in a crispy potato flake coater and finished with our Gravy Flavour Glaze. The bite-sized treats are a convenient, delivery-friendly way to enjoy the poutine experience as a side or an appetizer — without any of the soggy texture.
Featured Griffith Foods Product:
Creative Coaters™ Predust
Creative Coaters™ Batter
Potato Flake Coater
Gravy Flavour Glaze
Certification from the Forest Stewardship Council, or FSC, ensures that products come from responsibly managed forests that provide environmental, social and economic benefits.
In 2020, 92% of the paper or fiber-based packaging for bags and corrugate boxes used by Griffith Foods was FSC certified. We are working to achieve 100% FSC certification, as well as to make sure that those packaging materials are 100% recyclable.
---
---
Culinary Perspective
Join Chefs Siddharth Raghavan and Ryan Flick in the latest episode of our podcast, "The Blend by Griffith Foods." They'll be discussing the rise of convenience-focused innovation during the pandemic—from packaging to meal kits—and sharing their thoughts on which ideas have staying power for the long-term.
Sources:
Mintel, 2021 FlavorIQ® Global Trends and Insights Report, January 2021