Whoever said that you eat with your eyes was only partially correct—a truly exciting dish will transport the eater on a journey by engaging with all five senses. To capture the spirit of sensory adventure, Corporate Chef Adam Wright designed a Rice-crusted Gochujang Cod dish that delivers a deeply satisfying crunch, vibrant appearance, and bold flavors that will delight with every bite.
Rice Crusted Gochujang Cod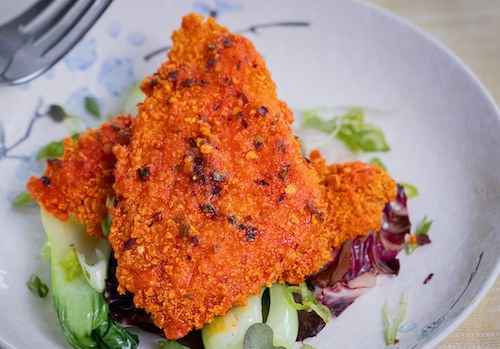 This concept features Griffith Foods' Rice Creative Coater System and Spicy Gochujang Flavour Glaze to juxtapose the mild, flakey cod with a super crunchy coating. The Flavour Glaze increases punchiness and incorporates bold aromatics through fermented chili, acidic vinegar, and a spicy kick.
Serve the cod with a side of French fries, kimchi, and gochujang tartar sauce to play up the flavors. For consumers focused on mindful eating, the fish can be parfried, finished in the oven, then paired with fresh, simple accompaniments like baby bok choy and grilled radicchio.
Long-lasting Crunch
Our rice-based Creative Coater system is an ideal medium for highlighting texture and ensuring long-lasting crunchiness. Although rice is often selected simply as a gluten-free substitution for wheat, it can actually be superior to some wheat-based coater systems for dishes like this one.
The rice-based Creative Coater pre-dust and breading work in tandem with each other to create a porous system that allows excess moisture to be expelled as the fish cooks. The Creative Coater System provides high adhesion, and although fish typically has a moist surface, the rice-based crust keeps the cod from getting soggy.
Griffith Foods' oil-based, Spicy Gochujang Flavour Glaze further protects the dish's crispy texture, even in a holding table, cabinet, or to-go box. Because Flavour Glaze is low in moisture, it adds mouthwatering flavor and visual appeal without sacrificing crunchiness.
On-trend & Accessible
Griffith Foods' Cathie Wauchope served as the lead scientist on this Spicy Gochujang Flavour Glaze, which stands out as a unique offering in the market, which draws on the explosive popularity of Korean cuisine and adds complexity to the dish. Fermentation offers a distinctive tang, making the dish authentic yet approachable for a wide range of consumers. Gochujang is also an excellent entry point to Korean food for those who may be unfamiliar with the cuisine or intimidated by recreating the dishes at home from scratch.
Versatility & Application
The beauty of this dish is that it is incredibly versatile and lends itself to both rigid and flexible processes, making it a great choice for food-service environments, quick-serve restaurants (QSRs), and retailers.
Formulated to maintain crunch: Dishes using the Creative Coater system and Flavour Glaze retain that just-fried crunchy texture even after being transported in a to-go container, kept in a holding cabinet, or placed under a heat lamp.
Available in any quantity: Flavour Glaze pouches are available in multiple sizes, including large, resealable pouches ideal for foodservice outfits or single-serve retail and home meal replacement options.
Ability to freeze: Flavour Glaze packets are user-friendly, freeze well, and can elevate a variety of other dishes, from steamed vegetables to French fries. If desired, suppliers can collaborate with a protein processor to complete the makeup steps of the Creative Coating System and freeze in advance as a time-saving strategy.
Flavor, Crunch, and Delight with Every Bite
With an irresistibly crunchy texture, extended holding capability, and delectable flavors, the application possibilities are endless. If you're interested in seeing how our Creative Coating system and Flavour Glaze can enhance your offerings and fit into your operations, we're here to help you start creating better together.