A Good Catch
Though sustainable seafood is a topic that the majority of consumers say they are concerned with (Datassential, 2021), only a fraction claim to understand what "certified sustainable" seafood truly means (Mintel, 2021). This represents a critical moment for the food industry to educate consumers, clarifying claims on retail packaging and menu descriptions while working towards practices that ensure healthy seafood stocks, limit negative impacts on other marine species and minimize their carbon footprint.
In North America, snack launches with fish ingredients and sustainability claims are skyrocketing. Sustainably wild-caught Atlantic lobster bocadillos and wild Alaskan salmon jerky can be found on retail shelves in the US, Canada and Mexico. In other parts of the world—including India, Saudi Arabia, Thailand and Indonesia—fish snacks are extremely popular but rarely feature on-pack sustainability claims. Opportunities exist for snack brands in these regions to tell a compelling sustainability or ingredient transparency story, based on consumer interest.
Another facet of sustainable seafood is the "fin-to-gill" movement, as restaurants combat food waste by repurposing underused parts or lesser-known fish into unique dishes. This mindset is abundant in Peru, where award-winning chefs serve locally sourced piranha, pyura and diablo fish in the name of protecting biodiversity and providing full transparency, going so far as to track each fish or shellfish to the fisherman who caught it.
Seafood certification boards vary around the world, with Ocean Wise, Monterey Bay Aquarium Seafood Watch and the Marine Stewardship Council as some of the major players. On a local level, groups like Chefs for the Blue in Japan work to raise awareness among the restaurant industry and consumers alike. But the future of sustainable seafood may not be found in the ocean at all! Protein processors are making use of technology and the demand for plant-based dishes to open up entirely new avenues for sustainability. Innovative vegan seafood and cellular aquaculture take the conservation movement to new and exciting depths.
---
---
Chefs around the world are applying an upcycling mentality to seafood, making use of every part of the fish. In our latest video, Chef Ryan Flick discusses responsible, sustainable seafood alternatives, with examples from both the retail and foodservice industries.
---
---
---
QSR/FOODSERVICE:

Chefs are leading the charge for sustainable seafood, and many are using their platforms to positively influence their industry and educate diners.
PROTEIN PROCESSORS:

Sustainability remains a significant issue in the fish category, and there is an expectation among consumers that brands will provide detailed explanations about catching and farming methods, as well as ocean health.
SNACKING:

Although more limited in the snack category, sustainable seafood ingredients are emerging in seafood jerky, frozen appetizers and in simple tinned fish.
Culinary Inspiration
Get inspired by these on-trend concepts to create innovative offerings using Griffith Foods products. To learn how this trend can be customized to your product portfolio, please contact your Griffith Foods representative or reach out to our team.
Seafood Dishes from Our Canada Chefs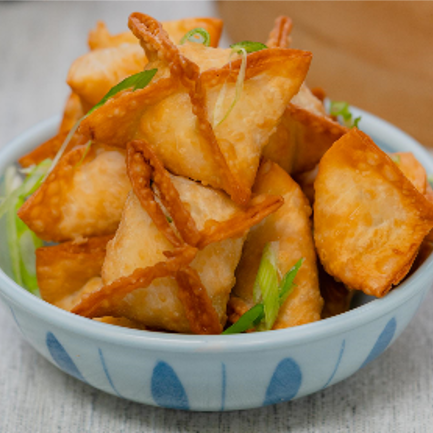 Crabless Rangoon
Here's our plant-based take on the popular American appetizer: The filling for these "Crabless" Rangoons is made with seasoned and textured wheat protein and blended with vegan cream cheese.
Featured Griffith Foods Product: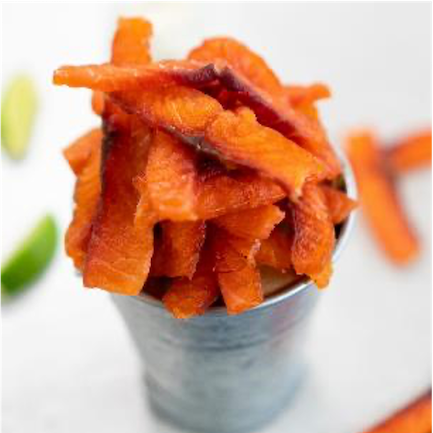 Chili Lime Salmon Jerky
Fitting into the emergence of "Seacuterie", this Salmon jerky is dry-cured and finished with a bold, smoky, and tangy chipotle lime seasoning.
Featured Griffith Foods Products:
Salmon Brine Mix
Chili Lime Seasoning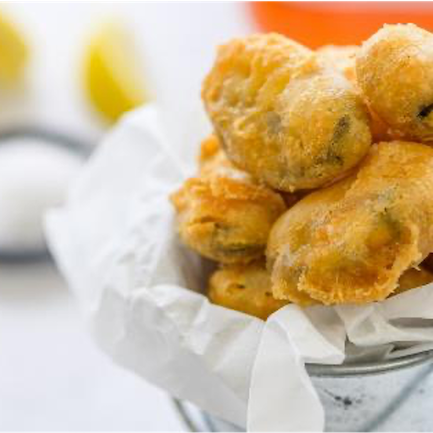 Upcycled Beer-Battered Mussels
These sustainably farmed mussels are coated with crunchy batter made from upcycled brewers' spent grain and finished with a salt & malt vinegar shake-on seasoning.
Featured Griffith Foods Products:
Regrained Crispy Batter
Salt & Malt Vinegar Seasoning
Seafood Dishes from Our US Chefs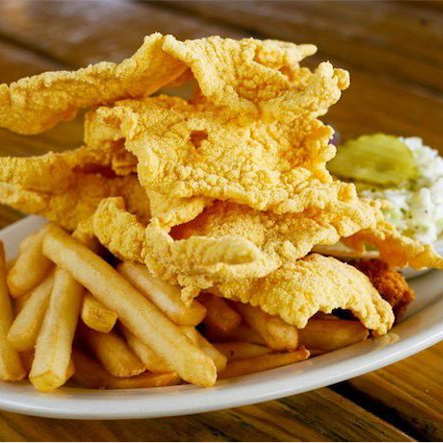 Cajun-Style, Thin-cut Fried Catfish
Catfish farming is the oldest sustainable fish aquaculture. In 2019 half
a billion pounds of catfish were produced in the US alone. This thin-cut Cajun-spiced fried catfish a offers unique Louisiana eating experience through the use of custom coatings and authentic Cajun and Creole spices.
Featured Griffith Foods Products:
Creative Coaters™ Predust
Creative Coaters™ Batter
Cajun Seasoning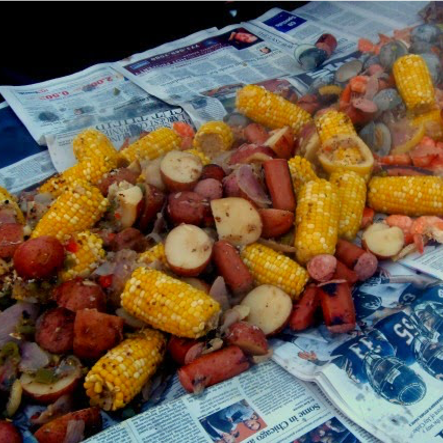 Midwestern-Style, Low Country Shrimp Boil
Our Midwestern version of a shrimp boil uses Not-so-Hot Low Country Shrimp Boil Seasoning, Polish sausage, and Midwestern-grown sweet corn. This dish turns into the ultimate gather 'round version of a classic Cajun dish and supports sustainable inland shrimp farming.
We at Griffith Foods are thrilled to work with innovative companies like BlueNalu, whose mission is to be the global leader in cell-cultured seafood. With seafood demand and consumption at an all-time high, our wild fisheries and aquaculture are reaching stress points. By leveraging our expertise in global product development with the unique capabilities of BlueNalu, our collaborative efforts will serve to provide consumers with delicious, healthy and safe plant-based seafood products that support the diversity of our oceans and contribute to a more sustainable future.
---
---
Culinary Perspective
Join Chefs Bram Buijks and Valeria Hernandez for the latest episode of "The Blend by Griffith Foods." They'll be sharing exciting examples from the world of sustainable seafood, including alternative protein seafood concepts. Don't miss their suggestions for seafood flavor pairings, along with tips for minimizing waste by utilizing off-cuts and trim in creative recipes. Listen to the podcast.
Let's Create Better Together
We're here to help inspire creations that keep your product portfolio on trend. Contact your Griffith Foods representative or reach out to our sales team to learn more about our ongoing research and innovative offerings.
Sources:
Datassential, "Sustainable Seafood," March 2021.
Mintel, 2021 FlavorIQ® Global Trends and Insights Report, January 2021.