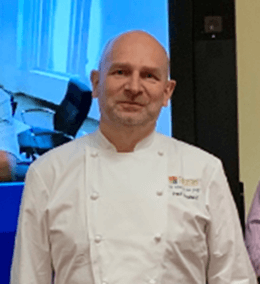 Paul Rowland
Commercial Chef at Custom Culinary® Europe
Paul Rowland is a Commercial Chef for Griffith Foods Europe in London, mixing technical, culinary, and commercial skills in his role. He has worked for the Hilton in Geneva, Army School of Catering as an instructor, Ritz London, and Carlton Tower London. Paul has also received a Master Chefs Grand Prix Gold medal for his work in chocolate.
Griffith Foods in the News
Stay connected with Griffith Foods! Get news, stories, and press releases from across our entire global ecosystem.
Let's Create
Better Together.
Want to get in touch? We'd love to hear from you. Fill out the form and we will reach out to you as soon as possible.
"*" indicates required fields