Taking a vegan approach to chili con carne is a not-so-obvious twist. After all, the name translates to "with meat." But our interpretation of chili con carne empanadas is a plant-based alternative to an already well-recognized dish, giving you (and eaters) an accessible entry point to alternative proteins.
Corporate Executive Chef Ryan Flick and Senior Principal Scientist Carlo Magnani worked together to develop a convenient, "just-add-water" sauce base that lets you (no matter what sector you're in) put an approachable spin on an already riffable dish.
Mini Chili Sin Carne Empanadas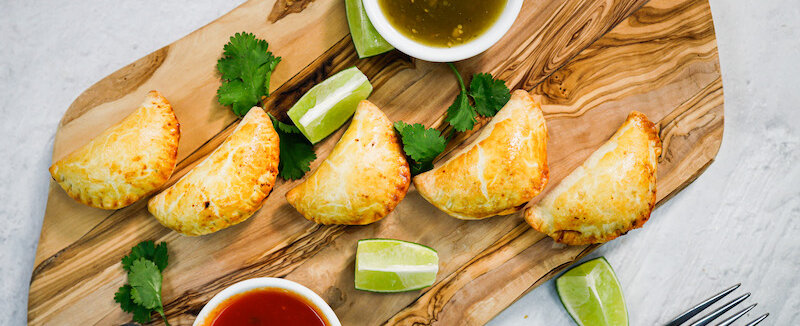 Flavor & Texture
If you think you need the "carne" to make a deeply satisfying chili con carne, think again. The Chili Sin Carne Sauce Base, made with Griffith Sustainably Sourced (GSS) spices, delivers the same intense flavors associated with chili con carne — chili powder, caramelized onion, garlic, pepper, tomato, black pepper, and green herbs — in a single sauce mixture. When paired with Griffith Foods' Plant-based Crumble Seasoned Binder, you'll get a filling concentrated with warming spices, umami flavor, and a meat-like bite.
Convenience & Versatility
Chef Ryan and food scientist Carlo created Mini Chili Sin Carne Empanadas with convenience in mind. When using Griffith Foods' Chili Sin Carne Sauce Base and Plant-based Crumble Seasoned Binder, the flavorful filling comes together in a single-step process: Combine one-part sauce base, one-part water, and one-part crumble. There's no need for additional spices or ingredients.
This concept's simplicity makes it suitable for various applications:
Small pouches can be the flavor component of a retail meal kit solution
Large pouches make quick work of prep in a foodservice outfit
Drums and totes can deliver a labor-saving sauce and flavoring for large commissary kitchens or processor applications
Not to mention empanadas are a snackable, on-the-go format that makes them an attractive CPG snack for consumers.
Health & Nutrition
We know the population of health-conscious consumers in North America is growing. In fact, 74% of consumers in Mexico, 58% in the US, and 47% in Canada report they're eating more plant-based foods because it's better for their health.
Griffith Foods' versatile products give you control over the amount of animal-based products, saturated fat, and oil in the dish, depending on how you choose to prepare it. This vegan approach uses our pea- or soy-based Plant-Based Crumble Seasoned Binder and a dough made of corn flour, wheat flour, and coconut fat.
Are You Inspired Yet?
These Mini Chili Sin Carne Empanadas are just the beginning. Griffith Foods' Chili Sin Carne Sauce Base and Plant-based Crumble Seasoned Binder present endless opportunities for plant-based meals and snacks. Please reach out to us to request a sample of these products or explore other ways we can help you create better together.