53% of US consumers like or love Japanese food. 40% of Canadian consumers like to eat Japanese cuisine. 42% of Mexican consumers find Japanese cuisine appealing.
(Sources: Datassential Flavor, Griffith Foods Hot & Spicy research, GlobalData Consumer Survey 2021 Q4)
From sushi to stir-fry, Japan's culinary influence is evident throughout North America.
While the traditional Japanese diet may be rooted in balance and simplicity, the innovation opportunities are anything but. There are plenty of ways to get creative with Japanese-inspired concepts when you consider three guiding principles: keep the base simple, make the texture crispy, and punch up the flavor.
Define the Base
Selecting a base that responds well to flavor and seasoning is a great place to start – seafood (particularly fish and shrimp) and vegetables are staples in traditional Japanese cuisine. Popular fish include tuna and salmon, and vegetables are often seen as fillings in products like dumplings, maki rolls, or onigiri. Pork has risen in popularity over the years as a filling and entrée.
Smoked salmon has grown 22% within Japanese cuisine on Canadian menus. (Source: Technomic Menu)
Pork gyoza's four-year menu growth in the US is +93%, while chashu pork has grown +85%. (Source: Datassential MenuTrends)
86% of consumers in Mexico consider fish and seafood to be among the top dishes in Japanese cuisine. (Source: GlobalData Menu Intelligence 2021)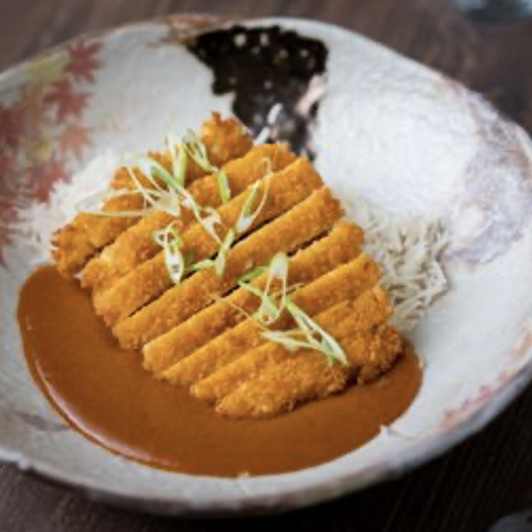 Pork Tonkatsu Golden Curry
Chef-inspired Pork Tonkatsu Golden Curry features Griffith Foods products, like our Panko-style Coating System, Yuzu Marinade, and Golden Curry Instant Sauce.
Make It Crispy
"Crispy" is the desired characteristic of many trending Japanese-inspired products. Dumplings and gyoza have a soft, meaty inside and are finished with a few minutes of pan frying for a crisp outside. Rice that's been seasoned and crisped in the air-fryer pairs well with raw fish, while batters and coatings are used in flaky tempura dishes. In fact, panko has grown 33% within Japanese cuisine on Canadian menus. (Source: Technomic Menu)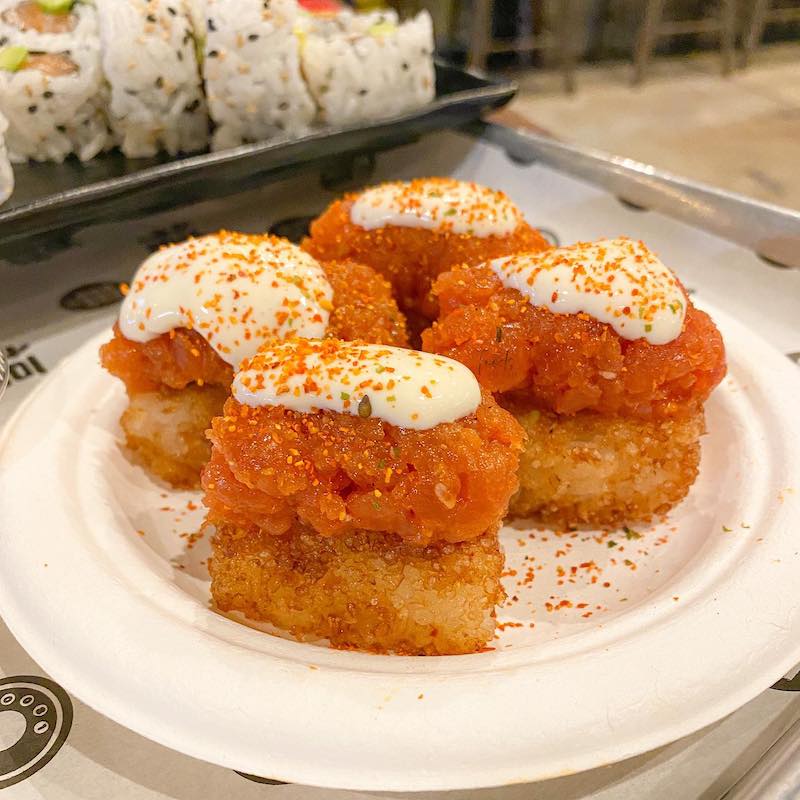 "Have you ever been so obsessed with something that you eat it until you get tired of it? Well spicy tuna crispy rice is my new obsession and I hope to neveeerrr get tired of it"
Choose the Right Sauce or Seasoning
Miso has been the epitome of "umami" flavor in Japanese dishes. Its saltiness makes it an excellent fish marinade. Whether as a marinade or a dipping sauce, other crowd-pleasing ingredients include soy, ponzu, and kewpie mayo. From a spice and seasoning perspective, a sprinkle of ginger or furikake goes a long way with fish, vegetables, or onigiri.
Yuzu has grown 20% within Japanese cuisine on Canadian menus.
(Source: Technomic Menu)
Furikake's four-year menu growth in the US is +103%.
(Source: Datassential MenuTrends)
Bringing It Together Is as Easy as One, Two, Three
Restaurants, retailers, and consumers are bringing a taste of Japan to North American tables. Mini-meals, handhelds, and pre-marinated products are convenient vehicles for punchy Japanese flavors and crispy textures.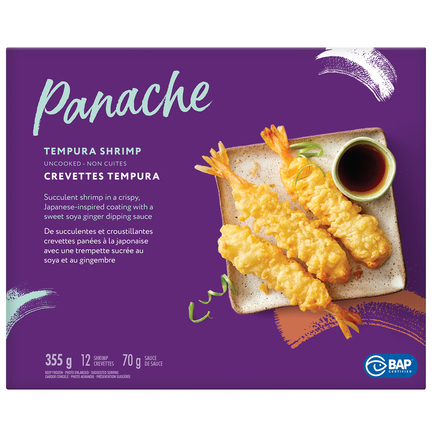 Take-and-heat Tempura
Panache, a distributor for Canadian retailers, offers ready-to-heat tempura shrimp. The light-textured, crispy shrimp has a Japanese-inspired tempura coating and comes with a sweet soy ginger dipping sauce.
(Image from Panache media)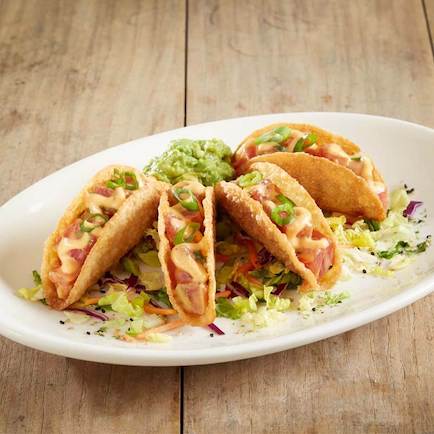 Shareable Sashimi
Ahi poke tacos from BJ's Restaurant & Brewhouse, a chain in the US, feature sashimi-grade ahi tuna, poke sauce (typically a blend of soy, sesame, and spices), creamy sriracha aioli, and wasabi in a crispy wonton taco shell.
(Image from BJ's media)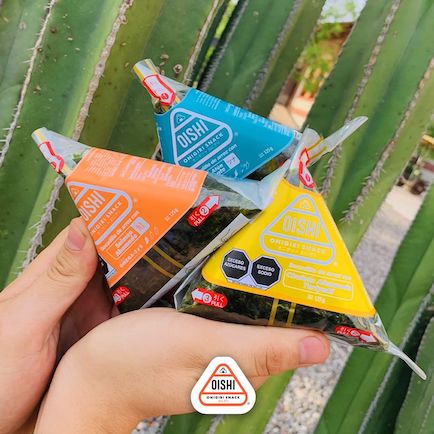 On-the-go Onigiri
Oishi onigiri snacks — found in 7-Eleven convenience stores in Mexico — are rice cakes that can come with a variety of fillings and nori wrapping. The onigiri trend has been popular in Spanish online conversation, with canned tuna as a favorite filling and mayo as the favored pairing.
(Image from Oishi media)
Griffith Foods makes coaters, seasonings, and Flavour Glazes that are just starting points for your portfolio. They can be used out-of-the box or customized to create a concept that's unique to your brand and backed by consumer insights. Reach out to our team to get started.