From Mashup to Mainstream
When it comes to creating new products or menu items, nothing beats a mashup! Taking inspiration from two seemingly disparate dishes, flavors or formats can demonstrate a unique point of difference—with delicious results.
On the protein side, barbecue and grill-ready meats are a hotbed of flavor innovation. One retail product in the UK combines the traditional British flavors of lamb and mint with Middle Eastern koftas, pre-formed onto wooden skewers for true convenience. In Thailand, international fusion flavors abound in the protein category, with dishes like pork larb burgers and pad kaprao burgers found in street vendor offerings.
While they may not appear similar on the surface, many global cuisines share common attributes that make them ideal for mashup dishes. Nikkei cuisine, found in Peru, brings Japanese flavors to Peruvian dishes like ceviche. In India, global fusion dishes like kadhai paneer quesadillas and paneer tikka makhani pizza demonstrate the popularity of this approach. And a Japanese takoyaki chain offers French-, Chinese- and Thai-inspired varieties of their deep-fried octopus dumplings.
Mashups are frequently found in the snack category, where consumer curiosity is high and perceived risk of trying new foods or flavors is low. Kettle-cooked peanuts spiced with harissa (US), chargrilled steak and chimichurri crisps (UK) and chutney-flavored potato crisps (Taiwan) are innovative enough to be memorable, without alienating consumers who may not want to stray too far from their comfort zones.
Unique pairings and mashups help consumers beat flavor fatigue, whether they're cooking at home, purchasing snacks from a retail outlet or enjoying a meal at a restaurant. Pairing different combinations of sweet, salty, tangy and spicy ingredients brings an addictive, crave-worthy quality to new products and menu items alike.
---
---
The desire for bold flavors and interesting pairings goes to show that consumers are looking to create new experiences through culinary mashups. Watch our latest video to see Chef Jonny showcase strawberry ketchup—a creative recipe that delivers on the mashup trend with less added sugar than traditional condiments.
---
---
---
QSR/FOODSERVICE:

Restaurants continue to combine disparate cuisines into inventive dishes that surprise and delight diners. Both street food and traditional recipes can be the starting points for culinary mashups.
PROTEIN PROCESSORS:

Consumers are open to new protein flavors, and barbecue season is the perfect opportunity for experimenting with fusion flavors that they've tried in restaurants.
SNACKING:

Innovative snacks often start with a familiar format—such as crisps, nuts or crackers—and add an unexpected twist with global flavors. Middle Eastern flavors are emerging in snacks across the globe.
Culinary Inspiration
Get inspired by these on-trend concepts to create innovative offerings using Griffith Foods products. To learn how this trend can be customized to your product portfolio, please contact your Griffith Foods representative or get in touch with our team.
Mashup Dishes from Our Canada Chefs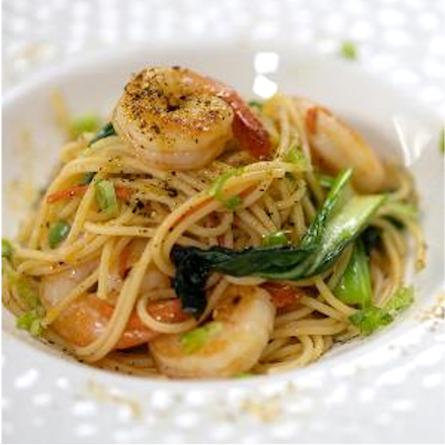 Wafu Spaghetti
This mashup takes aromatic Japanese flavors and pairs them with Italian spaghetti.
Featured Griffith Foods Products: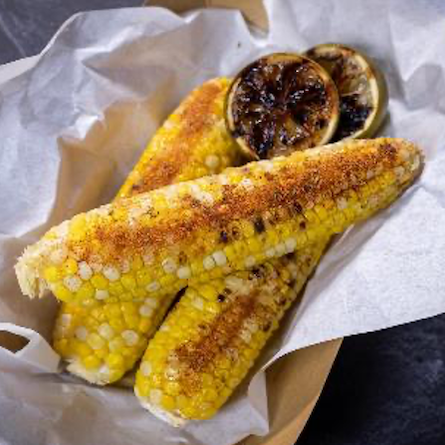 Salted Caramel & Chili Elote
This classic Mexican street food features a mashup of salted caramel and spicy chili. Roasted corn-on-the-cob is brushed with our Salted Caramel Flavour Glaze and finished with a shake-on seasoning for an extra punch.
Featured Griffith Foods Products: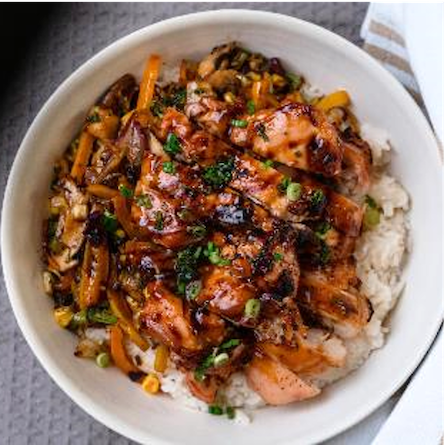 Balsamic, Miso & Ginger Chicken Bowl
Roasted chicken thighs are marinated with miso ginger seasoning and finished with a sweet balsamic reduction sauce. This bowl balances out savory miso and ginger flavors from Eastern origin with sweet balsamic used in classical Western cuisine.
Featured Griffith Foods Products:
Balsamic Ginger Sauce
Miso Ginger Seasoning
Mashup Dishes from Our US Chefs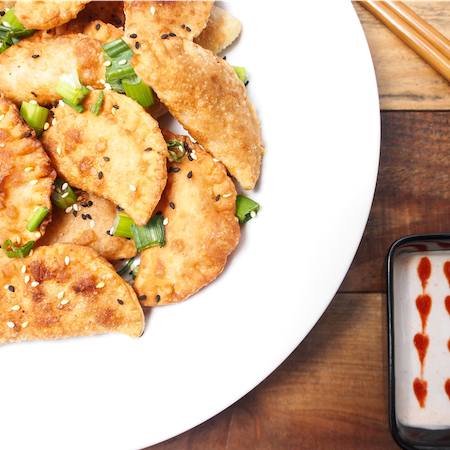 Korean Pierogies
Classic Polish potato pierogies get a Korean twist. The additions of chopped
kimchi, gochujang, ginger, sesame, and soy to the stuffing bring an unexpected and bold taste.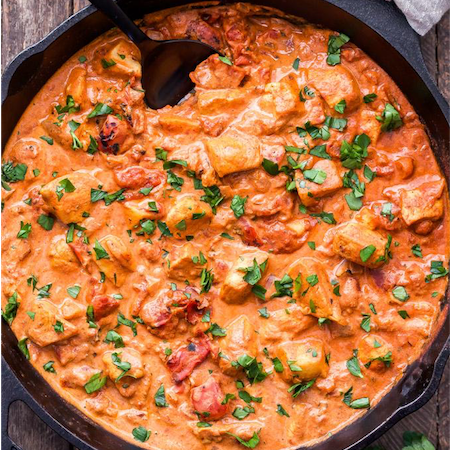 Zesty Chipotle Paprikash
This traditional Hungarian dish is flavored with paprika, onions, tomatoes, and sour cream. Our mashup version is bold, hot, and smoky — thanks to the addition of chipotle-lime seasoning. Usually made with chicken, this stew is also great with beef or lamb.
Featured Griffith Foods Product:
NuBana™ Green Banana Powder is an ideal "whole food" ingredient for creative mashup dishes and products—delivering the functionality of a starch with a fruit label, yet without the sugar or taste of ripe bananas. The gluten-free, allergen-free powder is high in nutrients such as potassium and magnesium. Its versatility extends from snacks (crackers, granola bars, chips and cookies) to coating systems for chicken pork and seafood; batters; dough blends; alternative proteins and beverages.
---
---
Culinary Perspective
In the latest episode of "The Blend by Griffith Foods," Chefs Berten Bos and Timothy Baran dive into the most interesting, unusual and inspirational flavor pairings they've seen lately. They'll also share tips for creating innovative takes on tried-and-true combinations for new menu items and product offerings alike.
Let's Create Better Together
We're here to help inspire creations that keep your product portfolio on trend. Contact your Griffith Foods representative or reach out to our sales team to learn more about our ongoing research and innovative offerings.
Sources:
Mintel, 2021 FlavorIQ® Global Trends and Insights Report, January 2021