Experience Asia
Striking the balance between what's new and what's familiar can be a challenge when it comes to satisfying consumer demand for global fare. Luckily, when it comes to Asian cuisine, culinary creativity knows no bounds. Every city, region and country has a rich history and signature dishes that can drive innovation.
All around the globe, travel and immigration have created unique fusion fare influenced by Asian cuisines. For example, 74% of the population of Richmond, British Columbia, claims Asian heritage. The city's renowned Night Market brings dishes like Taiwanese popcorn chicken and Filipino crispy pata to the west coast of Canada. And in Peru, dishes like tallarin saltado (chicken chow mein), sopa wantan (wonton soup) and arroz chaufa (fried rice) combine Chinese and Peruvian ingredients to create what's known as chifa cuisine.
Asian-inspired flavors and techniques are making their way into the global snack category as well. In the UK, popped lotus seeds are positioned as a "better-for-you" popcorn alternative, in varieties like smoky Thai, wasabi and Himalayan pink pepper. Cracker nuts are a popular snack originally created by a Japanese immigrant in Mexico. These Japanese-style peanuts are booming in Central and South America, with such mashup-style flavors as pizza, ham and chili-lime.
For manufacturers and operators looking to create truly authentic new products or menu offerings, start with a well-known dish and study the differences in preparation or flavor across countries. For instance, nasi goreng, an aromatic and smoky take on fried rice, is the national dish of Indonesia. Even if your customers aren't familiar with that exact cuisine, seeing a food item that's not too far from their comfort zone is a great way to test the waters. Another great example is lumpia, or Filipino egg rolls, which are showing strong growth on US menus.
When in doubt, turn to regional street food for inspiration. Okonomiyaki (savory pancakes) from the Kansai region of Japan, jianbing (stuffed breakfast crepes) from China's Shandong Province and kumbilappam (jackfruit dumplings) from Kerala, India, are just a few of the dishes with the potential to make a splash on menus and retail shelves around the world.
Eight Culinary Traditions of China
Historically, Chinese cuisine had been described in terms of the Four Great Traditions representing West, North, South and East China. Today, the definition has expanded to include eight regional cuisines:
Anhui (notable dish: Bagongshan tofu)
Fujian (notable dish: pork belly buns)
Guangdong (notable dish: Cantonese-style fried rice)
Hunan (notable dish: Mao's braised pork)
Jiangsu (notable dish: braised spare ribs)
Shandong (notable dish: sweet potato with caramelized sugar)
Sichuan (notable dish: Dandan noodles)
Zhejiang (notable dish: "A Hundred Birds Facing the Phoenix" chicken with steamed dumplings)
---
---
With hundreds of regional culinary styles found across Asia, the possibilities for menu and product inspiration are truly endless. In our latest video, Chef Mark Serice encourages you to explore the tastes, textures and cooking methods of different countries, noting the balance of sweet, sour, bitter and umami flavors that bring these dishes to life.
---
---
---
QSR/FOODSERVICE:

Asian restaurants are prevalent across all regions, many of which have the culinary influence of Asian immigrant populations.
PROTEIN PROCESSORS:

Asian flavors and recipes continue to be popular in protein-based retail products and restaurant dishes around the world, and the introduction of plant-forward meat analogues is taking innovation even further.
SNACKING:

CPG snacks are a fun, low-commitment way for consumers to try new Asian flavors—think crackers/crisps, nuts and meat snacks with Asian-inspired seasoning blends.
Culinary Inspiration
Get inspired by these on-trend concepts to create innovative offerings using Griffith Foods products. To learn how this trend can be customized to your product portfolio, please contact your Griffith Foods representative or reach out to our team.
Asian Food Concepts from Our Canada Chefs
Spicy Szechuan Fried Chicken Sandwich
Inspired from Sichuan regional cuisine, this approachable fried chicken format combines a Szechuan pepper coating and Flavour Glaze to deliver a unique spicy QSR-friendly sandwich.
Featured Griffith Foods Products:
Szechuan Style Marinade
Szechuan Style Predust
Creative 5405 Red Batter
Crispy Coater
Szechuan Style Flavour Glaze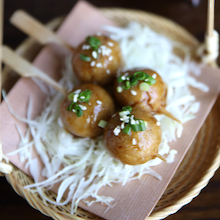 Chicken Tsukune Meatballs
A staple of Japanese Yakitori-style BBQ, these meatballs are seasoned with ginger, soy, and garlic before being grilled and glazed.
Featured Griffith Foods Products:
Tsukune Seasoned Binder
Tsukune Dry Glaze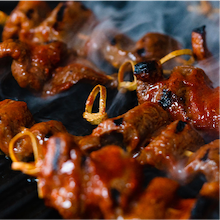 Korean "SanjeokKkochi" Beef Skewers
Inspired by Korean street food, these beef skewers are marinated, fully cooked, and glazed with a spicy and sour gochujang-style seasoning.
Featured Griffith Foods Products:
Korean Style Seasoning
Gochujang Style Dry Glaze
Asian Food Concepts from Our US Chefs
Thai Green Peppercorn Calamari
Crispy fried calamari tossed in bold and pleasantly burning Thai Green peppercorn sauce infused with aromas of fresh ginger, lemongrass, and kaffir lime.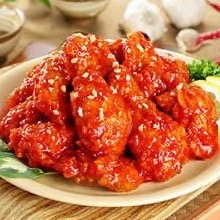 Buldak (Hot Korean Chicken Wings)
Crispy, fried chicken wings in Spicy Buldak Sauce. Korean Gochujang paste is the foundation of our Buldak sauce, giving these wings a spicy kick. This dish features our Buldak Sauce.
At Griffith Foods, sustainability is at the core of our business strategy and our Purpose as a company. Our triple bottom-line approach to doing business is embedded in everything we do, guiding us to think about People, Planet and Performance at all times. Our sustainability mindset not only informs our decisions but also provides the lens through which we view the future of our entire business and our role in creating a better nourished world. Learn more about our goals and initiatives in our recently released Griffith Foods 2020 Sustainability Report.
---
---
Culinary Perspective
In the latest episode of "The Blend by Griffith Foods," Chefs Jonny Tomlin and Jomi Gaston discuss the authentic Asian flavors and ingredients that have made a worldwide impact and are now trending on menus and retail shelves.
Let's Create Better Together
We're here to help inspire creations that keep your product portfolio on trend. Contact your Griffith Foods representative or reach out to our sales team to learn more about our ongoing research and innovative offerings.
Sources:
"China," TasteAtlas, accessed August 2021.
Maggie Hiufu Wong, "Regional Chinese food: 8 lesser-known cuisines worth trying," CNN, July 11, 2019.
Mintel, 2021 FlavorIQ® Global Trends and Insights Report, January 2021.