They always say food tastes better when someone else makes it — especially if an appliance is the one doing all the work. Small kitchen appliances such as slow cookers, Instant Pots, and air fryers have become handy sous chefs for consumers over the past few years, and we don't see that trend going anywhere fast.
Not only do these simple appliances help prevent cooking fatigue, but they also help avoid palate fatigue by encouraging consumers to experiment with new flavors—including fresh takes on classic, comforting dishes. Here are some old favorites that consumers have found ripe for revitalization and simple preparation in their slow cookers, Instant Pots, and air fryers.
Slow Cooker Solutions
The slow cooker is far from new to the handy kitchen toolkit. Owned by more than 60% of US consumers, this long-standing staple is known for its "set it and forget it" cooking style…and satisfying aroma that warms your home throughout the day.
Spicing up old-time favorites with an ethnic flair is one trend we've seen take off in digital channels and lends itself blissfully to the slow cooker. From experimental pizzas to next-level tacos, consumers are hot on ethnic flavor exploration. This translates well for the slow cooker, notorious for its ability to transform meats and vegetables with rich and bold flavors gradually. Consumers can satisfy their cultural cravings with a hands-off approach by letting dishes stew in international spices and seasonings.
Slow Cooker Banh Mi Rice Bowl
Slow Cooker Asian Turkey Meatballs
Instant Pot Inspiration
Short on time? Consumers rely on the Instant Pot for speedy, simple meals. It's another excellent tool that lets consumers bring comforting global dishes to their tables. Whether braising meat or stewing up rich, complex flavors, the multi-cooking Instant Pot has consumers covered in no time. Meats that usually require hours of watchful cooking can tenderize in less than 45 minutes.
The Instant Pot can infuse a beef or chicken dish with a Mexican flair or an Indian touch. Using quality seasonings and broths is keys to avoiding bland dishes and developing that rich, complex, cooked-all-day flavor. While the quick-cook nature of the Instant Pot doesn't allow for the same "set it and forget it" mentality as the slow cooker, consumers still let the appliance do the work.
Instant Pot Mongolian Beef
Air Fryer Favorites
As consumers seek ways to lighten up their cuisines without sacrificing comfort foods, the air fryer is the ticket. Instead of giving up those classic fried favorites, the versatile appliance allows consumers to create healthier versions of them with a high-speed fan that crisps foods like a deep fryer—but with little to no oil.
Consumers looking for guilt-free ways to enjoy classic favorites are turning to chicken and sausage as starring ingredients. They're using air fryers to crisp up wings and drumsticks at home and transforming the classics with tandoori and teriyaki sauces. Consumers have experimented with a variety of ways to prepare sausages as well. They're serving up everything from Japanese-style links to veggie sausages, which particularly benefit from the extra crisp and crunch they would otherwise lack.
Air-fried Tandoori Drumsticks
Air-fried Veggie Sausage
Creativity Fit for Comfort and Convenience at Griffith
Consumers are cooking, and Griffith's chefs are listening. In response to how much consumers are using these irreplaceable appliances to bring comfort and convenience into their homes, our chefs have developed the following concepts to help keep the cooking momentum going: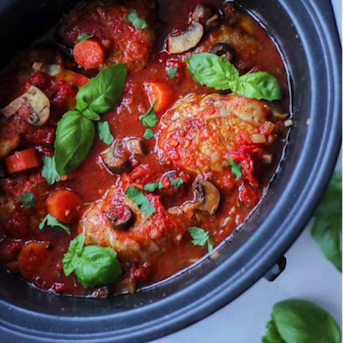 Slow Cooker Chicken Cacciatore
Chicken Cacciatore is a hearty meal full of lean protein and vegetables. Our version has been developed for slow cooking methods using a single-step flavor mix. The featured product can be offered as a retail option or as part of an all-in-one Chicken Cacciatore meal kit.
Featured Griffith Foods Product:
Single-step Italian Red Cacciatore Sauce Dy Mix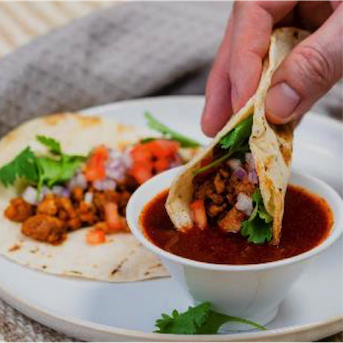 Instant Pot Birria Chicken Tacos
These Instant Pot Birria Chicken Tacos elevate the comfort experience by pairing with a warm, spicy, Latin-inspired broth.
Featured Griffith Foods Products:
Taco Seasoning
Birria Instant Broth Mix
Air-fried Louisiana Hot Chicken
Chicken is marinated, coated, fully cooked, and frozen for a healthier comfort meal at consumers' fingertips. Just crisp it up in the air fryer for a crispy "deep-fried" taste and toss in shiny, flavorful sauce for a convenient at-home meal in minutes.
Featured Griffith Foods Products:
Spicy Hot Cayenne Marinade
Fried Chicken Creative Coater
Hot Louisiana Flavour Glaze
Promoting Convenient, Creative Solutions, One Kitchen at a Time
From recipe inspiration to prepared goods and meal kits, Griffith focuses on making it easier to nourish the world and those in it. For more about our small appliance solutions, please reach out to your Griffith Rep or contact a member of our sales team.