The Glory of Garlic
Nothing packs a memorable punch of flavor and aroma quite like members of the allium family. Thanks to their impressive range of sweet, earthy and pungent attributes, ingredients like garlic, onions, chives, leeks, scallions and shallots have been staples of cuisines around the world for centuries. These fragrant ingredients are often found slow-cooked in braises, stews and soups but can also play a starring role in seasoned snacks, proteins and street foods.
In fact, 60% of US consumers say that garlic is one of their go-to protein flavors (Mintel, 2021) and this allium affinity has extended into plant-based dairy and meat products, too. Shallot and white wine plant-based sausage, scallion-flavored tree nut cheese, and chive almond milk spread are just a few of the memorable items found in retail cold cases. Consumers in Europe also gravitate to these flavors, with items like French vegetable patties (candied leek, buckwheat and Emmental cheese) and Spanish organic tomato and onion steaks.
Gluten-free and better-for-you snacks all over the world are also incorporating alliums. Exciting varieties include Brazilian chickpea pastry bites with leek and apricot, Chilean sour cream and chive quinoa chips, South African broccoli and roasted garlic rice crackers, and Swedish lentil chips with dill and chives. These combinations of vegetables, seeds, legumes and ancient grains provide the ideal base to let allium flavors shine.
Many beloved sauces around the world feature garlic-heavy flavor profiles. Lebanese toum, Italian gremolata, Cajun persillade, French pistou and Spanish romesco are making their way onto menus in both authentic applications and fusion dishes as sandwich spreads, burger toppings and dips. Even in countries where these sauces aren't household names, their familiar base flavors may resonate with consumers looking to try a new twist on their favorite menu items.
Chefs also turn to alliums to "ramp" up the allure of umami-rich dishes. Campanelle with garlic scapes and pistachio gremolata; black garlic barbecued brisket; and Thai pork salad (nam sod) with lychee, shallot and habanero demonstrate the value that alliums bring to the table.
Let's not forget the potential better-for-you benefits of alliums. As consumers look to support immune health through their food choices, garlic may grow even more popular among the mindful eating crowd. Allicin, the compound that gives raw garlic its distinctive aroma, has been found to offer antioxidant and antibacterial properties, along with reducing inflammation.
---
---
Join Chef Mark Serice as he encourages a broader awareness and usage of alliums, exploring different cooking methods, textures and flavor profiles. He'll also share menu and product development thought-starters, such as considering the health and wellness benefits that garlic can bring to the table.
---
---
---
QSR/FOODSERVICE:

Chefs continue to find new ways to serve alliums, such as charred scallions, roasted shallot vinaigrette and slow-cooked whole onions.
PROTEIN PROCESSORS:

Plant-based meat substitutes, which are typically unflavored (42% of meat substitute launches worldwide in 2019), are getting a flavor boost from garlic, onions and other allium varieties.
SNACKING:

CPG snacks are playing with unique ingredients like black garlic and elevating gluten-free snacks with zesty allium flavors.
Culinary Inspiration
Get inspired by these on-trend concepts to create innovative offerings using Griffith Foods products. Please contact your Griffith Foods representative to learn how this trend can be customized to your product portfolio.
Garlic Food Concepts from Our US Chefs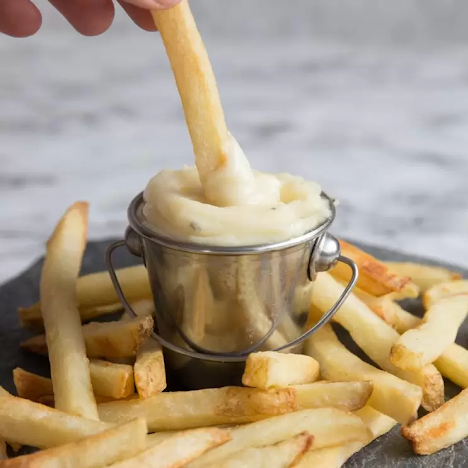 Home-Style Fries with Roasted Garlic Aioli
Elevate your French fries: Use our Creative Coater and Savory French Fry Seasoning to achieve crisp, crunch, and irresistible taste. These homemade-style French fries can be paired with a quick and flavorful roasted garlic, mayonnaise-based dip to round out the perfect side dish.
Featured Griffith Foods Products:
French Fry Creative Coaters
Instant Roasted Garlic Aioli Mix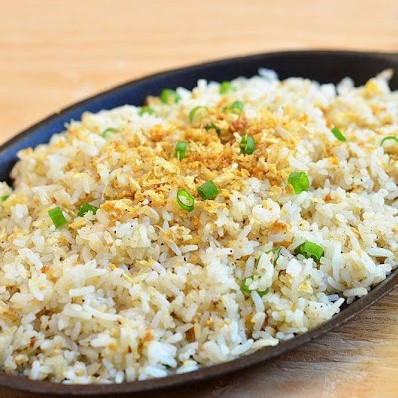 Sinangag – Filipino Garlic Fried Rice
It is truly an authentic Filipino mother lode of fried garlic flavor fused into fried rice and then topped with fresh scallions and
yet more crispy-fried garlic.
Featured Griffith Foods Product:
Garlic Food Concepts from Our Canada Chefs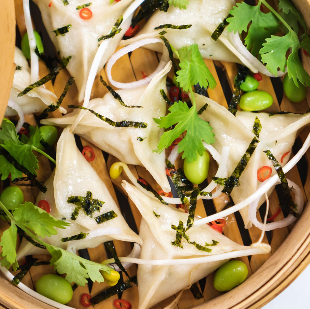 Butter, Chive, and Mushroom Dumplings
For a meatless treat, these chive and mushroom dumplings fit the bill. Elevate savory mushroom filling with a bold butter, garlic, and chive seasoning blend. Enjoy these dumplings steamed or fried.
Featured Griffith Foods Product:
Butter Garlic & Chive Seasoning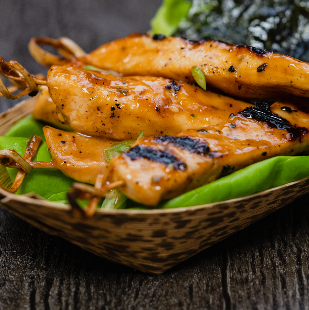 Orange & Black Garlic Chicken
Sweet aromatic orange and fermented savory black garlic-seasoned and glazed chicken skewers.
Featured Griffith Foods Products:
Orange & Black Garlic Seasoning
Orange & Black Garlic Dry Glaze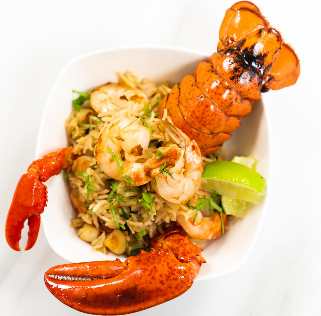 Pinoy Garlicky Seafood Fried Rice
Roast garlic and herb-seasoned fried rice with shrimp, mussels, and lobster.
Featured Griffith Foods Product:
GLOBALG.A.P. is a set of standards for "good agricultural practices" (G.A.P.) developed in cooperation with producers, retailers, and other stakeholders from across the food industry. In fact, 95% of the garlic sourced by Griffith Foods is GLOBALG.A.P. certified. Today, over 200,000 producers in 134 countries are under GLOBALG.A.P. certification, with the goal of spreading responsible farming practices to ensure safe food for future generations.
---
---
Culinary Perspective
In our latest podcast, Chefs Joe Kuechenmeister and Jordi Gallego highlight the unique members of the allium family, with ways to leverage these flavors and ingredients in product development. They'll also share their favorite tips and tricks for working with garlic, along with trending dishes in their local regions.
Let's Create Better Together
We're here to help inspire creations that keep your product portfolio on trend. Contact your Griffith Foods representative or reach out to our sales team to learn more about our ongoing research and innovative offerings.
Sources:
Mintel, 2021 FlavorIQ® Global Trends and Insights Report, January 2021.