Improving Nutrition.
Perfecting Taste & Texture.
As part of the industry that feeds some seven billion people daily, we have a responsibility to develop products that not only satisfy, but nourish. It's our job to make nutritious food affordable and accessible to everyone.
Consumers now have a greater expectation for food that is healthier without having to seek out niche products for better nutrition. That's why Griffith Foods offers you a range of ingredient solutions that not only enhance the flavour and texture of your products, but also make them more nutritious. Our nutritional sauces, seasonings, value-added coatings, and functional blends are designed to help you create healthier products that meet the evolving needs of your customers.

Boost the nutritional value of your products with Griffith Foods' nutritional solutions & expertise
At Griffith Foods, we believe that the key to creating truly nutritious products is to apply evidence-based standards for health and nutrition. Our team of experts includes nutritionists, food scientists, and culinary professionals who are dedicated to developing product solutions that meet these standards.
We take a holistic approach to product development, considering not only the nutritional value of our ingredients, but also factors such as taste, texture, and sensory appeal, and using our broad knowledge of different meat and plant-based substrates. We work closely with our customers to understand their specific needs and goals, and then develop customized formulations that meet those needs.
By meeting and applying evidence-based standards for health and nutrition, we deliver the most nourishing product solutions possible. We're constantly innovating and exploring new ingredient options to ensure that our product solutions remain at the forefront of nutrition science.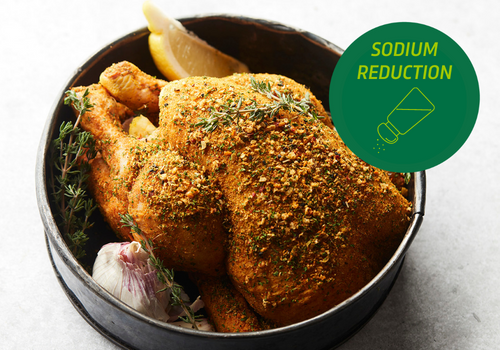 Reduced Sodium
WITH
Sodium Flex seasonings & functional blends
Reduced Sugar
WITH
Sugar Flex sauces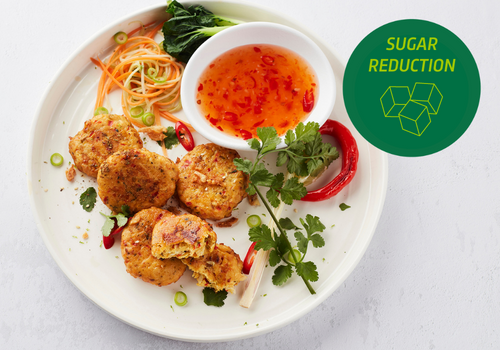 Reduced Fat
WITH
Never Fry coatings systems
Increased Fiber & Protein
WITH
Nutritional coatings systems
Increased Fruit & Veg
WITH
Hidden Fruit & Veg Sauces
How can we work together?
Together with our customers and partners, we strive to deliver delicious and nutritious products to our customers and consumers. From clean label products and the reduction/ elimination of unnecessary or poorly perceived ingredients to the fortification of our solutions that improve upon the nutritional composition of the final product, our health and nutrition capability allows us to focus on all areas of product development.
Looking forward, we aim to be the leading nutritious and sustainable product development partner for our customers, developing industry-leading solutions that enable the transition to planet friendly, nutritious diets.
Contact us
"*" indicates required fields
Reach out and partner with us to make your products more nutritious!