Delicious and nutritious sauces to reduce sugar
Reducing sugar is getting a lot of attention from consumers, and from food processors and regulators alike.
At Griffith Foods, we strive to perfect taste and texture, and to improve the nutritional profile of our solutions. This includes offering sugar reduced nutritional sauces.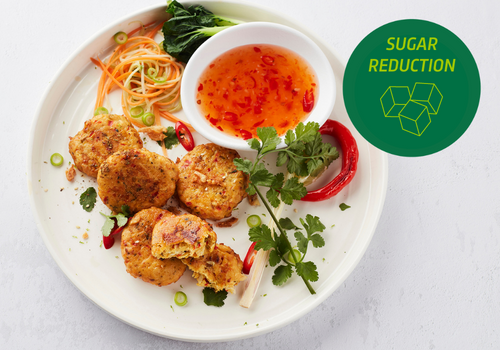 The challenge: balancing taste and convenience with nutrition
Sugar not only impacts taste, flavour and texture, but also shelf life; and consumers are unwilling to compromise on any of these elements. The key is therefore to reduce sugar content whilst ensuring consumer appeal and product safety, as well as adhering to regulatory requirements. We can unlock this challenge for you with our sauces.
Our Solution: Sugar Flex
Great tasting sauces, lower sugar content
Using our Sugar Flex Toolbox, we support our customers with tailor-made nutritional sauces that include reduced, low, or no added sugar options.
We also partner with our customers to meet their regulatory needs and costs specifications, whilst ensuring shelf life and food safety. Just as importantly, we maintain (and often even improve) flavour and therefore consumer acceptance.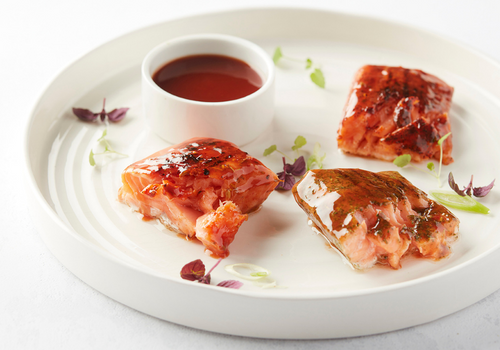 Tailor-made to suit your needs
Our R&D teams work closely with you to design sauces with unique flavours and textures to suit your product range extension or launch. Indeed, Sugar Flex enables a wide range of sweet, savoury, spicy and tangy taste profiles.
Beyond using our sauces, they can meet your nutritional and organoleptic requirements by using our seasonings or value add coating systems, and by relying on their expert knowledge of various animal and plant-based substrates.
Our Culinary chefs can inspire complete culinary concepts to further increase your products' consumer appeal and make your product stand out. Below are just two concept developed by our chefs and showcasing our Sugar Flex range:
No Added Sugar Sweet Chilli Dip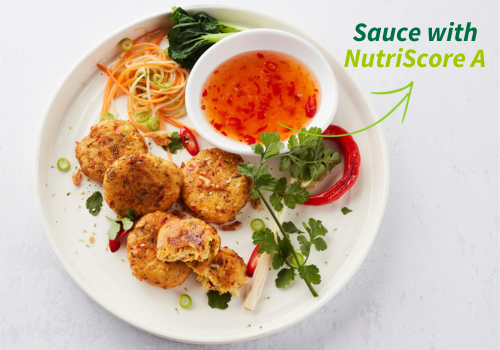 Plant-based fish cakes with no added sugar sweet chilli dipping sauce. 
Sugar Reduced Bourbon BBQ Sauce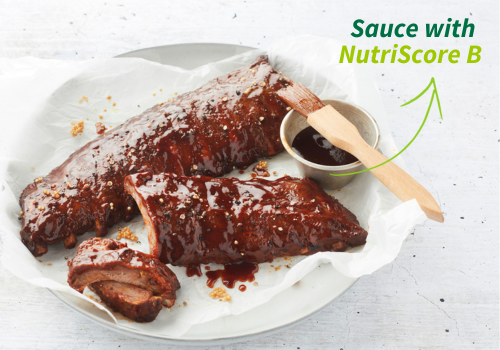 Pork ribs seasoned with our  Kentucky rub and glazed with our with a sugar reduced Bourbon BBQ finishing glaze.
*Nutritional values mentioned here relate to the specific concepts as designed by our developers. They may not be used for on pack declarations. It remains the responsibility of the final producer to consult local legislations on declaration and labelling.
Why Sugar Flex?
Great taste: addresses the loss in texture and mouthfeel that reducing sugar can bring
Tailor-made: suits your organoleptic and nutritional requirements
Healthier choices: allows processors and retailers to bring better-for-you options to consumers
No compromise on shelf-life
Clean label options available
On trend: enables nutritional claims (reduced, low, no added sugar)*
*Pack labels and claims are determined by the final product composition. It is the responsibility of the owner of the final product to consult authorities and legislation with regard to pack declarations and labelling.