Delicious and nutritious coatings with reduced fat
Many consumers are concerned about the fat content of the foods they eat.
At Griffith Foods, we strive to perfect taste and texture, and to improve the nutritional profile of our solutions, including by reducing the fat content of our value-added coating systems.

The challenge: balancing taste and convenience with nutrition
The fat content in coated products is largely a result of the frying step during processing, which negatively impacts the nutritional profile of the final product. Yet the frying is also crucial to determine the taste and crispiness of that product. One solution can be to eliminate the pre-frying, reducing the fat pick-up and making it easier to control the fat content.
Our Solution: Never Fry Coating systems.
Great tasting coatings. Lower fat content.
Griffith Foods' Never Fry Coating systems use a unique technology that only requires hot air treatment during processing. This results in coated products with a reduced fat content, yet with the same crispiness and visual appeal compared to products that are traditionally fried during processing. The fat quality is also improved by using fresh oil instead of frying oil.
An additional benefit to food processors may be the reduction of costs associated to oil usage during frying. Investments, maintenance costs and production bottle necks associated to the use of a fryer may also be reduced.
For consumers, products made with Never Fry can be prepared at home in an oven or air frying, again resulting in a better nutritional profile versus frying at home.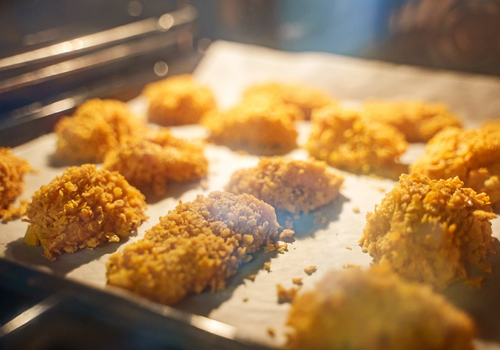 Tailor-made to suit your needs
We understand that your product needs to be unique, and that requirements vary from one extension or launch to the next. That is why we offer various other solutions to fulfil your requirements and make your products stand out.
Besides our standard Never Fry, you may also want to consider using our Vegetable-based Never Fry coating systems, which contain pure dehydrated vegetables, and which are particularly useful to retain taste and providing natural and attractive bright colours. Also, combining Never Fry coating systems with Griffith Foods' Nutritional Coatings, which add protein and fibre, can further improve the nutritional profile of your product.
Beyond our coating systems, we also offer nutritional seasonings and sauces, and you can always rely on the expertise of our R&D teams on various meat and plant-based substrates, as well as on the inspiration of our Culinary chefs in creating inspiring all round meal concepts.
Below are just three concept examples showcasing our Never Fry Coating systems:
Shrimps with Never Fry Coating System
Shrimps coated with Griffith Foods Never Fry Coating System, served with our sugar reduced sweet chilli sauce, and our green herbs and pepper mayonnaise.
Plant-based Chicken Rings With Vegetable Never Fry Coating System
Rings based on our plant-based chicken mimic functional blend, and coated with Griffith Foods Vegetable Never Fry Coating System. Served with no added sugar BBQ dip.
*Nutritional values mentioned here relate to the specific concepts as designed by our developers. They may not be used for on pack declarations. It remains the responsibility of the final producer to consult local legislations on declaration and labelling.
Why Never Fry?
No compromise on taste, texture and appearance: maintains attractive bright colours and purer taste sensations
Healthier choices: provides a healthier alternative to traditional coating systems, controlling fat content and improving fat quality
On trend: enables "low fat" front of pack nutritional claims*, and can improve the Nutri-Score and Traffic Light scores of your final product
Efficiency and versatility for processors: can be run on a standard line and be applied on a wide range of protein substrates (red meat, poultry, fish, chicken, cheese, vegetable, plant-based protein)
Tailor-made: suits your organoleptic and nutritional requirements
Potential cost savings: reduces dependency on fryers and usage of frying oil
Convenience for consumers: enables coated products that can be prepared in the oven or air fryer
*Pack labels and claims are determined by the final product composition. It is the responsibility of the owner of the final product to consult authorities and legislation with regard to pack declarations and labelling.