Delicious and nutritious seasonings to reduce sodium
Reducing salt has been high on the list of consumers' health aspirations for some time now.
At Griffith Foods, we strive to perfect taste and texture, and to improve the nutritional profile of our solutions, including developing tailor-made seasonings, marinades, and functional blends to reduce sodium.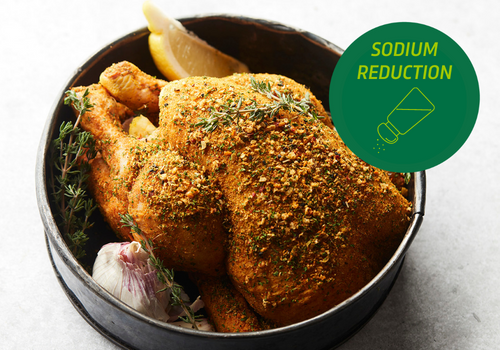 The challenge: balancing taste and texture with nutrition
Sodium chloride is not only used as a flavour enhancer but also as a preservative to extend shelf life. Therefore, the challenge is to balance between reducing sodium levels while maintaining the desired taste, as well as ensuring that the food remains safe for consumption. We can strike that balance with our seasonings.
Our Solution: Sodium Flex
Great tasting Seasonings. Low sodium content.
Using our Sodium Flex Toolbox, we work with our customers to develop nutritional seasonings and marinades that contain significantly less sodium, with a reduction up to 50% compared to traditional formulations.
What's more, we do this whilst preserving (and often even improving) the flavour of the original recipe!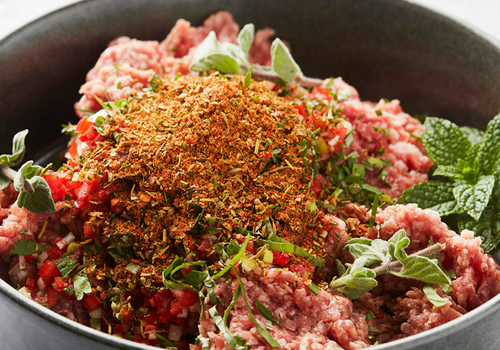 Tailor-made to suit your needs
To bring unique flavours and textures to your product range extension or launch, our R&D teams work with you to create customized solutions that achieve your desired taste profile.
Beyond using our seasonings, they can meet your nutritional and organoleptic requirements by using our sauces or value-add coating systems, and by relying on their expert knowledge of various animal and plant-based substrates. Our Culinary chefs can inspire complete concepts to further increase your products' consumer appeal.
Below are just two examples of concepts developed by our chefs using our Sodium Flex Toolbox:
Sodium Reduced Lemon and Thyme Brine Seasoning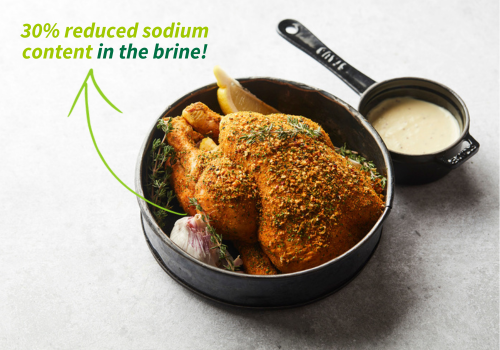 Roast Chicken with lemon and thyme brine seasoning. Finished with a herby crumb crunchy topper and a thyme gravy.
Sodium Reduced Smoky Applewood and Honey Seasoning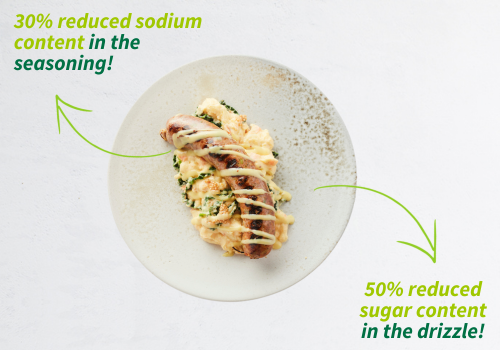 Hybrid pork and kale sausage with our sodium reduced smoked applewood & honey seasoning. Served with our sugar reduced honey mustard sauce.
*Nutritional values mentioned here relate to the specific concepts as designed by our developers. They may not be used for on pack declarations. It remains the responsibility of the final producer to consult local legislations on declaration and labelling.
Why Sodium Flex?
Great flavours: addresses the loss in flavour, texture, and mouthfeel reducing salt can bring
Healthier choices: allows consumers to choose a better-for you option from low to reduced salt/sodium
On trend: enables nutritional claims*, whilst meeting regulatory requirements
No compromise on shelf-life
Tailor-made to suit your organoleptic and nutritional requirements
Clean label options available
*Pack labels and claims are determined by the final product composition. It is the responsibility of the owner of the final product to consult authorities and legislation with regard to pack declarations and labelling.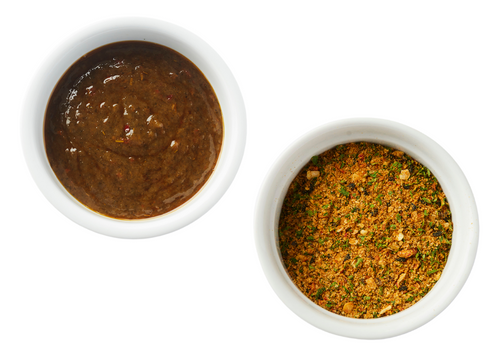 Request a sample or more information

Fill in the form below
"*" indicates required fields