Our Story
"If you look at our history, being a vehicle for the greater good has been the ethos of this company."

– Brian Griffith, Owner and Executive Chairman
Action follows purpose. Collaboration leads to innovation. And more often than not, the future you can envision is the future you can make a reality. This was certainly true in 1919 when Enoch Luther (E.L.) Griffith, a Chicago salesman, and his son Carroll Ladd (C.L.) Griffith, a pharmacologist, took the first bold steps toward improving America's food industry. The Griffiths' aim was to introduce food science to the food industry. Why? Because they believed they could improve food safety while creating healthier, better-tasting food.

Fast forward four generations and a century later, it's the same purpose-driven approach that continues to guide Griffith Foods today, and for the next 100 years
1920 – 1930
North American Growth
1930 – 1940
Product Development
1960 – 1970
Increasing Innovation
1970
Opening our office in Herentals, Belgium
1971
Opening our office in Derbyshire, United Kingdom
1978
Opening our office in Rome, Italy
1982
Opening our office in Tarragona, Spain
1986
Opening our office in Suresnes, France
1980 – 1990
Purposeful Evolution
2005
Opening our office in Milan, Italy
2006
Opening our office in Münster, Germany
2017
Opening our office in Valls, Spain
2000 – 2020
Built for Success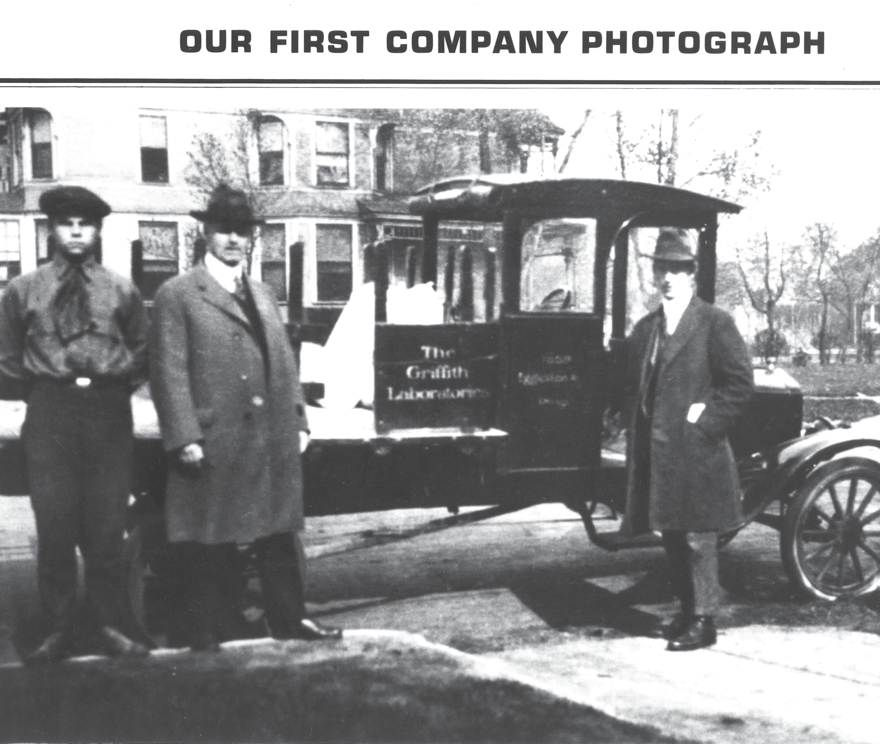 Our Founding
At a time when the nation's food supply couldn't be trusted, Enoch Luther (E.L.) Griffith and Carroll Ladd (C.L.) Griffith recognised the need to introduce food science to the food industry through personal customer relationships. Thus began the storefront start of the company at 429 W. 79th Street in Chicago.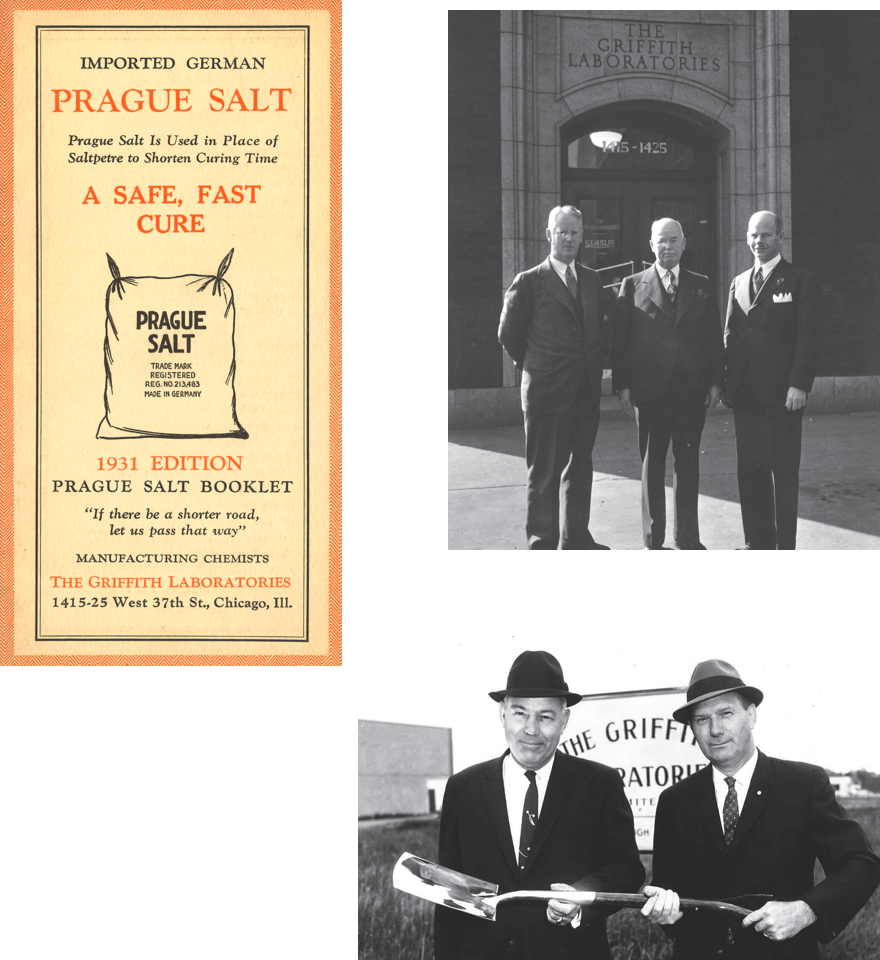 North American Growth
On May 14, 1929, Griffith's first company outside of the United States was established in Toronto under the leadership of E.L. Griffith's nephews, Maurice and Luther Rector.  Griffith introduces specialty flours, liquid seasonings, and imports German Prague Salt, which dramatically reduced the required curing times for ham, bacon, and sausage.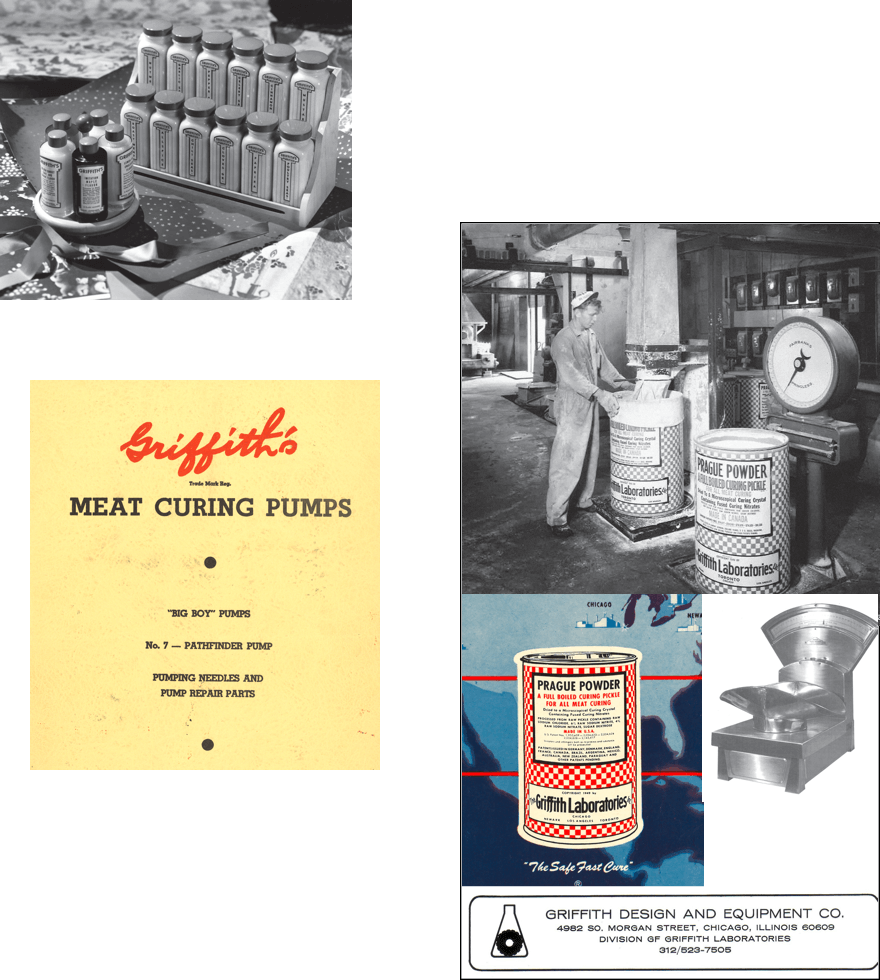 Product Development
Working to create safer, healthier and better-tasting food, Griffith utilised innovative technologies and processes to enhance the taste and safety of food products while reducing cost and speeding up production – developing Prague Powder "The Safe Fast Cure", hydrolysed vegetable protein, an essential and affordable building block of flavour, antioxidant seasonings and more.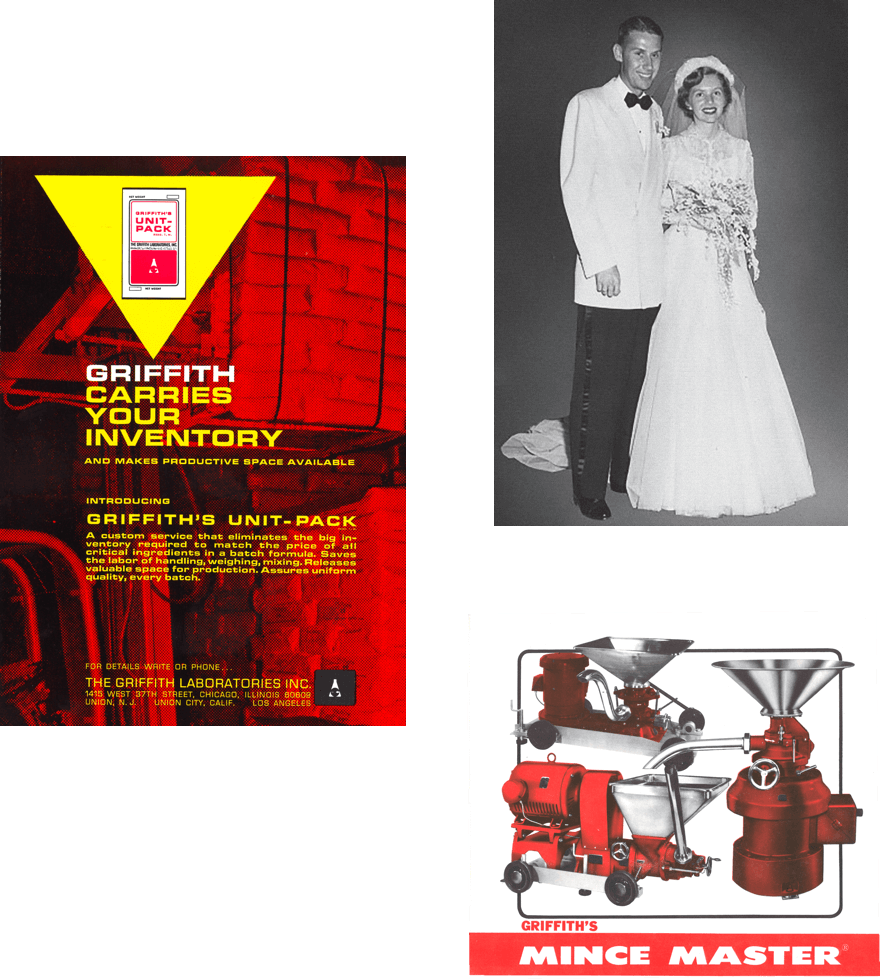 Going Global
Then, as now, Griffith grew by helping its customers grow – expanding its product line and services with ingredients and technology made to assure dependable flavour, texture, and quality. E.L.'s grandson, Dean L. Griffith joins the company and pioneers a global spirit to adapt and meet the needs of the cultures we serve.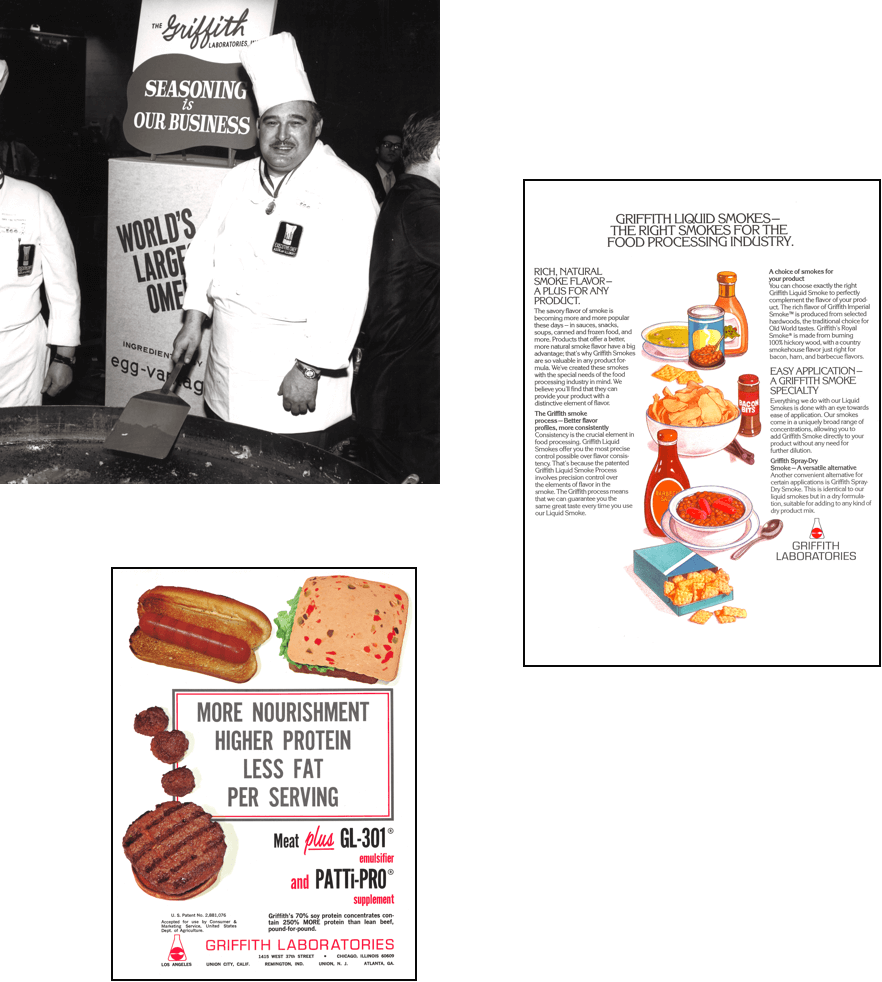 Increasing Innovation
Following new operations in South America, Europe, and Asia in the 1960s and 1970s, Dean Griffith restructured the company in 1978 to preserve its global footprint. Further pushes for improvement involved collaboration between culinary teams and food scientists, allowing Griffith to expand within the food industry. 
Unit Paks offer processors and foodservice operations optimised batching and back-of-house efficiencies. Griffith Foods introduces HVP flavour extensions, Flavour Glaze for BBQ, authentic liquid blends, and unique coating systems with increased durability and functionality in baked and fried applications.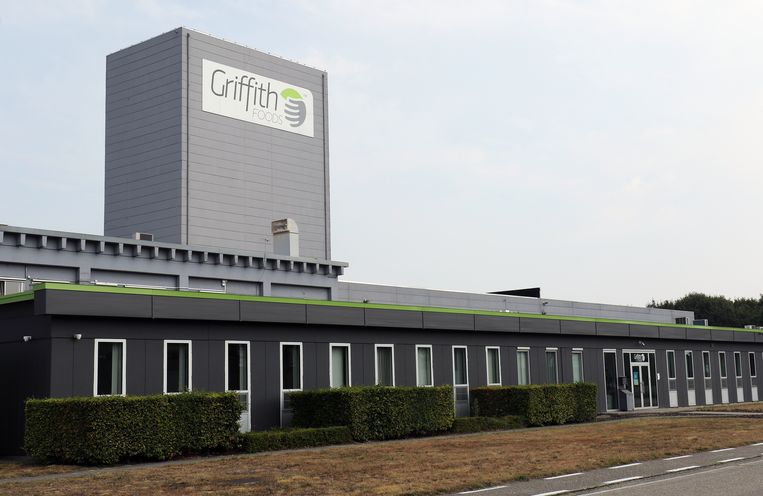 Opening our office in Herentals, Belgium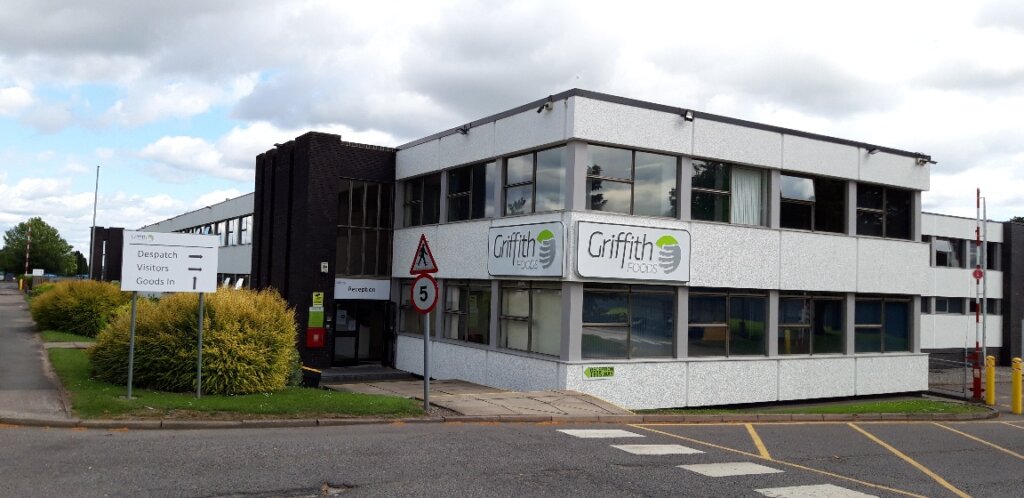 Opening our office in Derbyshire, United Kingdom
Opening our office in Rome, Italy
Opening our office in Tarragona, Spain
Opening our office in Suresnes, France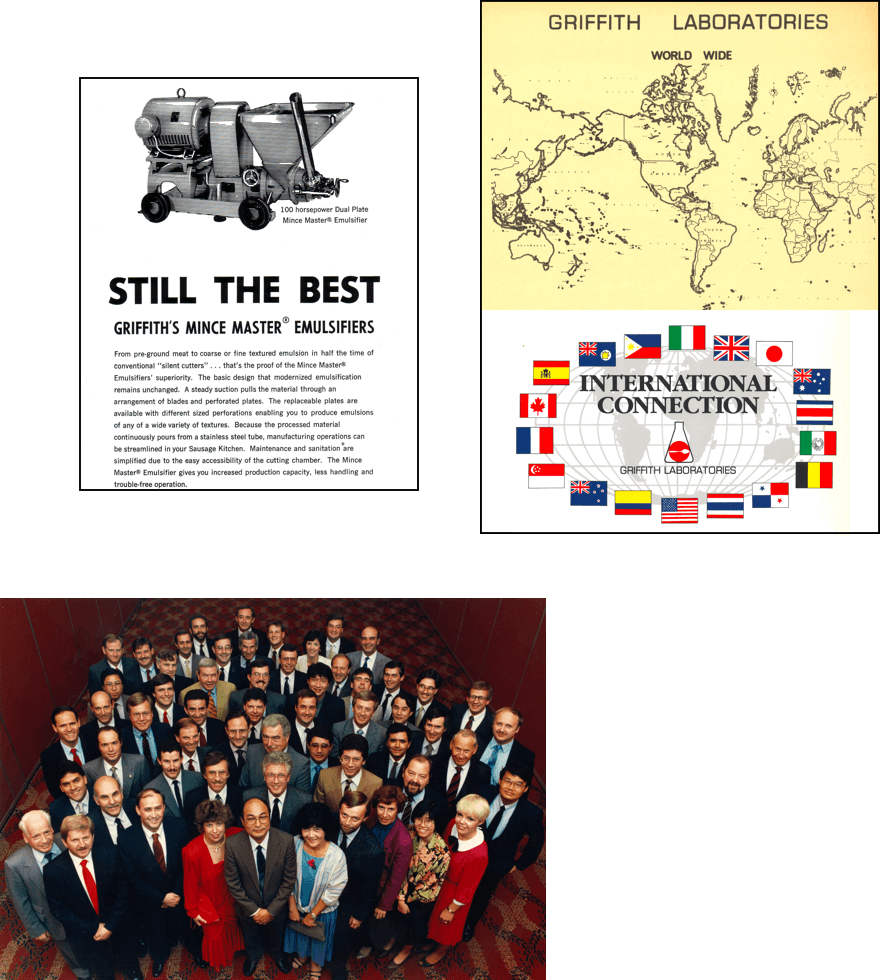 Purposeful Evolution
By acquiring new companies, creating a new division, and further developing its core capabilities, the company blended together diverse approaches and points of view to help customers grow. Griffith acquired Custom Culinary® in 1991 to expand its soup, base, sauce, and gravy offerings, then launched its Innova®Flavors division in 1997, which greatly diversified its catalog of customisable  natural flavourings, pastes, and marinades.
Two new, state-of-the-art Culinary Centers are opened at the Alsip headquarters and in Europe to provide customers with additional product development resources. Custom Culinary® is acquired and Innova®, a manufacturer of savoury flavours, is established. New facilities are built in Brazil, Southern China, and South Korea.
Opening our office in Milan, Italy
Opening our office in Münster, Germany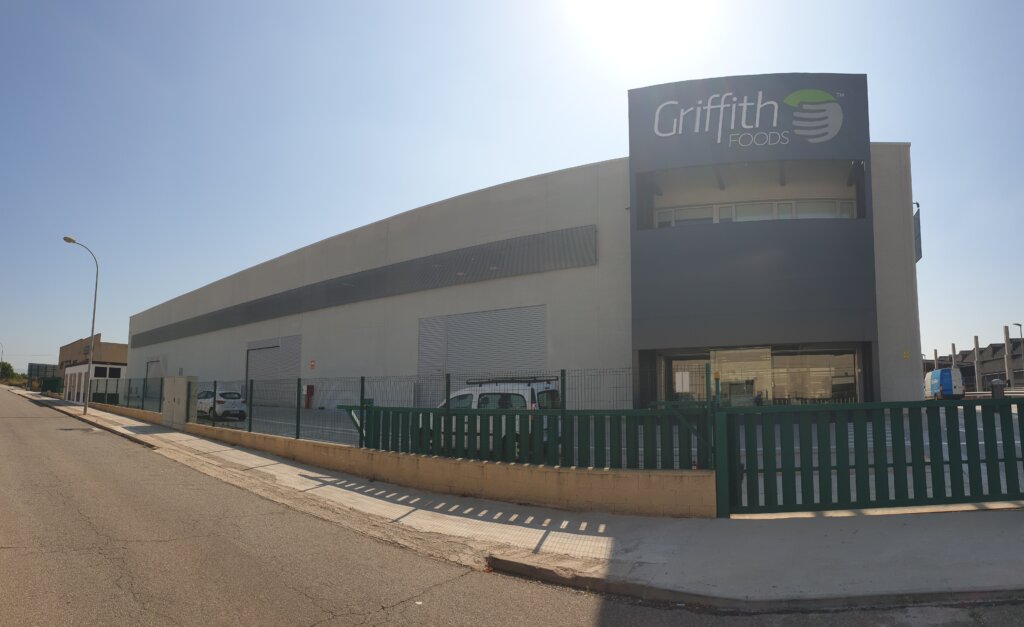 Opening our office in Valls, Spain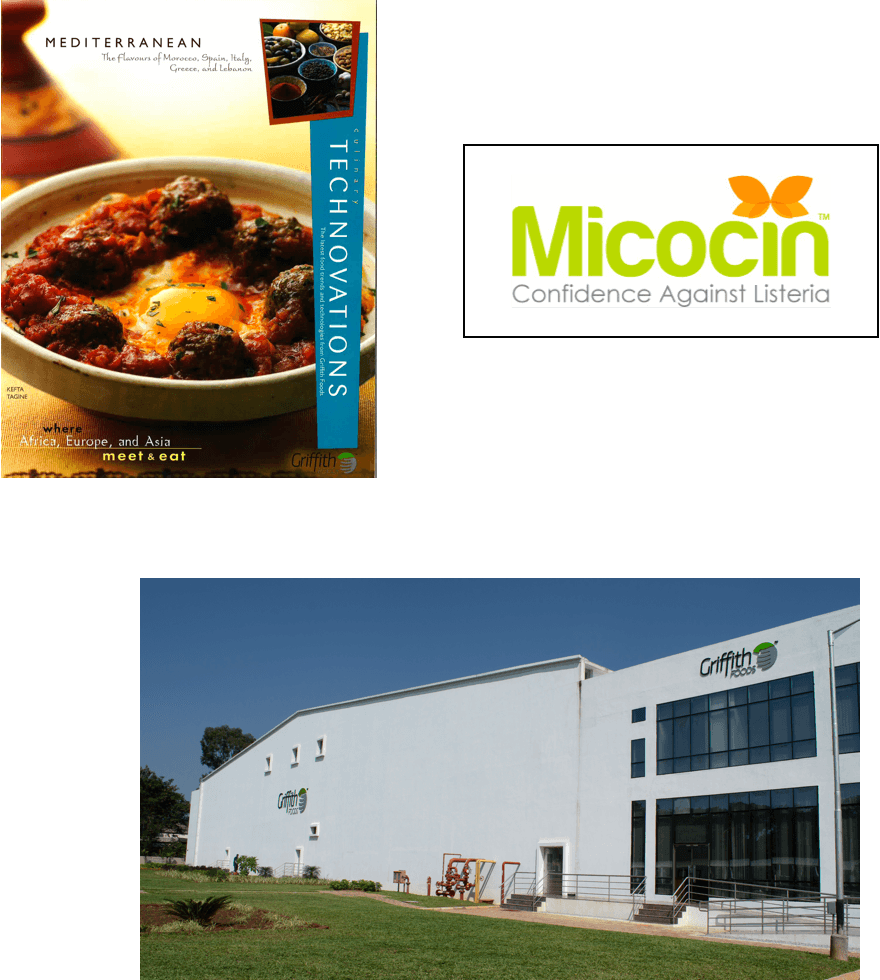 Built for Success
Griffith's sustainability platform has been a key driver of change looking toward the future.
By following the four strategic thrusts – shared value, leverage technology, partner ecosystems, and health and nutrition – a positive impact has been made through endeavors like the Griffith Sustainably Sourced (GSS) program and clean-label products. These initiatives are both a validation of Griffith Foods' past successes and an essential step in our continuing push to blend care and creativity to nourish the world.
Griffith Foods acquires a liquids facility focused on the production of sauces and soups. New manufacturing units are built in Mexico, India, and Northern China. Additional culinary centers are constructed within targeted facilities throughout the world. In 2019, the company launches TEROVA™, a supplier of sustainably sourced and superior spices, herbs, botanicals, and innovative ingredients, in order to scale sustainable sourcing efforts.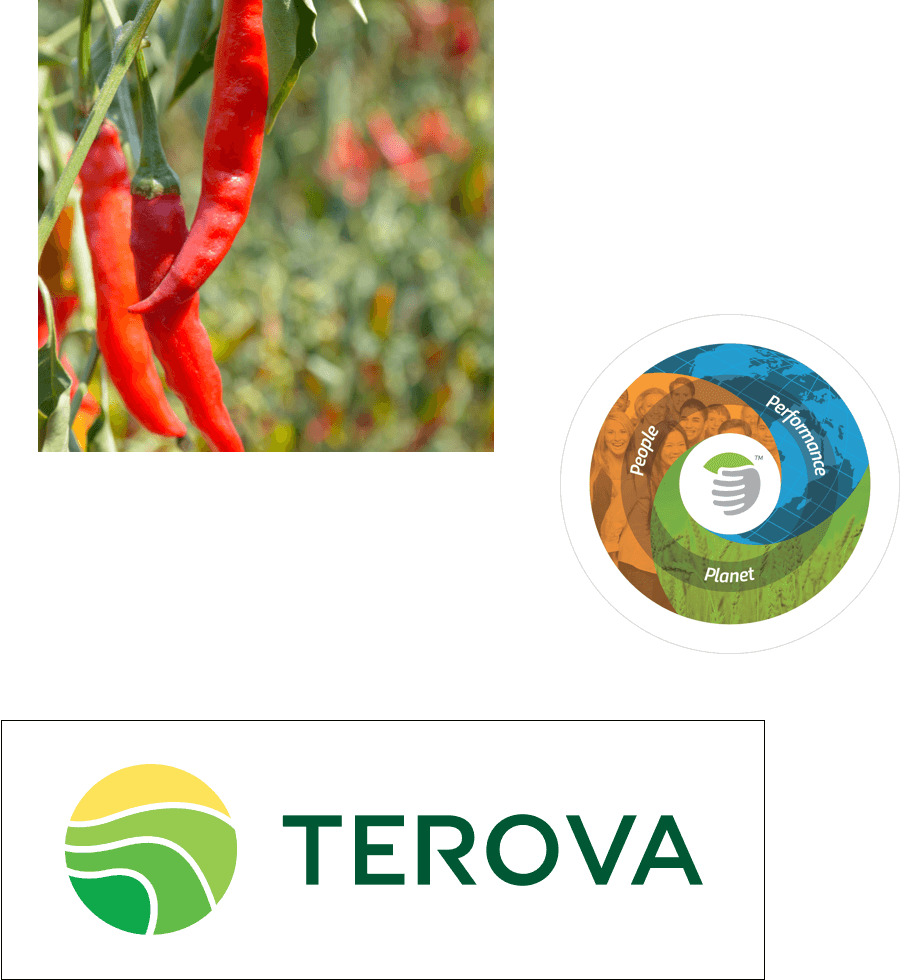 A New Era
Today, the world is Griffith Foods' market. Its central pursuit builds on its legacy of blending care and creativity to nourish the world. Countless global partners rely on the company for seasonings, spices, coatings, sauces, and more, while its sustainability efforts support local and regional food ecosystems around the world.
Our Values
Born from our purpose, our values are at the heart of everything we do.
Make the Future Better

We are optimistic and courageous while making choices in pursuit of our dreams. Sustainability informs our curiosity, imagination, and innovation. We are passionate about leaving our planet a better place for future generations. We believe the best is yet to come.

Work Together Globally

We recognise our diversity creates a unique strength, and we learn from our colleagues and partners globally. By collaborating, communicating, sharing, and learning, we create better together.

Behave like Owners

We are passionate about creating long-term value. We believe that we are part of something bigger than ourselves and strive to make a difference. We trust each other and treat talent as a valuable resource. We believe in strategic risk-taking and in doing the right thing, especially when it is hard to do.

Build Customer Success

Recognising that our success depends on our customers' success, we work to create value and ensure success by understanding, anticipating and prioritising customer needs. We build a mutual commitment to derive sustainable long-term value.

Deliver Results

We take personal responsibility for meeting our commitments. We are focused on achieving objectives aligned to our triple bottom line of people, planet, and performance. We execute with excellence, measure results, and reward success.

Act like Family

We are a caring family company where everyone has the opportunity to grow, follow their own personal "Purpose" and find fulfillment in their work. We support each other and demonstrate mutual respect. We nourish people's well-being – physical, mental, and financial.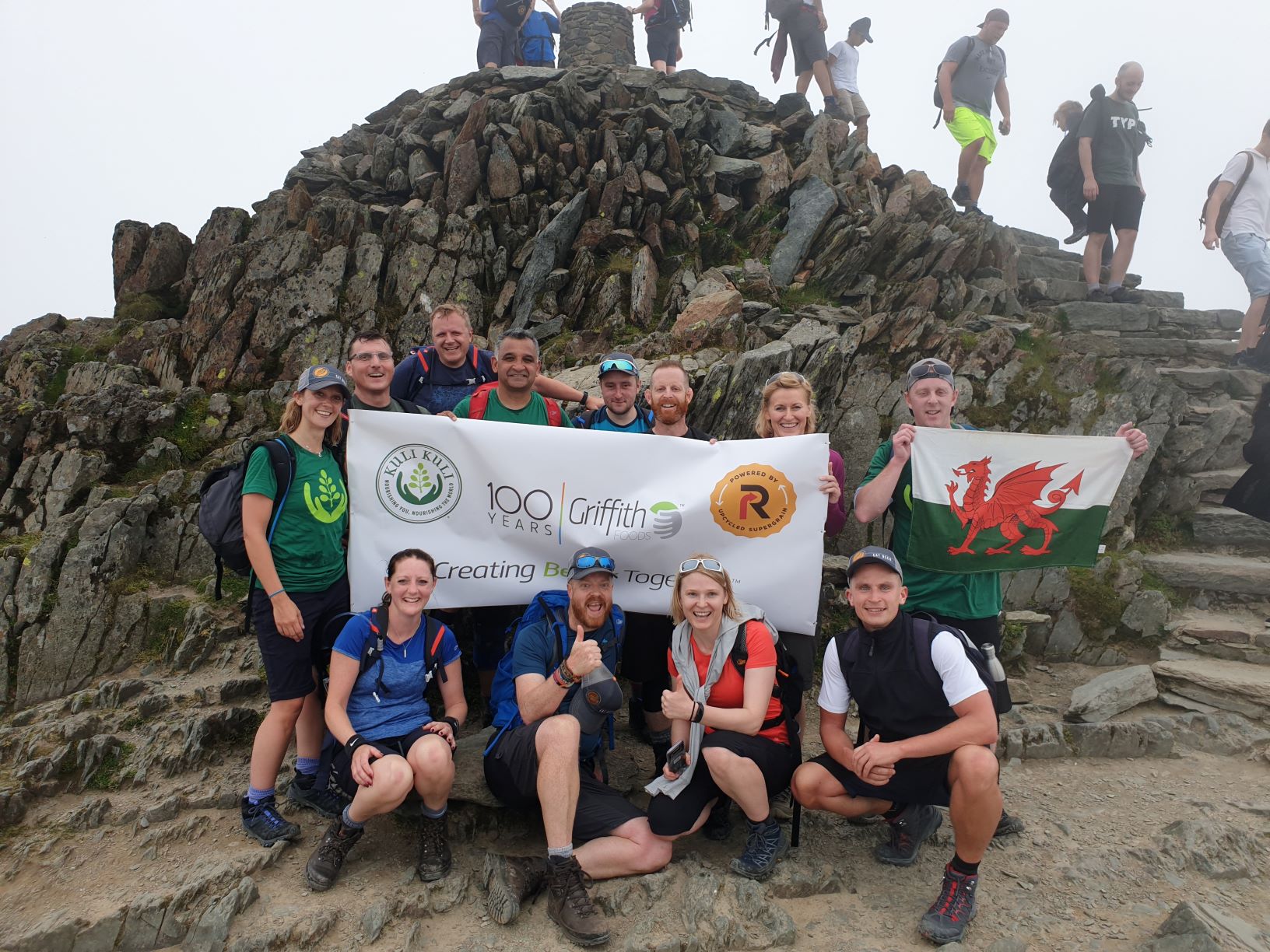 Join Our Family
With 750 employees across Europe, representing 43 countries, our workforce needs to reflect the diversity of the communities where we (globally) operate. With a career at Griffith Foods, your diverse viewpoints, experiences, and backgrounds can connect to something greater. That also means feeling welcome, valued, and heard.
At Griffith Foods you can bring your purpose to life, you can create new opportunities for you to grow, develop, and make an impact on the sustainable future of our business and the world around us. 
Discover how your work can nourish the world and help you succeed in your career while working together.
Our Leadership
We believe in inspiring leadership. Connected by a shared purpose, our leaders are committed to the well-being of every Griffith Foods employee and ready to share their knowledge and experience. They are maintaining responsible stewardship of the People, Planet, and Performance.
Brian Griffith

Executive Chairman

TC Chatterjee

Chief Executive Officer

Filip De Reymaeker

President, Europe & Africa

Tarik Abida

Vice President Finance Europe & Africa

Joanne Smith

Vice President Human Resources Europe & Africa

Arnaud Le Guen

Vice President Purchasing & Quality Europe & Africa

Giuseppe Onorato

Vice President Supply Chain & Manufacturing Europe & Africa

Nathan Sellen

IT Director Europe & Africa

Rochelle Schaetzl

Vice President Marketing Europe & Africa

Matthew Cutts

Vice President of Research & Development Europe & Africa

Dirk Oyen

Vice President Business Development Europe & Africa

Thomas Verrooten

General Manager North & East Europe

Jarnail Sani

General Manager UK & Ireland

Fernando Gomez

General Manager South Europe

Sergi Estragues

General manager Africa & Custom Culinary®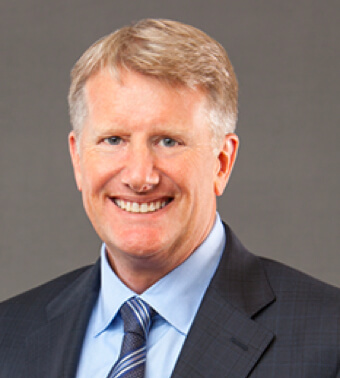 Brian Griffith
Executive Chairman
Brian is the fourth-generation family member to lead Griffith Foods. He has worked in the food industry for almost three decades, with more than 20 years of service at Griffith. Throughout his tenure with the company, Brian has held diverse leadership positions within Griffith and Custom Culinary, Inc., a wholly-owned subsidiary, including management roles in Europe, Asia, and North America. From 2005 until 2014, he led our teams in the dynamic Asia Pacific markets, served as Vice Chairman and Group President for Central and South America, Asia Pacific, and India Middle East for Griffith. In 2015, Brian began leading Griffith Foods as Executive Chairman.
Over the past four years, he has spearheaded a team to establish form and structure in Griffith's sustainability platform of People, Planet and Performance, and apply it across all business units worldwide. In the coming years, he will continue guiding the organization to develop new shared value opportunities and promote a Purpose-driven strategy that supports the community and preserves the planet while fostering continued successful performance.
Brian earned a B.A. in International Political Science from Miami University in Oxford, Ohio, and an M.B.A. from Case Western Reserve University's Weatherhead School of Management.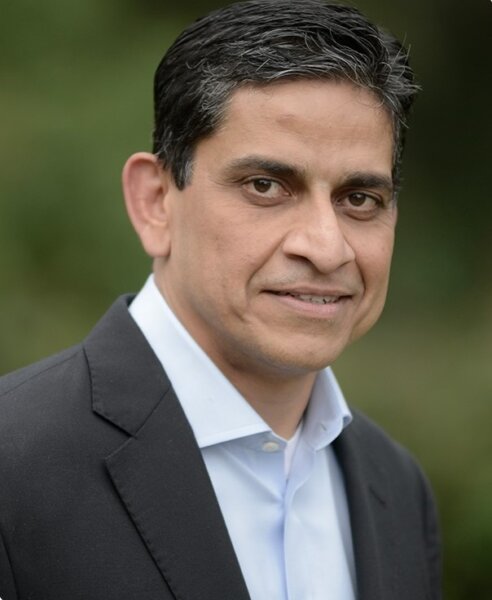 TC Chatterjee
Chief Executive Officer
TC Chatterjee was named Chief Executive Officer in 2016. Before becoming CEO, TC held positions as Chief Operating Officer, as well as Group President across some of Griffith's fastest-growing regions, including Central and South America, Asia Pacific, and India – Middle East, as well as Custom Culinary, Inc., a wholly-owned subsidiary of Griffith Foods™.
"Griffith's global footprint and our ability to add value to our customers and their customers through our expertise and experience in food science, culinary arts, sensory and consumer insight help us offer a range of capabilities to enable our customers' growth and innovation. We are proud of our ability to provide these locally as well as globally."
Filip De Reymaeker
President, Europe & Africa
Filip is an entrepreneurial and business builder with a proven track record of driving strong profitable growth in the food and beverage industry across four continents.  In addition to his successful progressive leadership roles in commercial operations and general management, Filip has strong passion for innovation and sustainability which is invaluable in leading the European organization on the next steps of our journey toward our 2030 Aspirations, in service of our Purpose.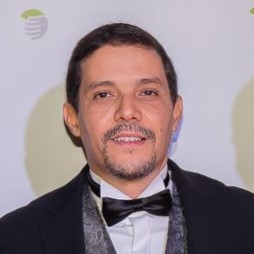 Tarik Abida
Vice President Finance Europe & Africa
Tarik Abida is the Vice President of Finance for Griffith Foods Europe & Africa, where he leads the controlling, financial shared service, FP&A, risk, treasury, and M&A departments. Tarik joined the company in 2019 following a 17-year finance career in global food and retail companies, where he built a strong background in finance transformation and team leadership.

Joanne Smith
Vice President Human Resources Europe & Africa
Experienced International Human Resources Leader with significant expertise in all areas of HR.  Focused on driving People initiatives and execution to deliver Business Strategy.  Achieving organisational excellence through Talent Management & People strategies striving towards becoming an employer of choice.  Strong advocate on bringing the People agenda to Senior Leadership teams enabling execution of strategy in the key areas of Talent , Development , Organisation & Culture.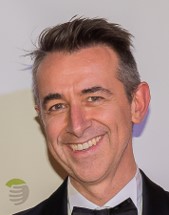 Arnaud Le Guen
Vice President Purchasing & Quality Europe & Africa
Arnaud Le Guen is Vice President of Purchasing & Quality for Griffith Foods Europe & Africa. He is also responsible for the Griffith Foods Europe Sustainability platform.
In his 7 years at Griffith and his 20+ year career in the food industry, Arnaud has been fully focused on purchasing and quality; developing supply chain tools and building high performing teams in multicultural environment.
He is passionate about and convinced that Sustainability is the main driving force to unlock innovation and address social and environmental issues complementing the Griffith Foods ethos to provide 'delicious, nutritious and sustainable' food.
Arnaud is dedicated to creating positive changes within the food industry and believes this is possible through multiple collaborations and relationships with the aim of achieving carbon neutrality and a circular economy, both of which drive performance and assure quality products for all our Griffith customers.
Having lived and worked in the USA for several years, he holds an MBA from Texas A&M International University USA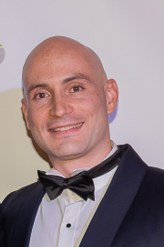 Giuseppe Onorato
Vice President Supply Chain & Manufacturing Europe & Africa
Giuseppe Onorato is the Vice President of Supply Chain and Manufacturing for Griffith Foods Europe & Africa. Giuseppe describes himself as a facilitator, creating a pleasant work environment and developing talents by means of mentoring and empowering, while challenging the status quo and breaking down silos. He brings more than 11 years of experience from global tobacco, beverage, and engineering companies to the role.
Giuseppe holds a Master's degree in mechanical engineering and is a chartered engineer. He has completed executive education at the Massachusetts Institute of Technology (MIT), postgraduate studies at the Vrije Universiteit Brussel (VUB), education in applied computational fluid dynamics at The University of Glasgow.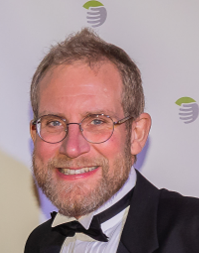 Nathan Sellen
IT Director Europe & Africa
Nathan Sellen is the IT Director for Griffith Foods Europe & Africa. He held a variety of senior leadership roles in IT before joining Griffith Foods. Nathan previously worked in the food manufacture, agriculture and bio-technology sectors for 18 years, as well as the automotive sector for 7 years prior to that.
Having lived and worked in Germany, Finland, Singapore, China, Brazil, and the US, Nathan has a passion for world languages and meeting people of different cultures. He is active in the Transition Movement, is passionate about sustainability, and holds a permaculture design certificate. Nathan also holds a Batchelors degree (with Honours) in Economics and a Masters degree (with Distinction) in Computing.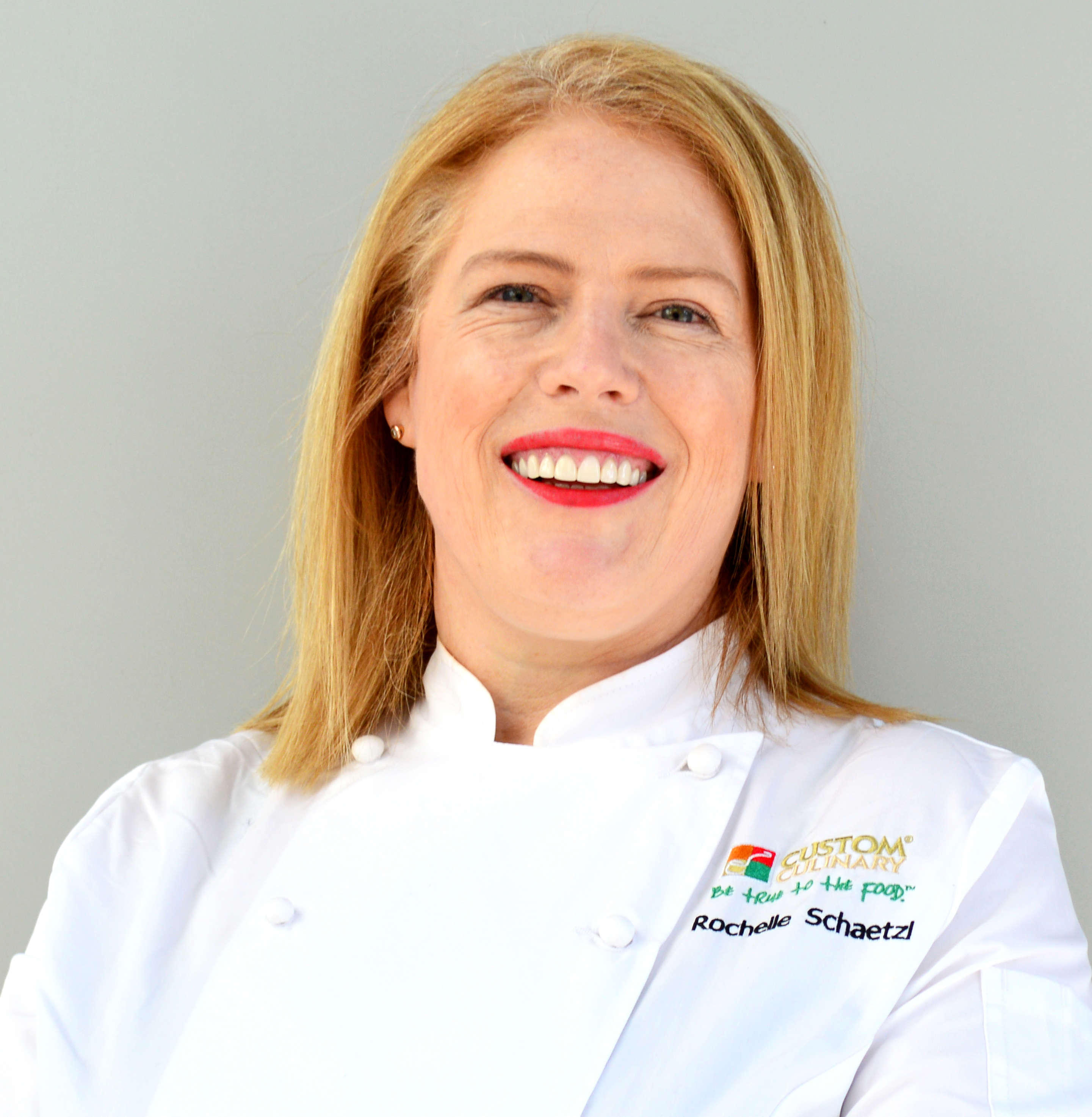 Rochelle Schaetzl
Vice President Marketing Europe & Africa
Rochelle Schaetzl is the Head of Marketing for Griffith Foods Europe & Africa, a position that allows her to inspire people and think differently about her passions for food, travel, and foodservice. Born and raised in Southern Africa, she is a world traveller with a unique understanding of diverse cultures and cuisines. Prior to Griffith Foods, Rochelle was the Assistant Vice President of Business Capability Development for Nestle Professional, as well as Owner and Founder of We-Me Collaborations in addition to positions at Nando's and Firmenich. She was also the Director of the South African Chef's Association, honorary member of the Indian Federation of Culinary Associations, and Program Director of Worldchefs Academy.
Rochelle holds degrees in food science and marketing from the University of Pretoria in South Africa, as well as business leadership qualifications from IMD, Switzerland and a professional culinary chef certification.
Matthew Cutts
Vice President of Research & Development Europe & Africa
Matt has broad, end to end knowledge of R&D and Quality and Food Safety. With 20+ years' experience with Mars Incorporated having lived and worked in Europe and Australia, Matt has worked across multiple cultures and categories, building diverse teams to create successful product experiences, delivering value to both consumers and customers.
He understands a wide range of food technologies and emerging consumer trends, with a track record that transforms concepts into outstanding products. Recent roles included leading a Global R&D and Innovation function, delivering a five-year global strategy for Mars Food to create the next generation of healthy meals.
Dirk Oyen
Vice President Business Development Europe & Africa
Dirk is an experienced professional with a strong track record of driving business growth and identifying new opportunities in the food and beverage industry. He has held senior leadership positions at multinational companies like Cargill and ADM, and has a proven ability to understand market dynamics and guide commercial organizations to achieve targets in a global context.
 As Vice President of Business Development at Griffith Foods, Dirk is responsible for identifying new opportunities and developing strategies to guide the commercial organization toward achieving its targets. With his international experience, cultural diversity, and passion for innovation and sustainability, he is well-positioned to lead the company's growth and expansion efforts, and to help achieve its purpose of blending care & creativity to nourish the world.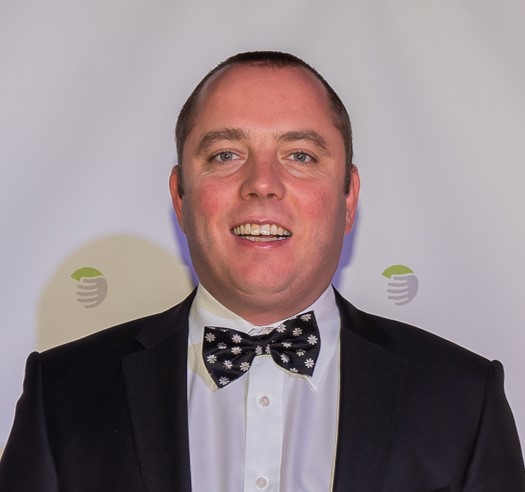 Thomas Verrooten
General Manager North & East Europe
Thomas Verrooten is the General Manager of Griffith Foods North and East Europe. He is an experienced director in international sales and general management, previously spending 12 years at Barry Callebaut. Thomas is skilled in food, chocolate, sales, team management, marketing, and key account management and is a board member for Friedewald Confectionary. He attended the University of Ghent and speaks Dutch, English, French, and German.

Jarnail Sani
General Manager UK & Ireland
Jarnail Sani is the General Manager of Griffith Foods UK & Ireland. Previously, he spent eight years in operations at Adamsfoods. Jarnail is a qualified, enthusiastic, and highly self-motivated General Manager with a proven track record for people management, innovation, continuous improvement, and achieving sustainable change successfully, founded on his comprehensive experience within a fast-moving consumer goods environment. He has achieved a keen business focus through goal-oriented management control that's gleaned from a strong manufacturing, financial, quality, and commercial understanding, as well as persistence and determination to fulfill challenging objectives.

Fernando Gomez
General Manager South Europe
Fernando Gomez is the General Manager for Griffith Foods South Europe. He is an experienced senior executive with considerable international background gained from working in Mexico, the United States, South America, and Europe. Previously, Fernando spent a total of 13 years in finance at Kraft Foods Mexico, holding a variety of roles from planning and analysis to controller. Having significant international experience, Fernando is extremely conscious of cultural differences and strives to be culturally sensitive wherever possible. He holds a degree from Universidad Iberoamericana – Ciudad de Mexico, a diploma in financial administration from Tecnologico de Monterrey, a global MBA from Thunderbird University, and a certificate in the senior executive program at the London Business School.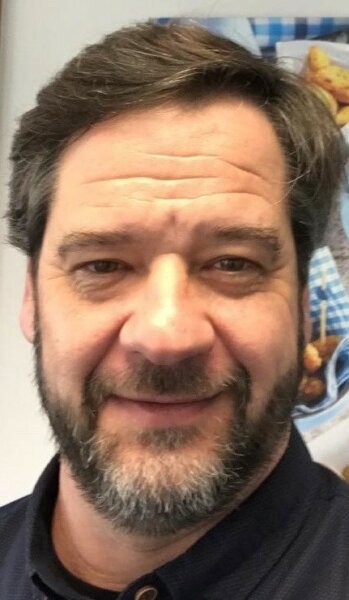 Sergi Estragues
General manager Africa & Custom Culinary®
Sergi Estragues leads the "Other Foodservice" segment in Griffith Foods Europe under the Custom Culinary® business model and is also responsible for the expansion of Griffith Foods throughout sub-Saharan Africa. He has previously held different levels of responsibility in the Griffith Foods commercial and management structures of Spain and Italy. Sergi's career in the food industry began during his six years at the flavour company Lucta, SA., where he had responsibilities as Product and Area Manager. Prior to that, he worked for the filter paper industry with Ahlstrom group, responsible for new market expansion.
Sergi is also a lawyer by the University of Barcelona. He frequently lectures in various Master studies at the University of Barcelona, Institute for Lifelong Learning and University Rovira i Virgili (University of Tarragona).
Partnerships and Ecosystem
Our Partner & Ecosystem strength is critical to our progress, growth and ambitions to Nourish the World. Through trusted collaborations we are joining forces with others whose expertise, knowledge, and experience strengthen our offer and manage new capabilities and capacities.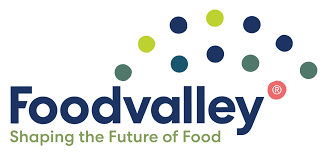 Foodvalley is the primary knowledge-intensive agrifood ecosystem in the Netherlands. This ecosystem is characterized by many world class innovative agrifood and food-related solutions and by the cooperation between companies, knowledge institutions, education and governments.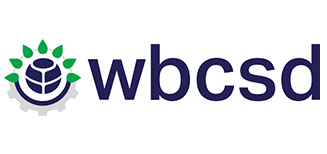 The WBCSD acts as the global go-to voice on sustainable development in business. Their mission is to accelerate the transition to a sustainable world and to help make more sustainable businesses more successful.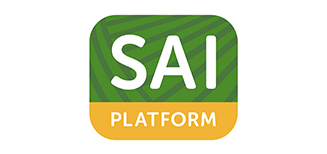 Growing a sustainable, healthy and resilient agricultural sector whilst creating strong and secure supply chains. (The Sustainable Agriculture Initiative Platform)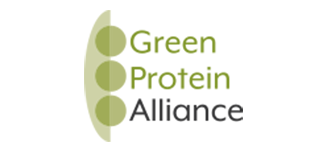 The Green Protein Alliance supports a healthy and sustainable balance in protein consumption. It's a unique alliance between 25 retailers, the catering industry, food producers and 10 knowledge partners in the Netherlands, supported by the Dutch Government.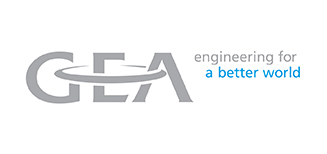 An European partnership of more than 10 years in meat processing and coatings solutions.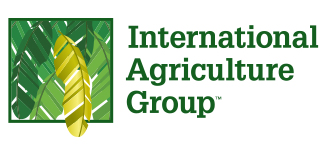 A global collaboration to optimise the use of their green banana powder ingredient while reducing food and land waste.