As the most popular protein throughout North America, chicken is prominently found on menus and in consumers' homes.
77% of Canadians claim they eat chicken at least once a week. Chicken is on 96% of US menus, more than any other protein. 88% of Mexican consumers eat chicken at home at least once a week.
(Sources: Griffith Foods Chicken Report Canada 2021; Datassential; Griffith Foods Chicken Report, Mexico 2021)
With consumers frequently eating chicken, innovation becomes even more important to prevent boredom and stand out in the protein space. As a familiar and approachable base, chicken is an excellent canvas for experimenting with flavors, sauces, seasonings, and ingredients.
Here are some popular flavors when it comes to chicken dishes.
You Can't Go Wrong with Spicy Chicken
Consumers have been hot on spicy flavors for a while, and chicken is no exception:
51% of US consumers prefer spicy chicken, while Nashville Hot has grown 309% on menus over the past 4 years. (Source: Griffith Foods Chicken Report, US 2021; Datassential Menu Trends US)
74% of Canadian consumers reported that Chipotle BBQ goes well with chicken. (Source: Griffith Foods NA Flavor Dashboard)
76% of Mexican consumers think Habanero goes good with chicken. (Source: Griffith Foods NA Flavor Dashboard)
Whether it's smothering a basket of wings or spread across a plant-based "chicken" burger, some other fast-growing flavors giving this protein a kick include green curry, Nashville hot, peri peri sauce, hot honey, and siracha.
Sweeten Up Spicy Heat with Fruit
From tangy citrus to sweet tropical, fruits can bring just the right amount of balance to spicy chicken dishes. Pairing fruit with spice is particularly appealing when it comes to wings, from lemony mango habanero to jalapeño peach. And while the wing opportunities are endless, the fruit-and-spice duo works with other chicken formats as well.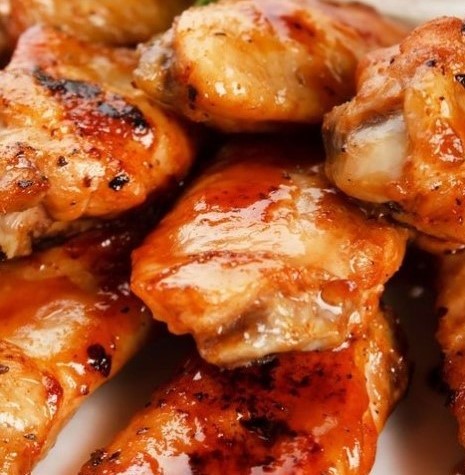 "Spice up Sunday wings with Jalapeño Peach Wing Sauce."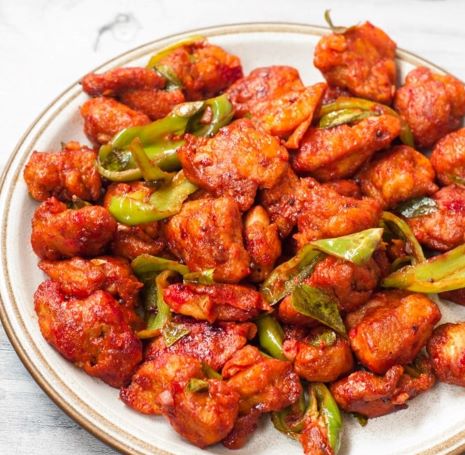 Chicken 65 is an Indian, fried, spicy chicken dish that derives most of its flavor from red chiles, ginger, and garlic and is typically served with onions and lemons. This dish is up 92% on US menus since 2018. (Source: Datassential US Menus)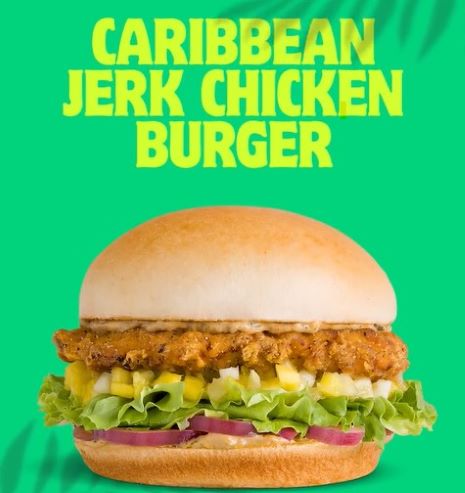 Triple O's, a Canadian restaurant chain, offers a Caribbean Jerk Chicken Burger with fresh mango and pineapple, crispy chicken, and a spicy Caribbean Jerk Aioli.
(Image from Triple O's media)
Bring Fruit and Spice to Fruition with Griffith Foods
From sauces to dry rubs, a single solution can transform simple chicken dishes with delicately balanced sweet and spicy flavors. Innovation and consumer insights are at the core of striking that balance at Griffith Foods.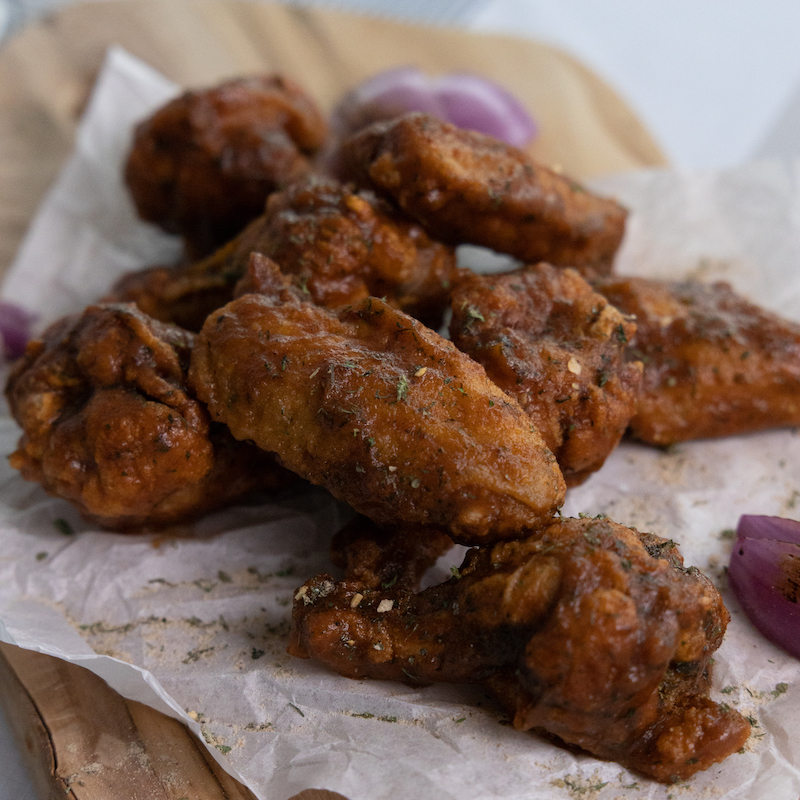 Pineapple Churrasco Wings
These wings offer a hint of spice, smoke, sweet, savory, and sour thanks to Griffith Foods Pineapple Churrasco Sauce. This one-step sauce brings balance to the dish as the pineapple's natural sugars work in harmony with the spice of chilis.
While wings are especially popular, other consumer-friendly options that are prime for experimentation include chicken breasts and plant-based alternatives that emulate chicken taste and texture. Talk to a Griffith Foods rep to start innovating the best fit for your offerings.
Let's Create Better Together
We're here to help inspire creations that keep your product portfolio on trend. Contact your Griffith Foods representative or reach out to our sales team to learn more about our ongoing research and innovative offerings.