There's a chicken wing flavor for just about everyone. Want heat? Go classic buffalo. Want tang? Try lemon pepper. But what if you want something with a hint of spice, smoke, sweet, savory, and sour? That's when you want Chef Jaime Mestan's Pineapple Churrasco Wings hitting your plate.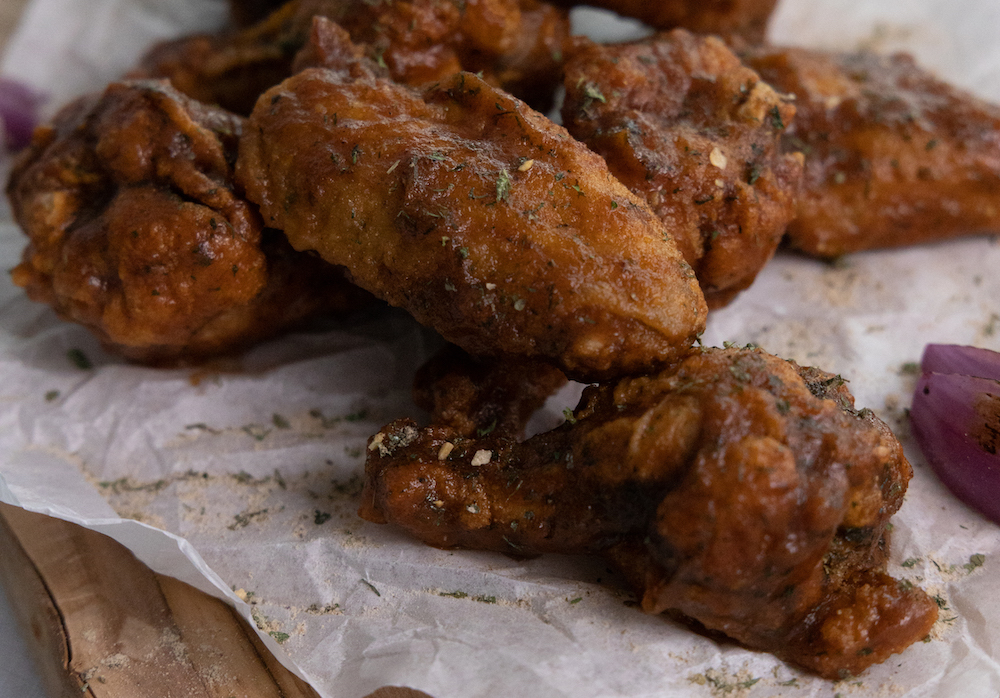 Fruit Flavors Shine on Chicken
The nuanced flavors of Griffith Foods Pineapple Churrasco Sauce come alive on chicken wings. This sauce transforms the blank canvas with the same beloved smokiness found in Brazilian churrasco (the term used for a variety of meats grilled on skewers or spits above embers) but with a much-needed touch of sweetness from fruit. Most importantly, the blend of flavors in the Pineapple Churrasco Sauce provides balance: The pineapple's natural sugars work in harmony with the spice of chilis, and its acidity cuts through the smoke flavoring.
"Wings are sometimes that canvas that you can bring new flavors to. They're not always paired with something sweet like pineapple, but the fruit brings natural sugars and acidity that you look for in a balanced wing sauce."
— Chef Jaime Mestan
The Easiest Route to Crisp
Griffith Foods Crispy Flour Coating system provides an all-purpose, single-pass breading for chicken wings that's suitable for a variety of applications. Toss in our shelf-stable Pineapple Churrasco Sauce, and you'll deliver crispy wings that pack bright flavor in every bite.
Protein and alternative protein processors: Coat substrate in the coating system and include a single-serving sauce pouch in the packaging for retail. Both can be frozen and reheated without quality, texture, or flavor degradation.
Food service: The single-pass breading system eliminates steps in the back of house and maintains texture even in a holding environment.
"Baked or fried, the Crispy Flour Coating system is a savory, all-purpose coater that adds the crispy texture that chicken wings need."
— Chef Jaime Mestan
Same Chicken Wings, New Dynamic Flavor, One Simple Solution
Griffith Foods Pineapple Churrasco Sauce combines the flame-grilled profile of Brazilian churrasco with the tropical flavor of pineapple, an oft-grilled fruit. It's a one-step sauce that provides a complex, dynamic, and vibrant twist on a recognizable dish when applied to a substrate like chicken wings. The palate gets a mix of sweet, sour, smoky, spicy, and salty — giving the taste buds a satisfying, all-in-one bite.
Let's Create Better Together
We're here to help inspire creations that keep your product portfolio on trend. Contact your Griffith Foods representative or reach out to our sales team to learn more about our ongoing research and innovative offerings.