Efficient doesn't have to mean simple, just like salads don't have to be boring. One of our latest concepts, a spicy grain salad, exemplifies these points: It's light yet indulgent, refreshing yet spicy, and quick to prepare yet full of flavor.
Corporate Executive Chef Martha Sánchez developed a "deliciously efficient" salad characterized by bold and elegant notes thanks to a few time- and cost-optimizing ingredients.
Spicy Grain Salad with Truffle Parmesan Grain Bites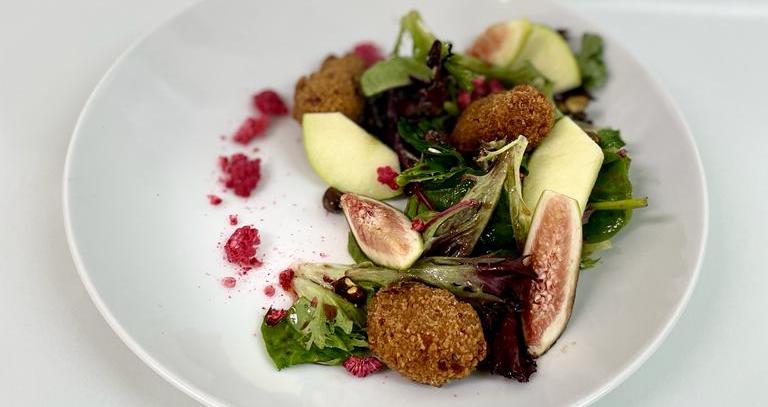 Spicy Alternative Protein Grain Bites
The star of this salad is a pea-based alternative protein in the form of a bite-sized nugget. The spicy grain bites are made from a "just-add-water" system that's free of allergens and nutrition warning stamps or labeling. Combining the vegetable protein with additional grains provides texture while making the salad a more substantial, healthful meal.
Savory Truffle Parmesan Flavour Glaze
Griffith Foods Truffle Parmesan Flavour Glaze is an oil-based seasoning that keeps food crispy for four hours longer than traditional glazes and sauces. When applied to the grain bites, the coating helps maintain a crunchy, freshly-fried texture.
As 82% of consumers in the US and 71% in Canada report ordering takeout in the past three months, the integrity of the dish's texture and quality is key to keeping them coming back.
Flavour Glaze also gives chefs a cost-effective way to elevate this dish with indulgent, decadent, but often inaccessible truffle and parmesan flavors.
Sweet and Tart Toppings for Balance
An extremely adaptable dish, this salad can be topped with various ingredients to balance the spicy and savory flavors from the grain bites, including shelf-stable, freeze-dried fruit and nuts. Chef Martha finished the salad with figs, green apples, and freeze-dried raspberries. A pomegranate and balsamic vinegar vinaigrette and a sprinkling of coconut sugar caramelized pistachios give depth to the dish and round out the flavor profile.
An Efficient Approach to Decadent Dining
Chefs in any dining setting can relate to the need to reduce steps in the kitchen or optimize their costs. The pea protein, hydratable system is a fast and easy route to a flavorful, alt-protein "nugget." Meanwhile, Flavour Glaze is a versatile, shelf-stable ingredient used as a marinade, simmering sauce, or finishing oil. Needing only 7% glaze to 1 kilogram of protein, Flavour Glaze is a high-yield ingredient that requires no additional dry seasonings, brings value to your back of house operations, and flavor to the finished concept.
Please reach out to request a sample of these products or to explore other ways we can help you create better together.