As the world's oldest cooking method, barbeque has been around for centuries. However, it's far from being stuck in the past:
95% of Americans find BBQ appealing. (Source: Griffith Foods Flavor Dashboard)
70% of Canadian households own a grill or smoker. (Source: 2022 State of the Barbecue Industry HPBA)
87% of consumers in Mexico have tried BBQ as a flavor and like it. (Source: Griffith Foods Flavor Dashboard 2022)
In fact, the barbeque realm is all about pushing boundaries and presenting opportunities for consumers to experience barbecue in unique ways. From fruity flavor mashups to Asian-inspired sauces and plant-based proteins, there's something for everyone in the world of modern barbeque.
Sweet and Smoky: A Flavor Match Made in BBQ Heaven
A crowd-pleaser among North American consumers, Honey BBQ is sure to stick – especially when paired with the smokiness inherent to traditional barbecue cooking methods:
86% of Americans find Honey BBQ appealing. (Source: Griffith Foods Flavor Dashboard)
93% of consumers in Canada consider Honey BBQ appealing. (Source: Griffith Foods Flavor Dashboard 2022)
62% of consumers in Mexico have tried Sweet & Smoky BBQ and like it. (Source: Griffith Foods Flavor Dashboard 2022)
Smoky BBQ provides the perfect canvas for sweet and fresh flavor profiles, particularly honey glazes and fruit-forward parings. The natural sweetness derived from honey and fruit, whether it be tangy peach mango honey or sweet apple butter, creates a beautiful balance when paired with intense smoky flavors in barbecue dishes and sauces.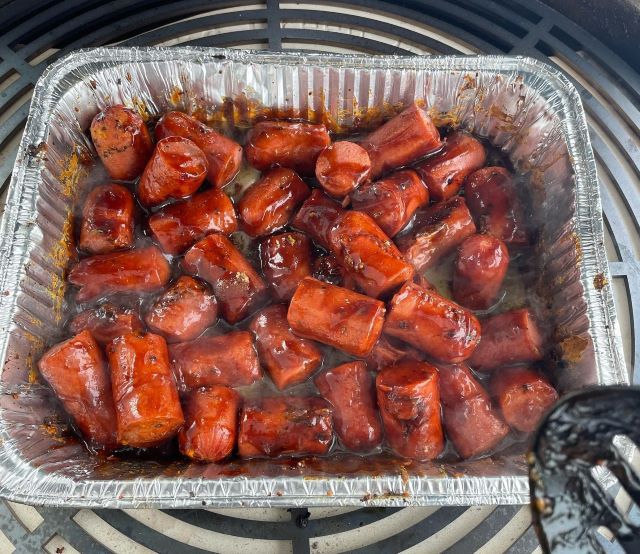 Hot dog burnt ends on the BGE today for Super Bowl snacking! Mustard binder with @meatchurch Holy Cow BBQ rub, then a bath of butter, brown sugar and @squealers_bbq Smokey Sweet BBQ Sauce. – @chucks_an_egghead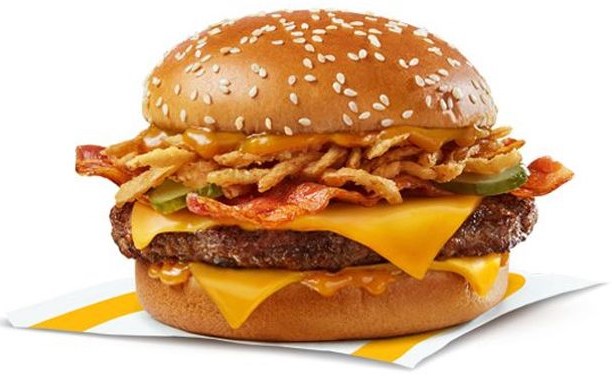 McDonald's Canada gave its signature Quarter Pounder a new look by giving it some southern charm. The limited-time Carolina BBQ Quarter Pounder featured a sweet and tangy golden Carolina BBQ Sauce and hickory-smoked bacon strips.
(Image from Canadify)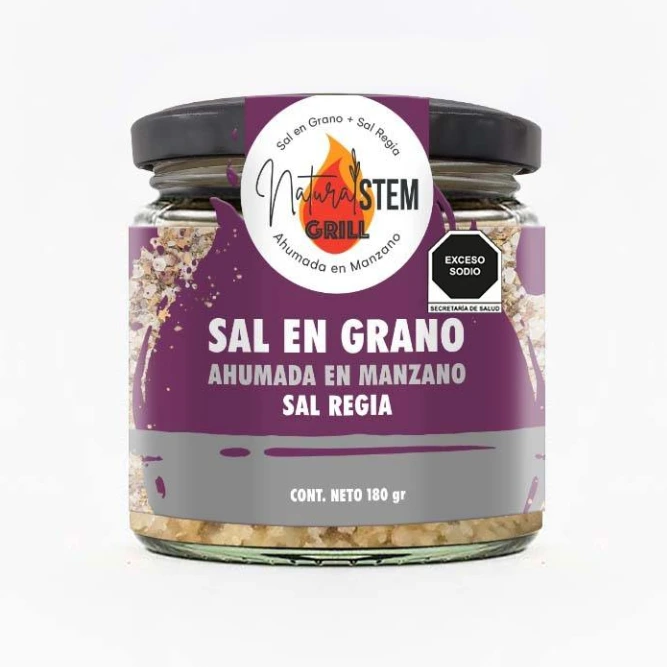 Natural Stem Grill, a brand of seasoning and cooking salts in Mexico, offers an Applewood Smoked Cooking Salt with garlic and other spices. Meanwhile, 64% of consumers in the US are interested in meat cooked over Applewood. (Source: Datassential What's New in 'Cue 2022)
(Image from Walmart website)
With many consumers gravitating to spicier dishes and snacks, don't be surprised if you see more Hot Honey BBQ popping on menus and on social media.
Asian Flare with American Roots
Korean barbecue has increasingly secured its spot on restaurant and street food vendors' menus – and not without reason. Asian flavors are known for their bold, complex, and aromatic qualities, making them a natural complement to the equally aromatic flavors of BBQ. Balancing sweet, salty, sour, and umami flavors is a common characteristic of Korean and Japanese dishes and a technique frequently applied to barbecue sauces and seasonings.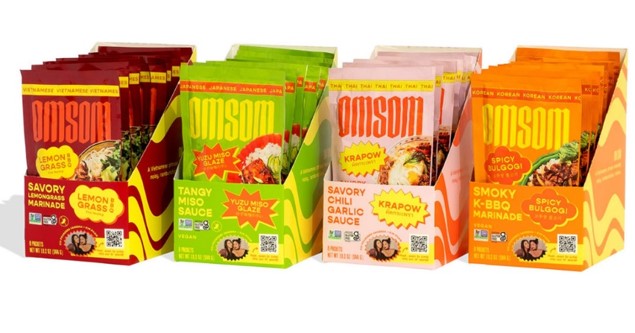 Vietnamese sauce and seasoning company, OmSom, added two flavors to their lineup of colorful products: Lemongrass BBQ and Smoky K-BBQ Spicy Bulgogi. This reflects the growth in Asian flavors and BBQ mashups hitting the market.
(Image from OmSom media)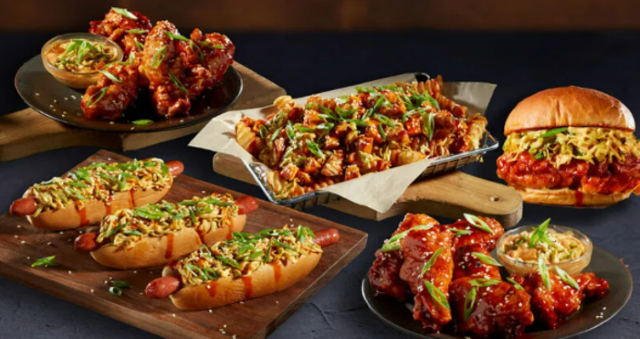 Nathan's Famous, a restaurant company in the US, introduced a full line of Spicy Asian BBQ menu options for a limited time. Offerings included hot dogs, sandwiches, chicken tenders, fries, and wings that incorporated a Spicy Asian BBQ with slaw or Kogi Sticky Spicy Wing Sauce.
(Image from Nathan's Famous)
Plant-Based Eating Gets a BBQ Makeover
As plant-based eating becomes more prevalent in North and South America, interesting new flavors, products, and cooking methods are entering the market. Tofu, vegetables, and other plant-based products offer a subtle base that is prime for absorbing bold flavor. With many tofu eaters looking to enhance their plant-based protein, smoky barbecue sauces are an excellent solution. Tofu isn't the only plant-based food being elevated with BBQ flavors. Retailers can capitalize on barbecue popularity by incorporating the intense flavors into light, healthy snacking options.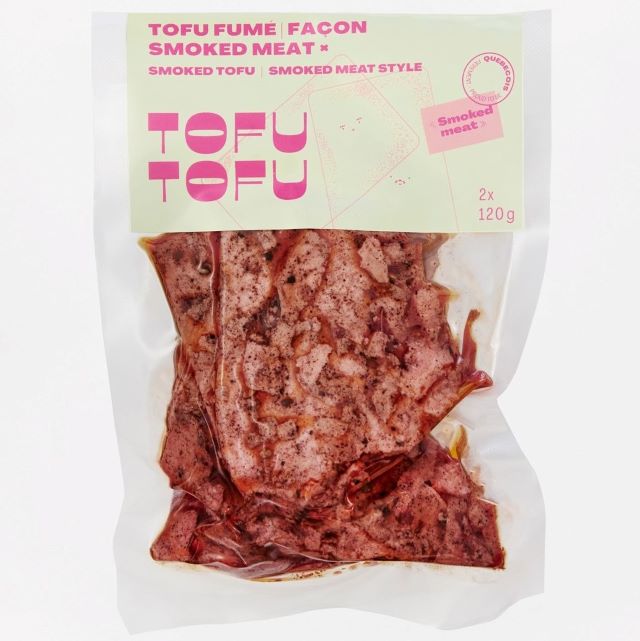 Tofutofu, a Canadian tofu manufacturing company, offers marinated tofu in a smoked-meat-style that can be cooked directly in the pouch.
(Image from Tofutofu media)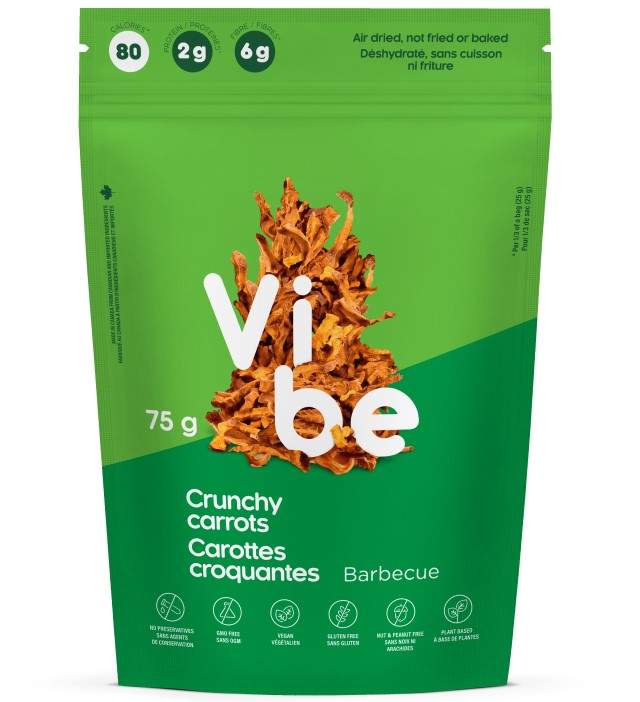 Vibe Foods, a CPG manufacturer in Canada, offers healthy, plant-powered snacks, including crunchy, air-dried, BBQ carrot chips.
(Image from Vibe Foods website)
Keep Up with the Endless BBQ Evolution
Despite the tried-and-true practice of cooking over a flame, the wide world of barbecue continues to adapt and reimagine culinary experiences through new renditions and flavor combinations. Pairing fruity and sweet flavors with notes of smoke is sticking with consumers, while Asian-inspired flavors are also making their mark on the barbecue scene. Plant-based claims a place in the barbecue world as well, whether as a meat replacement or inspiration for new products. From innovative sauces and marinades to seasonings, it's clear that the possibilities for barbecue flavor experimentation are endless.
Let's Create Better Together
We're here to help inspire creations that keep your product portfolio on trend. Contact your Griffith Foods representative or reach out to our sales team to learn more about our ongoing research and innovative offerings.