Consumers want to tap into the power of food, finding the balance between satiety, nutrition and indulgence. By taking a more mindful approach to eating, they can nourish not only the body but also their mental well-being.
The snack category is full of products purported to help consumers relieve stress and face the day with a clear mind.
The protein category is also seeing an expansion from traditional "plus," "minus" or "free-from" claims into more complex functional benefits.
Restaurant operators are also finding ways to meet the needs of consumers looking to achieve a more holistic healthy lifestyle by creating unforgettable experiences through their culinary offerings. Sustainability plays a critical role in the mindful eating space—not just to consumers but across the supply chain.
3 Insights to Discover
4 out of 5
Spanish consumers agree what you eat directly impacts your emotional well-being, creating an opportunity for products that promote specific emotional needs
x2
Immunity-focused claims have almost DOUBLED across new launches in Germany in the past 5 years indicating the ongoing market growth for products which provide targeted health benefits
2/3rds
of UK consumers agree it's difficult to know whether products claiming to have health benefits make a difference to your health, indicating an opportunity to develop ranges that communicate clear and functional benefits
Culinary inspiration
Restaurants and retailers can help consumers balance their desires for health and happiness through food, especially when it comes to plant-forward dishes made with sustainable ingredients that are good for the earth, good for health and play in the wellness space.
Plant-based 'Chicken-free' Balls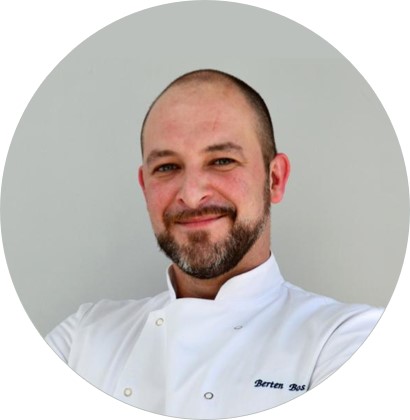 Created by Chef Berten Bos
For this concept, we used Curry and Paprika oil Marinades. We served it on a skewer and paired it with a courgette, mango and cherry tomato salad, to give the whole dish a fresh and healthy look, ideal for a summer BBQ. ​
Discover more about our Plant-based chicken mimics HERE!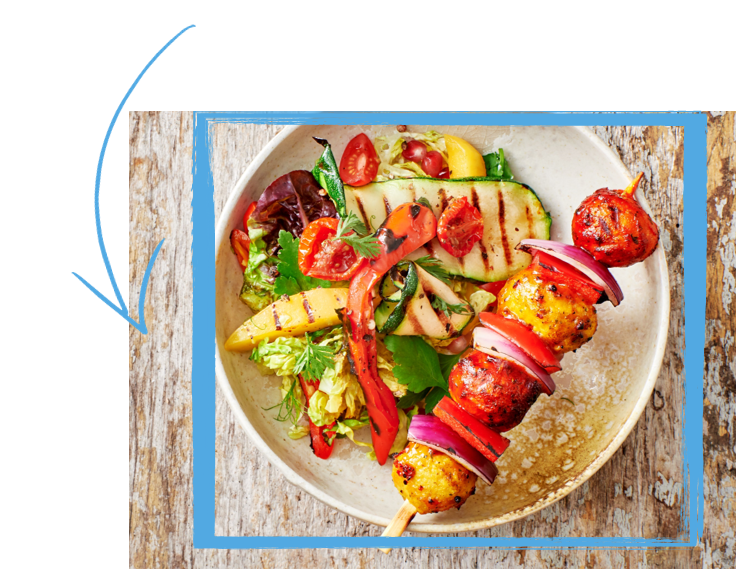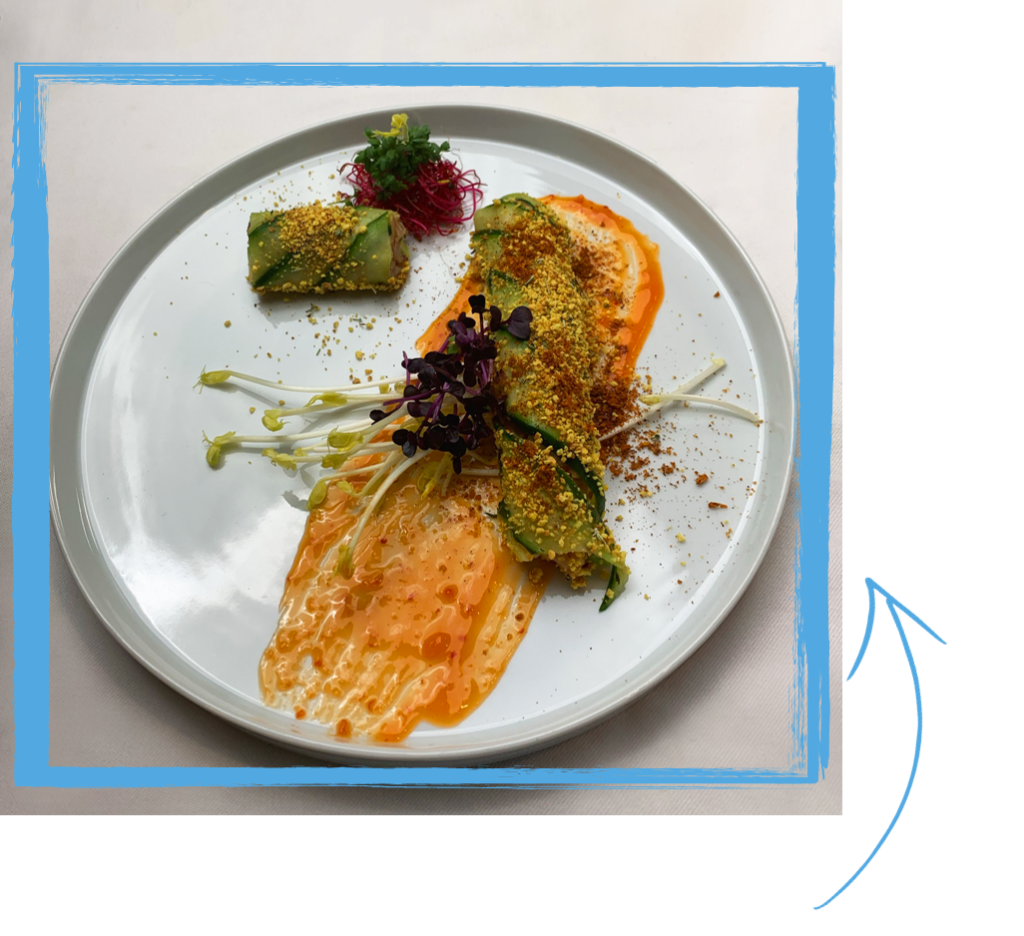 Smoked Seabass Tartar Cucumber Roll with a Sweet & Spicy Sauce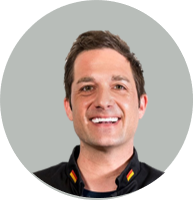 Created by Chef Alex Tieck
For this appetizer we use our Applewood Smoke Seasoning, fresh Lemon & Scallions to marinate the Seabass before rolling them into thin Cucumber slices. We serve it on Pea Shoots with our sweet & spicy Sauce to activate all senses.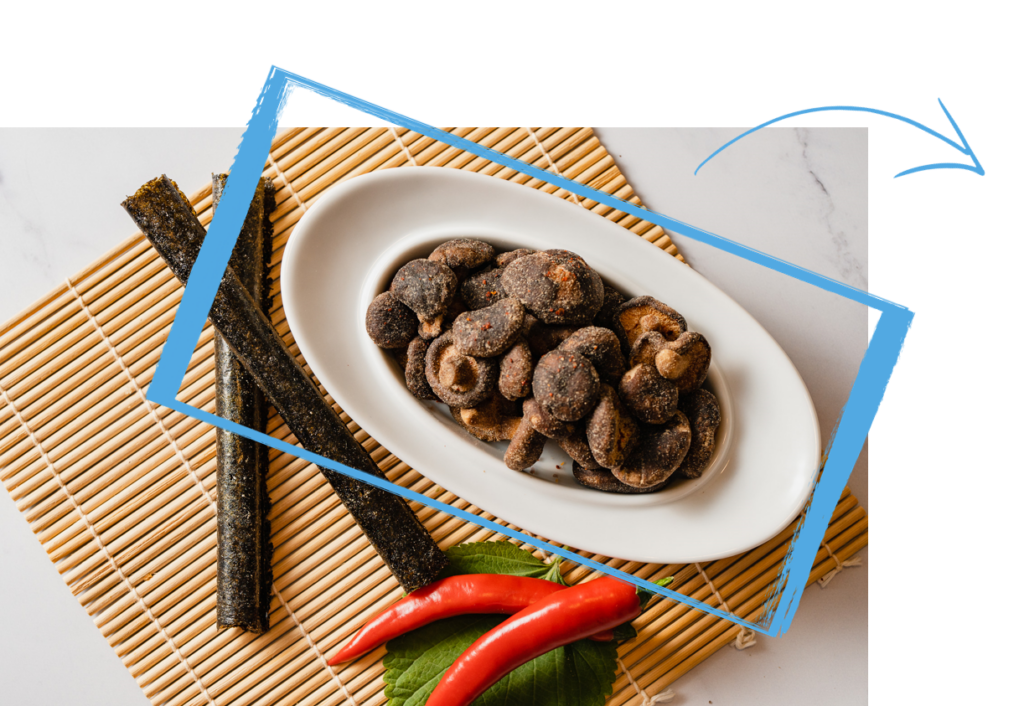 Freeze-dried Shitake Mushroom Caps & Kimchi-seasoned Rolled Seaweed
This low-calorie, fiber- and vitamin-rich snack is delicately seasoned with a spicy kimchi for a rich umami taste.
Freeze-drying the mushrooms provides a mouthwatering crunch to the snack. Crunchy, slightly sweet toasted nori sheets are flavoured with spicy fermented kimchi seasoning and tightly rolled to create a portable, flavourful healthy snack on the go.
Retail Inspiration
John West (UK) Immunity tuna steak with spring water inspired by nature, nutrient-rich tuna, high in vitamin C, contributes to the maintenance of your normal immune system. Also naturally high in protein. Contains a minimum of 24mg vitamin C (30% of RI)*.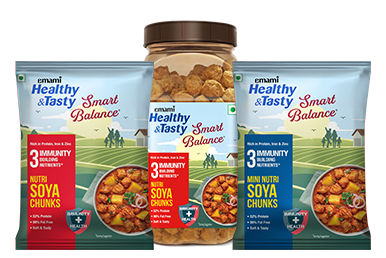 Emami Healthy & Tasty Smart Balance Nutri Soya Chunks (India) are said to be rich in protein, iron and zinc immunity building ingredients, and to provide 52% protein. The vegetarian product is a rich source of vegetarian protein, and is high in zinc, calcium, iron and dietary fibre. It is said to soak well and to be soft and easy to digest.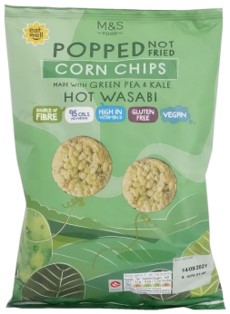 M&S Food Hot Wasabi Corn Chips (UK) are kale and wasabi flavoured popped corn and pea snacks. The product is high in vitamin D, which the brand claims contributes to normal functioning of the immune system. It is also vegan and gluten free.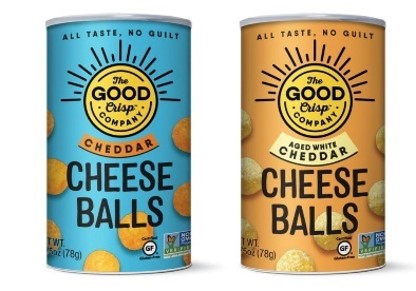 The Good Crisp Co immune boosting cheese balls (US) with Wellmune®, a leading yeast beta glucan clinically proven to help strengthen the immune system.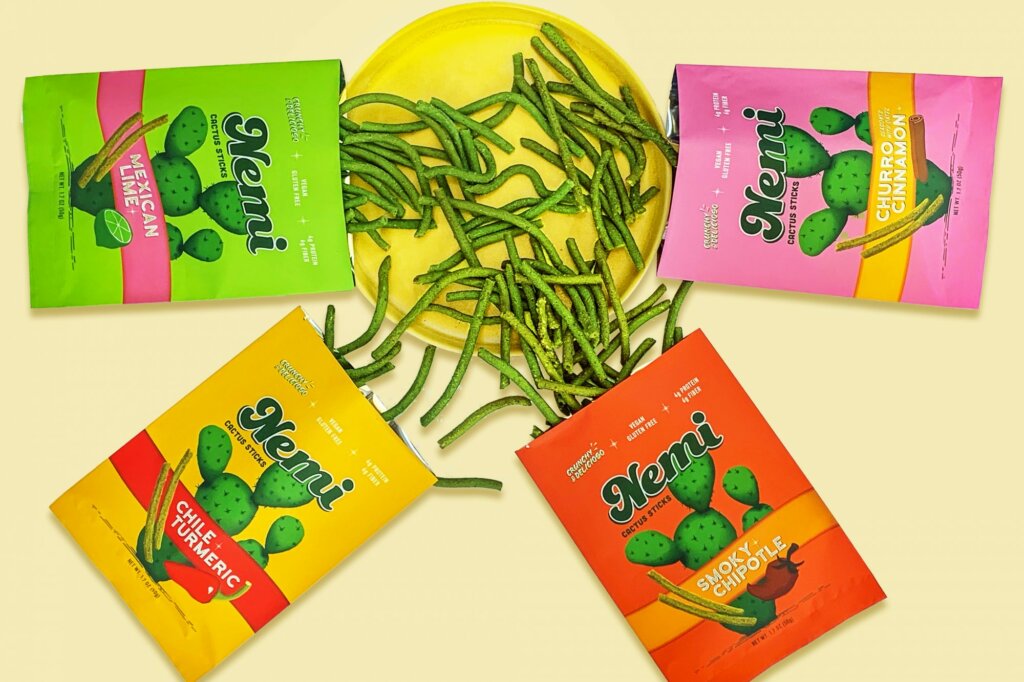 Nemi means "to live" in the Aztec language. They are sustainable snacks (US) made from amaranth seeds and nopal. A staple of Mexican cuisine, the nopal is packed with gut-friendly fiber. Nopales are the most sustainable Mexican plant, being "the plant of the future" according to FAO.
Naturally gluten free amaranth, flax and chia seeds give Nemi snacks a dense, super-satisfying bite & slightly nutty taste.

Foodservice Inspiration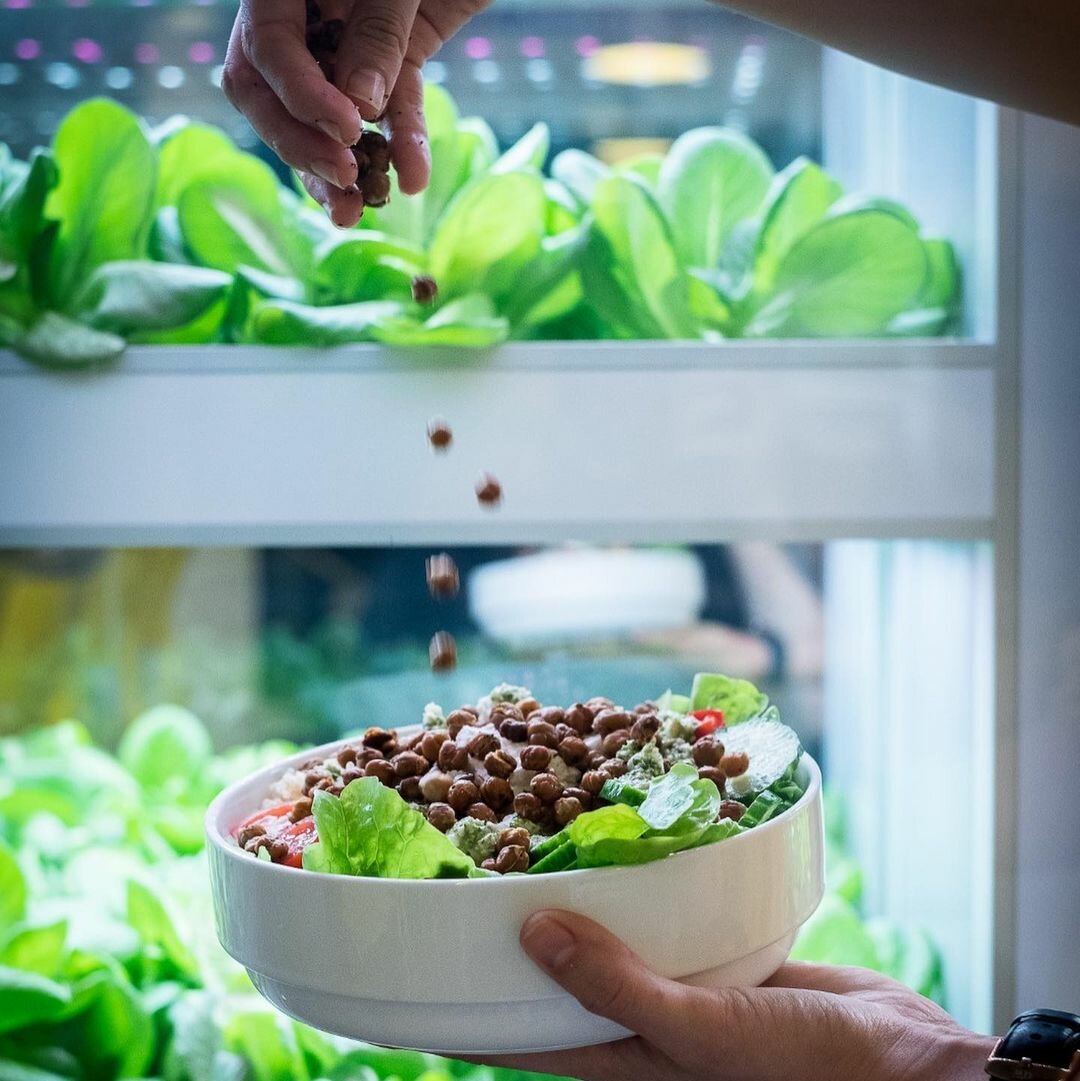 Good Bank (Germany) is the very first vertical-farm-to-table restaurant in the world. Rows of greens line the walls up to the ceiling protected behind glass doors. Guests can watch their own meal being harvested fresh before their eyes. No pesticides or genetically modified seeds are used in this farm, just an LED light to help the salads grow.
Good Bank's menu is a healthy selection of salad bowls, soups and sandwiches that incorporate fresh and sustainable ingredients.
Early 2020, the pop-up restaurant The Good Plates was created in London (UK) by experts in nutritional therapy and interior design specifically to complement positive mental health. The restaurant provided an interactive and enjoyable way to learn about how certain foods, surroundings and social interactions can complement overall wellbeing when introduced into daily life.
The Good Plates' menu was created by chef and mental health ambassador Andrew Clarke under the supervision of nutritional therapist Ian Marber. Take a look to the menu that was served.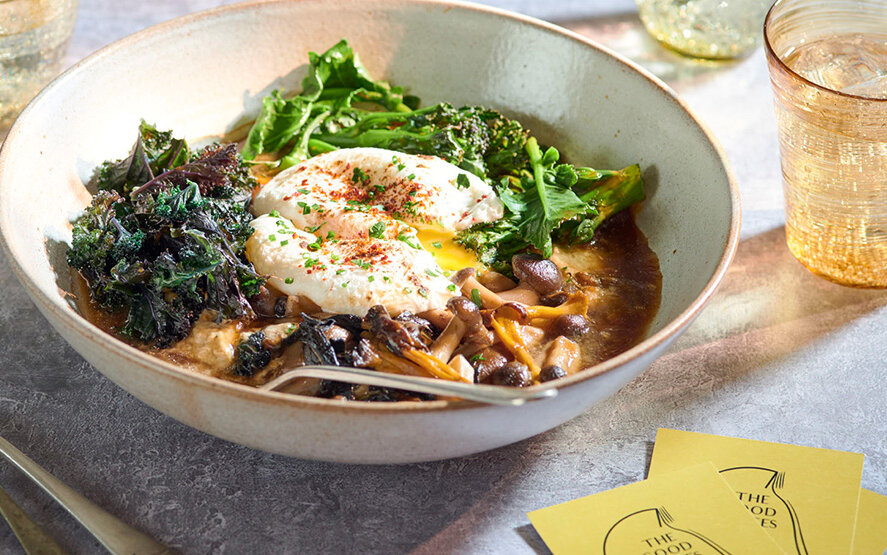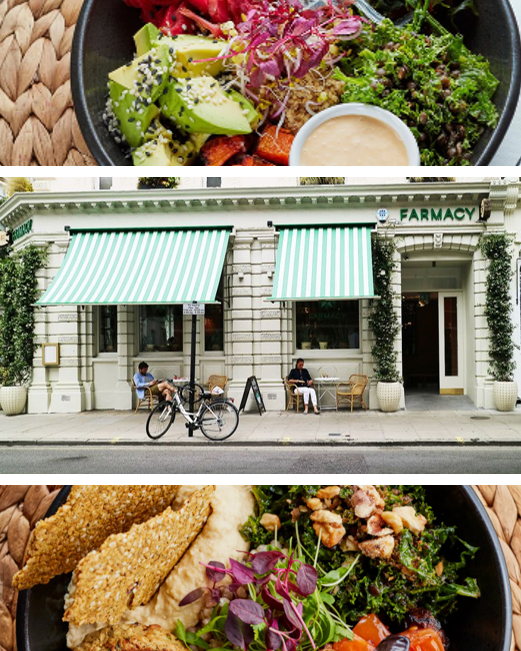 After having experienced the powerful healing benefits of a plant-based diet, Founder Camilla Fayed was inspired to create Farmacy (UK) – a place for those passionate about taste, provenance and 'living food' recipes that are good for human health and sustainability. She takes a holistic health and whole food approach to dishes.

Camilla's passion lies in natural farming and she based her foundation on biodynamics, a sustainable and holistic approach to agriculture, with the aim of creating educational initiatives to share this knowledge.
Nutritionist view
"What we eat and how we eat has an impact in our physical and mental wellbeing. We believe in a solid and continuous transformation of our product portfolio to build trust and reliability when moving towards a more holistic eating experience, where nutrition provides crucial benefits at short and long term." – Cynthia Rodriguez, Regional Nutritionist Europe & Africa.
Global Commitment to Nutrition
As a proud member of the World Business Council for Sustainable Development (WBCSD), Griffith Foods is committed to developing products that are aligned with the council's Responsible Business Pledge for Better Nutrition. The pledge is a framework for business leaders to make nutrition a board-level priority by registering SMART nutrition commitments within the world's first independent and comprehensive platform, the Global Nutrition Report's Nutrition Accountability Framework (NAF).
The objective of the NAF is to support the shared goal of ending poor diets and malnutrition in all its forms while enabling the transparency necessary to shape strong future commitments for nutrition.
Our team is focused on achieving these goals with six commitments that cover all areas of our business:
At least 50% of our finished products will meet or exceed external global nutrition standards by 2030
External global nutrition standards will be incorporated into our product development process for all innovations by 2025
100% of our global workforce will successfully complete a nutrition education program developed by credentialed healthcare professionals by 2025
We are committed to partnering with our customers to develop and offer more nutritious products, including more plant-forward offerings, by 2030
25% of our portfolio will use regenerative agriculture ingredients by 2030
We will increase our investment in nutrition by 2030
Learn more about our commitment to health and nutrition in our latest Sustainability Report.
© 2022 Griffith Foods. All rights reserved.
Source: Mintel, 2022 FlavorIQ® Global Trends and Insights Report, January 2022.