Snacking is more than just a trend; it's a lifestyle shift. As the lines between dayparts continue to blur, consumers are fueling up with more frequent snacks rather than formal full-sized meals.
Meanwhile, the market is pushing through clean, functional labeling is another major initiative. Many brands are extending on-pack claims to cover immunity support, anti-stress benefits and energy boosts. They're also showcasing ingredients that fit into popular lifestyle diets. A Lebanese hummus snack bar touts its short ingredient label, along with "superfood" and high-protein claims. In Thailand, a dried banana snack contains serotonin, purported to provide relaxation and relief from insomnia. And, a gluten-free protein ball in Germany is made with maitake mushroom to support the immune system.
The popularity of snacking extends into the foodservice space, too. Cuisines rich in street foods are naturally primed to meet the needs of snackers. Convenient, portable and satisfying—snackable options that satiate are here to stay!
3 Insights to Know
2/3
of European consumers frequently replace 1 meal a day with a snack, increasing to 3/4s amongst GenZs.
8 out of 10
European snack consumers expect there to be an increase in new and inventive flavours entering the market in the next 3 years as they seek to broaden their snacking options.
5x
Consumers are more likely to look for a healthier snack whilst working from home, and with hybrid working here to stay across the continent, expect this requirement to only grow further.
Culinary Inspiration
Get inspired by these on-trend snacks to create innovative offerings using products from Griffith Foods.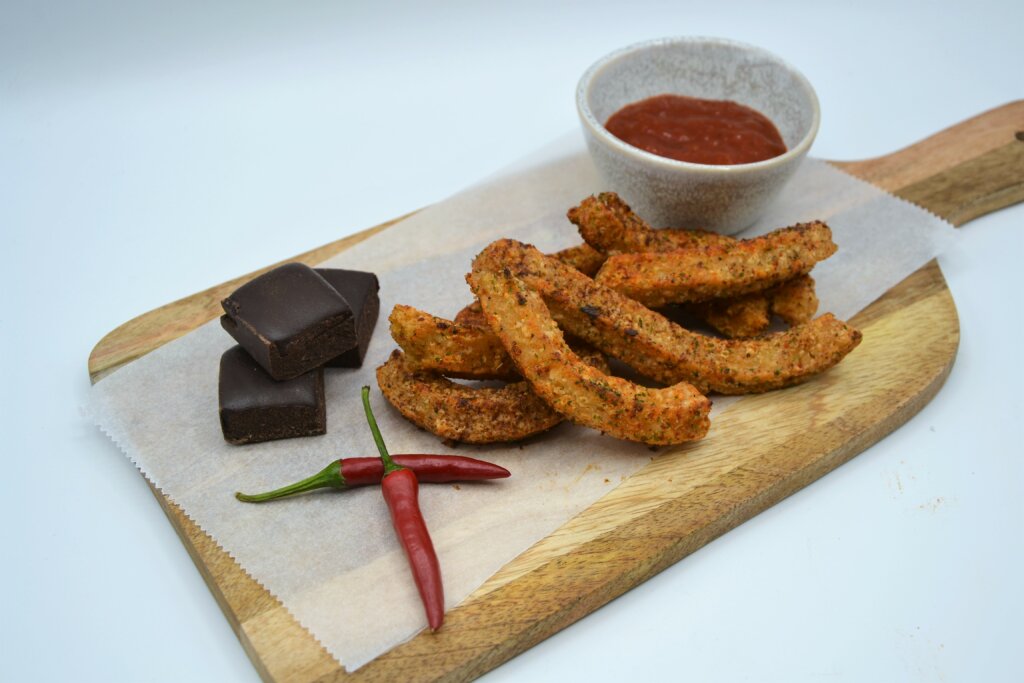 Mexican Chicken Mole Churros from Chef Jordi Gallego
Chef Jordi Gallego combines the worldwide known "churros" with protein to create an innovative Mexican style appetizer. The churros are made with minced chicken seasoned with a Smoked Chilli & Cacao blend. To dip them, the chef proposes a Roasted Onion and Smoked Paprika sauce.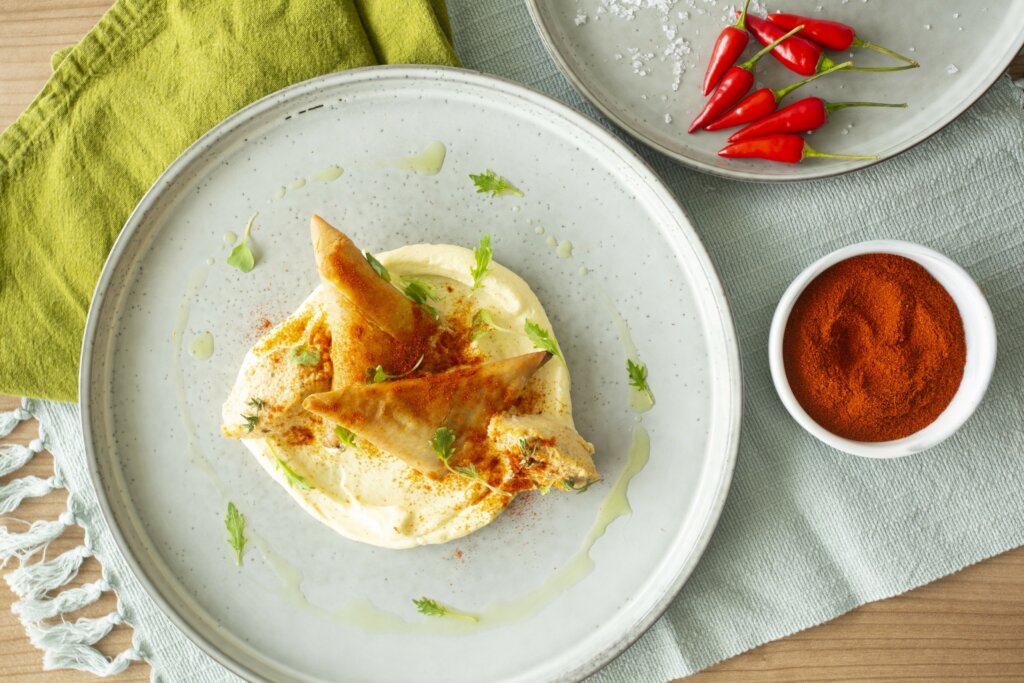 Curried Peach Samoosa by Chef Anoescha Joubert
Chef Anoescha shares an Indian-inspired concept that showcases on-trend flavour, convenience and portability—all key attributes of the snacking way of life. Curried Peach Samoosas, filled with a Curried Peach Chutney. Served with Havarti Cheese Custard, spiced with Six Gun Grill Spice, and Smoked Snoek Pate. Green oil and Paprika to garnish.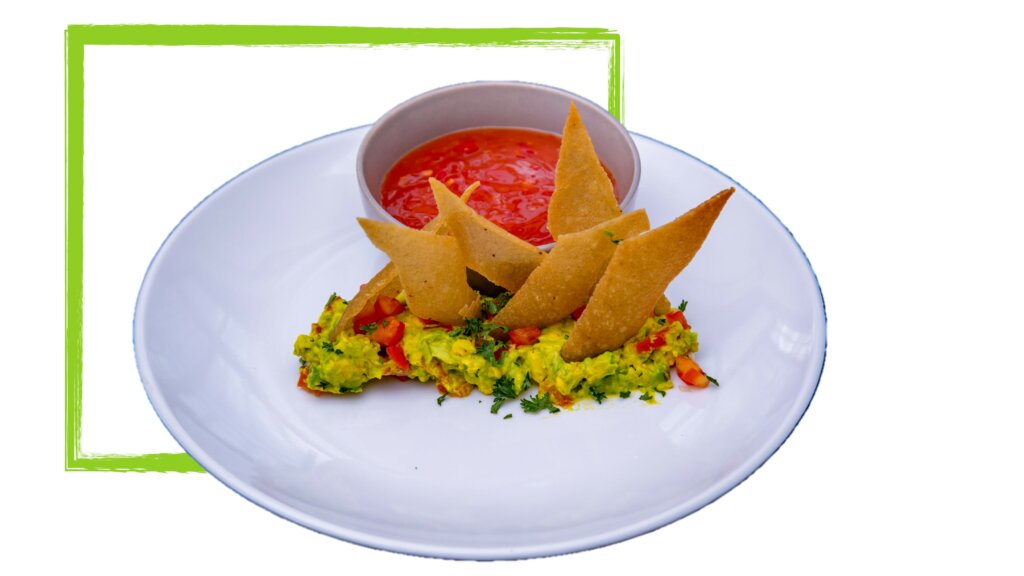 Fonio Crisps by Chef Ramadhan Sindayigaya
Fonio is a gluten-free cereal from Africa, rich in iron and magnesium. It is usually eaten as a carbohydrate, like couscous or rice together with delicious African sauces.
Chef Ramadhan has used Fonio to make crisps seasoned with a citrus lime seasoning, served with guacamole and Mango Sriracha style sauce.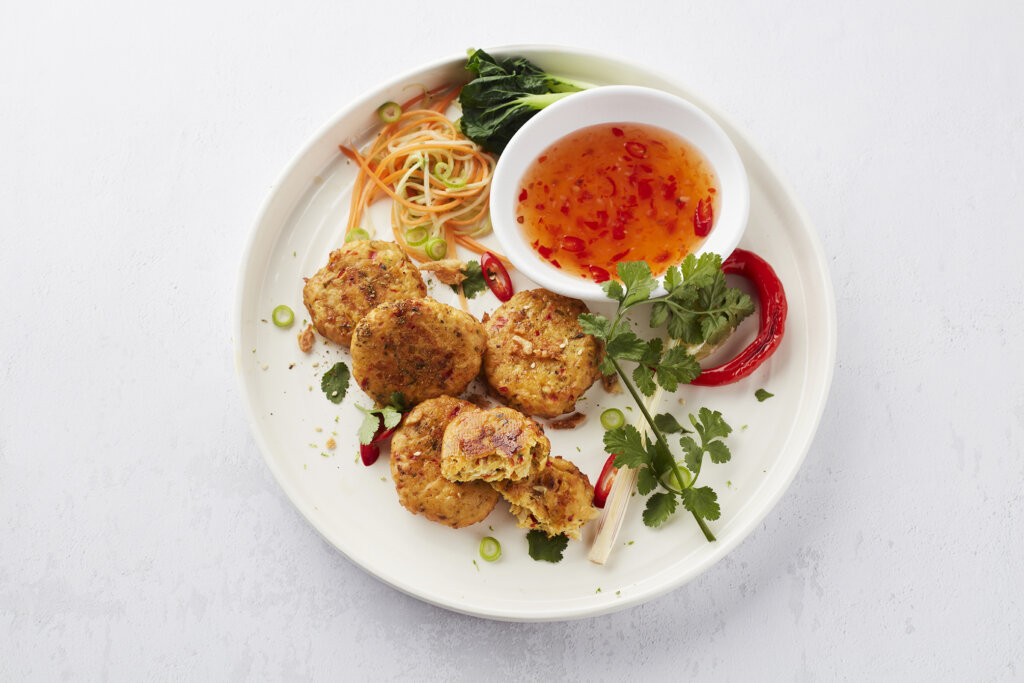 Plant-based Fish cakes
The very versatile fish cake mimics were prepared with a Thai cuisine flavour profile. For this, the fish mimic mix was complemented with vegetables additions: red pepper, lemongrass, cilantro, garlic, onion, lime leaf and scallions. Served with sweet chilli dip, sweet and sour carrot and cucumber. Find more information on Fish mimics here.
Retail Inspiration
The popularity of snacking goes to show that big flavours can come in small packages.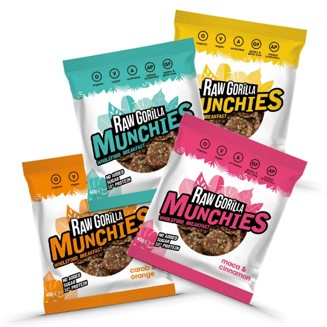 Raw Gorilla Munchies Protein Bites (Germany) are suitable for snacking during breakfast, noon, or night. The single-serve packaging and convenient product form helps consumers get daily protein and probiotics on-the-go.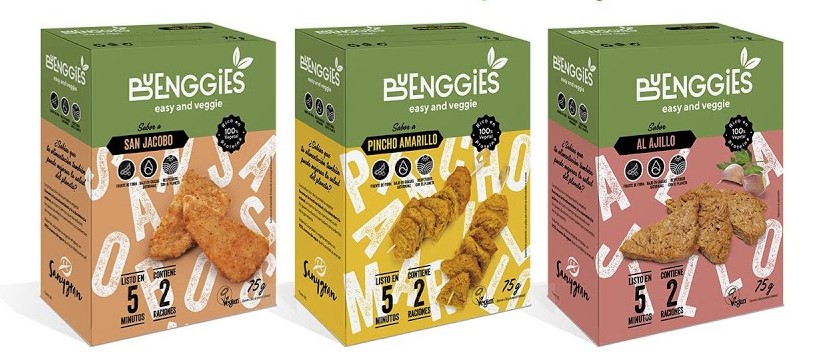 Sanygran recently launched Buengies, made from legumes and cereals and with a texture similar to meat. Also, the range reinvents traditional Spanish flavours: Garlic, Pincho Amarillo, San Jacobo. Suitable for vegetarians and vegans, these can be ready in only five minutes!
High Protein Meat Snacks are being turned into Snackable Forms. Asian meat snacks take a variety of forms and can often be found fried and puffed. Many meat snacks don't take a healthful approach, but Thai brand Kakudai offers puffed Pork Sticks and Crispy premium Chicken made with real meat and without preservatives.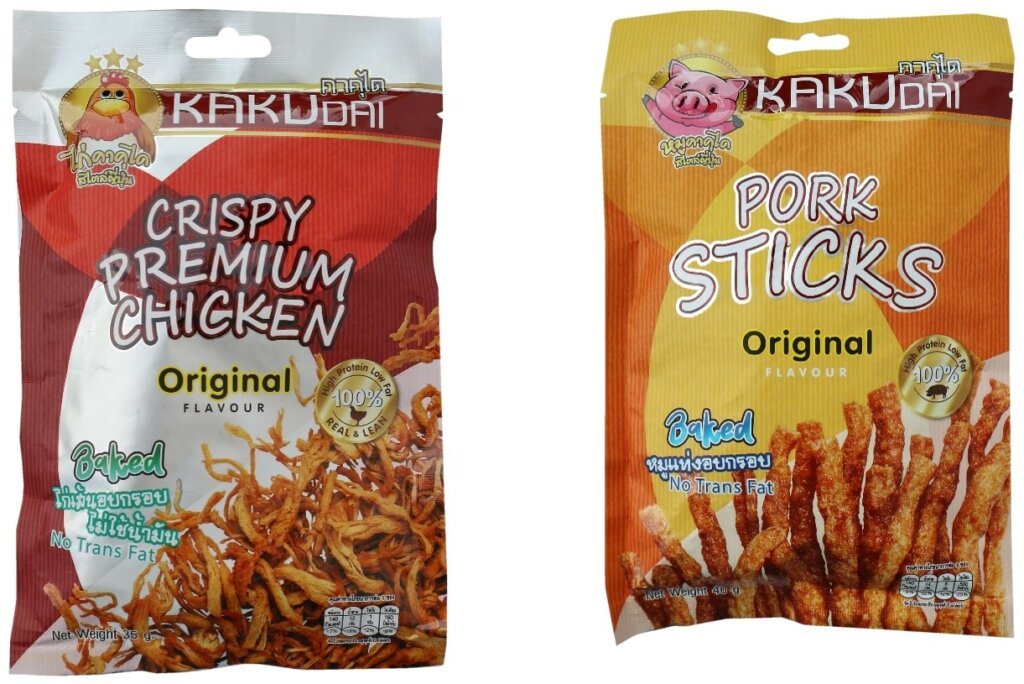 Sonoma Creamery (US) has a wide range of cheese snacks. For example, crisp cheese bites made from 4 simple ingredients: Parmesan cheese, quinoa, brown rice & oat bran.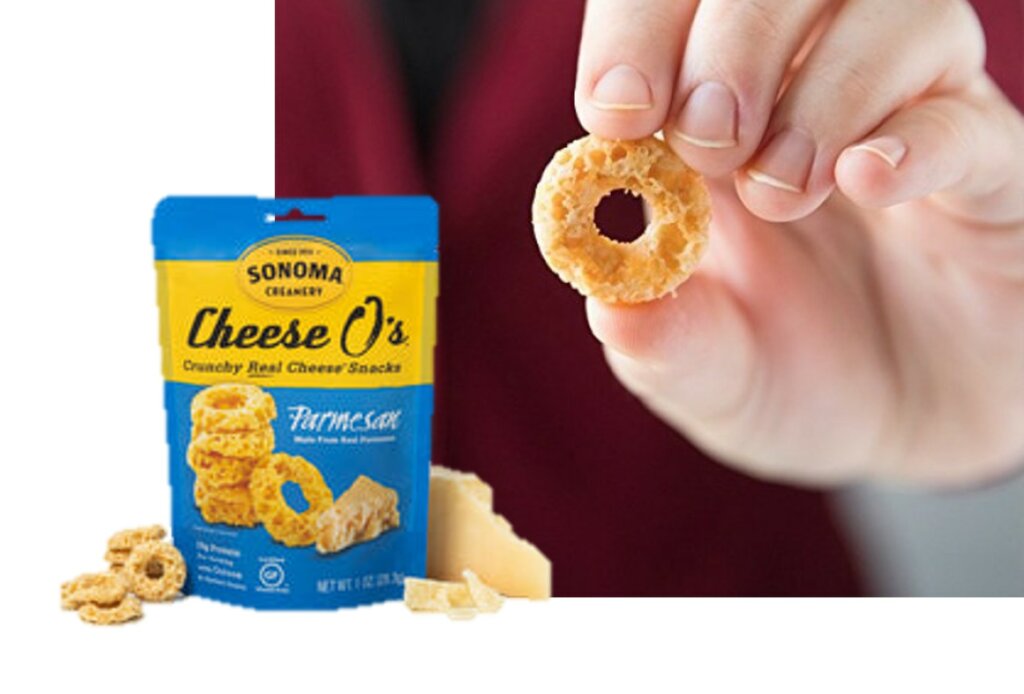 Foodservice Inspiration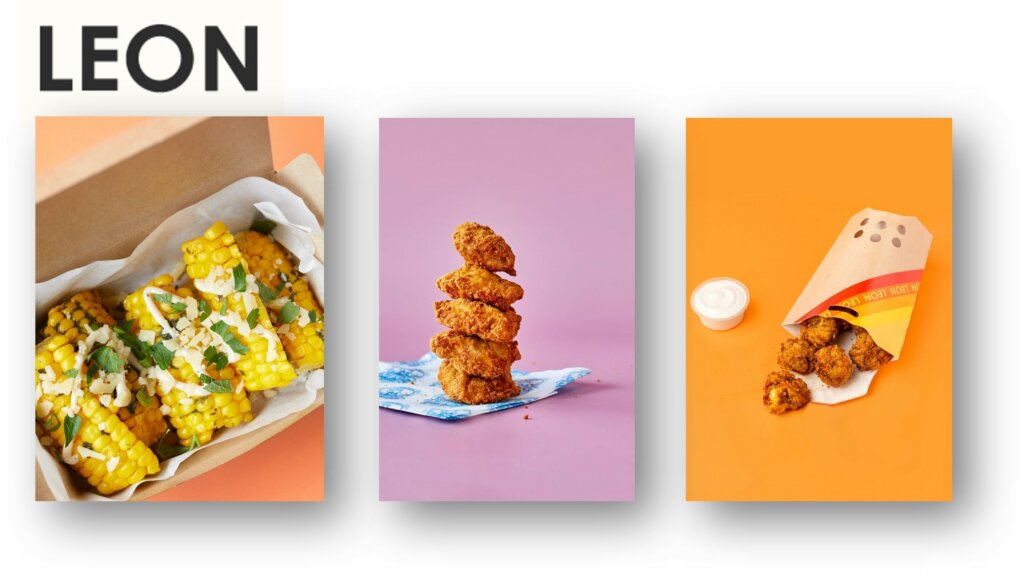 Leon is bringing permissible snacking and small bites to the menu through dishes like Streetcorn Ribs with Truffle & Cheese, Gluten-Free Chicken Nuggets, and Fully Vegan Aioli Mac & Cheeze Bites.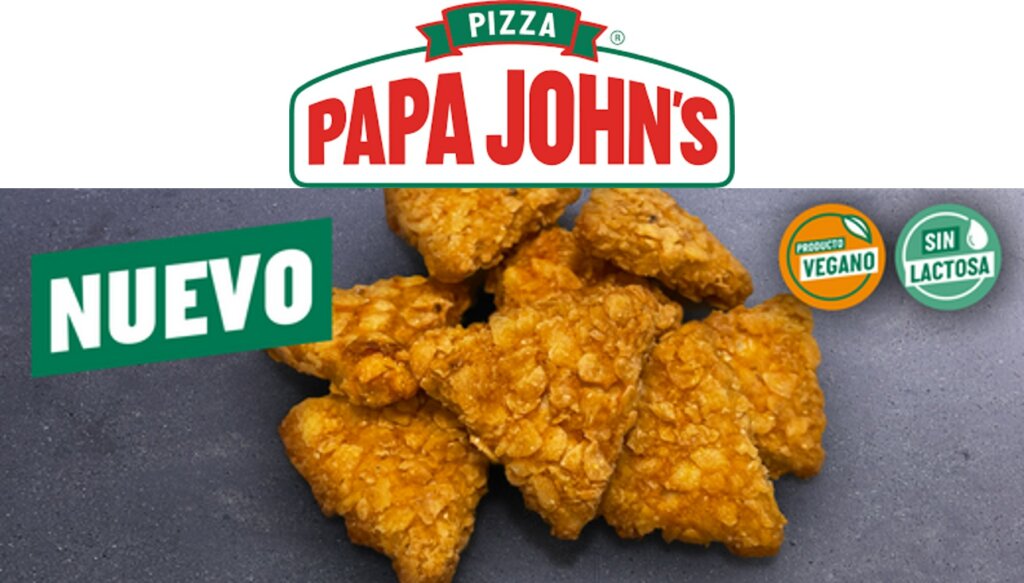 Green Nachos are the most recent addition into Papa John's menu in Spain. The snacking vegan triangles are battered in crispy nachos and taste like real chicken.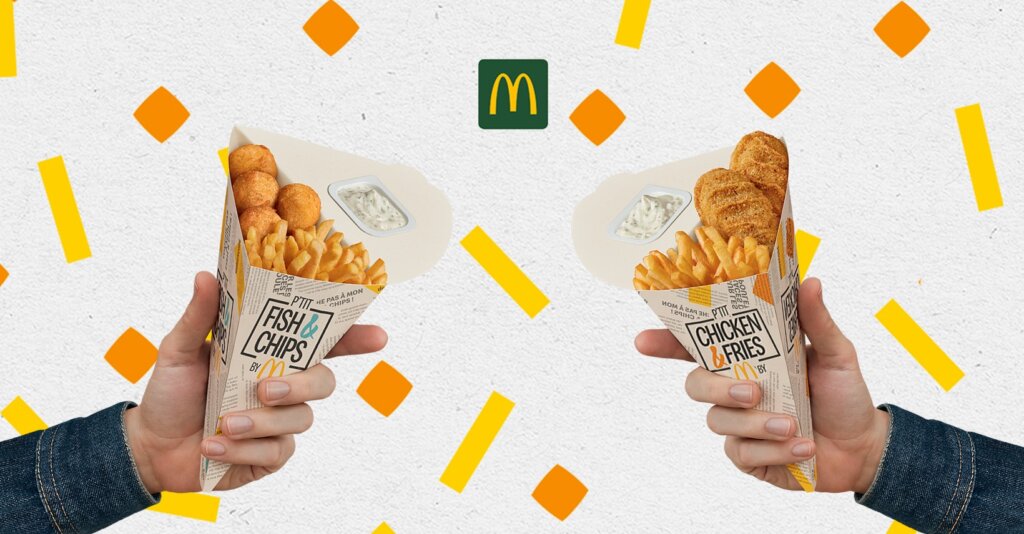 McDonald's France presented a new way to eat McDo™! An "all-inclusive" cone, to take anywhere. P'tit Fish & Chips is made up of 5 breaded hake fish balls. Accompanied by small McDo™ fries, these fish balls are to be enjoyed with a new Tartar sauce (or another sauce).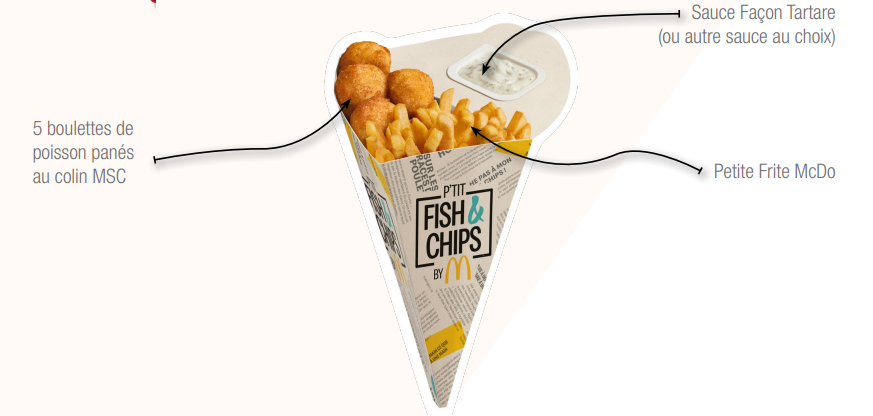 Burger King Japan introduced last year a new take on the classic snackable chicken nugget, now paired with melted cheddar cheese on the inside to add even more craveable flavour.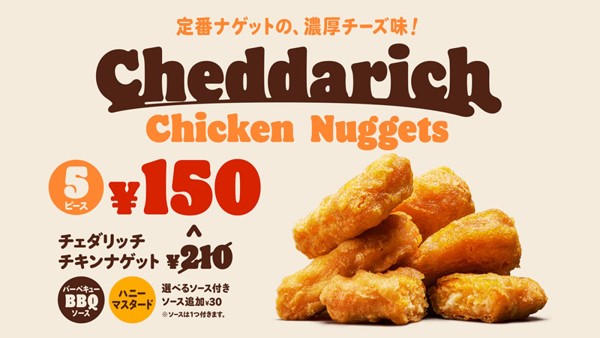 Grefusa, in colaboration with KFC, launched a limited edition the first sunflower seeds with the mythical flavour and texture of the Kentucky brand. Each package includes a promotional code that can be redeemed for two chicken strips by placing an order at KFC.es
The expert view
"Eating '3 meals a day' is becoming more and more blurry and consumers are tending to replace their fixed meals with snacks or combine with one or more snacking moments during the day. This growing trend is described as 'Snackification'. While this trend is not new, it has led to several opportunities within the savoury snacks market. Consumers expect snacks to be nutritionally strong in terms of proteins, fibers, free from claims, natural ingredients,… as long as it contributes to the 'better-for-me' credentials and still delivers a great taste."
–Mieke Bloemen, Market Manager Snacks Europe, Griffith Foods
Ingredient Production, Without the Waste
Griffith Sustainably Sourced (GSS), our strategic sourcing program, creates farm-level integration of our supply chain to increase the amount of raw materials sourced from Rainforest Alliance Certified™ farms, improve the well-being of farmers and enable farm-to-table traceability. As an example, Griffith Foods sources more Indian chiles than any other spice or herb. Through our partnership with chili farmers in India, farmers gain better cultivation practices to grow sustainable yields, enhance soil management and reduce crop waste. And because we purchase directly, the farmers are better compensated for their crops. Visit the GSS website to learn more about how we create shared value for our customers, our partners and the environment.
© 2022 Griffith Foods. All rights reserved.
Source: Mintel, 2022 FlavorIQ® Global Trends and Insights Report, January 2022.