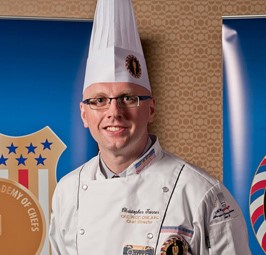 Christopher Tanner
Corporate Executive Chef
Christopher Tanner is the Corporate Executive Chef for Griffith Foods US, where he inspires new concepts for the company's retail and protein customers. Christopher is a highly experienced and decorated chef, having held many roles at restaurants and institutions across the nation. He has been a member of the American Culinary Federation since 1995, holds 50 culinary competition medals, is a Certified Culinary Educator and Judge, and holds three ACF Presidential coins and one medallion, among other accolades.
Griffith Foods in the News
Stay connected with Griffith Foods! Get news, stories, and press releases from across our entire global ecosystem.
Let's Create
Better Together.
Want to get in touch? We'd love to hear
from you. Fill out the form and we will reach
out to you as soon as possible.
"*" indicates required fields