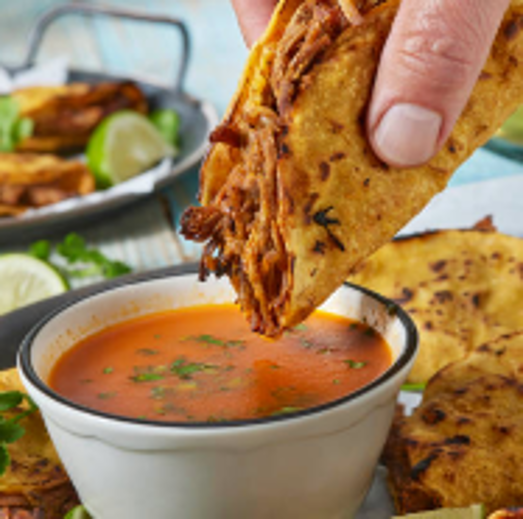 Around the world, more and more consumers seek authentic cuisine, and food from Mexico is a quintessential example. Authentic Mexican dishes are often tied to particular regions of the country, influenced by unique blends of geography, agriculture, and history.
Let's explore the roots of some nuanced flavors of Mexican cuisine that have grown from regional tradition to having global influence among today's consumers.
Oh, the Things You Can Do with this North Pacific Coast-inspired Stew
Birria, birria, birria! This popular, slow-roasted dish has made a prominent name for itself beyond its origin. Traditionally associated with the state of Jalisco, the seasoned, stewed, and shredded meat has been making its way to mainstream.
Birria has grown more than 123% on US menus over the past four years.
(Source: Datassential Menutrends)
From ready-to-heat items on retail shelves to slow-cooked protein options on QSR menus, consumers continue to find new ways to indulge in birria's indigenous flavors. Venture further north and you'll find the origin of an innovative twist on the traditional concept: the QuesaBirria. Created in Tijuana, the crispy, cheesy quesadilla-taco mashup has gained popularity across the internet and foodservice menus.
From the South Pacific Coast and Central Mexico
It's no surprise that popular elements of Mexican cuisine stem from Oaxacan origin. Rich in culture and unique flavor combinations, this region is often known for its gastronomy. Pairing the region's namesake cheese, Oaxaca cheese, with more elevated dishes has been a sensation in online conversation. The melty, white cheese is noted for its similarities to mozzarella and seen complementing foods like wagyu taquitos, stuffed pork loin, frittatas, and even as a substitute for feta on salads. Experimenting with contrasting textures is a great way to enhance harmonious blends of savory, spicy, and acidic flavors.
Looking for a one-step solution for adding a touch of authenticity to a dish? Highlighting regional flavors in sauces and seasonings like mole is an excellent and approachable vehicle.
Chili sauce is the 3rd most used condiment in Mexico, with consumers adding it to their foods daily.
(Source: GlobalData Menu Intelligence, Chili Sauce, Mexico 2022)
From Coast to Coast: Plenty of Chilis to Choose From
Whether it's a sauce, a snack, or seafood, there's a chili pepper for it. The wide assortment of chilis native to Mexican cuisine offers an excellent avenue for accommodating various levels of spice tolerances. In the US, most consumers prefer their food to be "medium-spicy." Similarly, consumers in Canada can be considered "mid-spicy-level adventures." This makes flavors derived from jalapenos, originally from and named for the capital of Veracruz (Xalapa), a nice fit.
In the US, chipotle aioli has grown 33% in the past four years. (Source: Datassential– Menu Trends)
73% of Canadians consumers find chipotle appealing. (Source: Griffith Foods NA Flavor Dashboard)
55% of Canadian consumers and 43% of US consumers say they are interested in trying morita pepper as a flavor. (Source: Griffith Foods NA Flavor Dashboard)
Among consumers in Mexico, there's more interest in chilis with higher levels of heat. This includes the arbol chili in particular, originally from Jalisco and Oaxaca.
86% of consumers in Mexico have tried arbol chili and like it.
(Source: Griffith Foods NA Flavor Dashboard)
Authenticity So Good, It Should Spread to Tables Everywhere
Mexico is rich in flavors that make each of its regions unique. From the right blend of chili's in a birria seasoning to an Oaxacan-inspired sauce, incorporating distinct regional flavors into products is important when it comes to Mexican cuisine. Griffith Foods can help hone in on those nuanced flavors to ensure products can deliver on consumers' desire for foods that feel close to their roots.
Let's Create Better Together
We're here to help inspire creations that keep your product portfolio on trend. Contact your Griffith Foods representative or reach out to our sales team to learn more about our ongoing research and innovative offerings.