Engaging All Senses is Key to Leaving a Lasting Impression on Consumers
Pack your bags and buckle up — we're going on a sensory adventure! A truly magical dining experience, whether at home or in a restaurant, isn't just about flavor (although it is a rather delightful stop along the way). Foodservice professionals, processors, distributors, and retailers have an exciting opportunity to push boundaries, engage the senses, and make a lasting impression through food innovation.
Eat with Your Eyes First
Foodservice providers in Mexico are taking advantage of the fact that 60% of Mexican consumers find unusually colored food appealing.
(Source: GlobalData Consumer Survey Mexico 2021)
Snacking is all about experience, and consumers are eagerly seeking out snacks that pair bright colors with bold flavors. This presents a unique opportunity for foodservice providers and CPG brands to meet consumers with small plates and snacks. Across North America, green and red foods are the most appealing colors in product formulations (Source: GlobalData 2021 Q2 Consumer Survey Ingredients & Flavors), which explains why Tajin, a bright red chili and lime seasoning blend, and Zhug, an intensely green herb and pepper condiment, have grown so much in popularity.
4-Year Menu Growth in the US
Rainbow Cake: +549%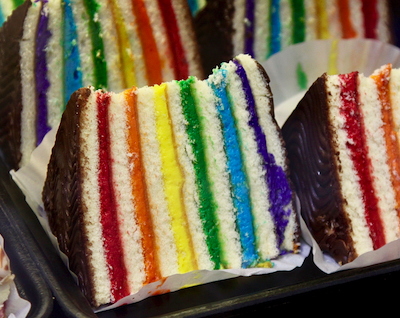 Tajin: +346%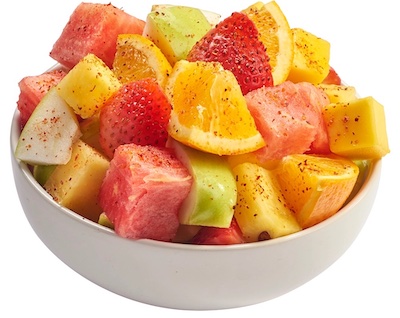 Zhug: +200%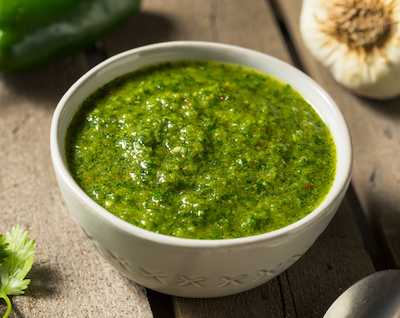 Sensory Adventures Down Memory Lane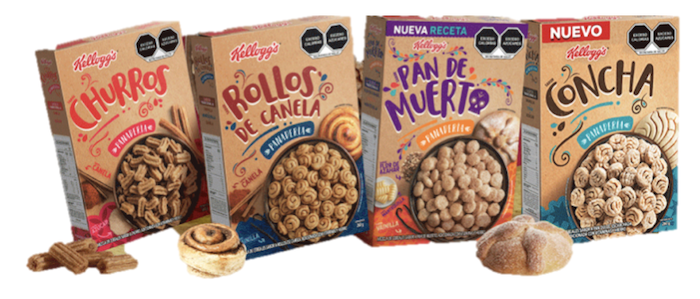 It's not just taste and color that make eating such a sensory experience: Smells have a stronger link to memory and emotion than any other sense. Kellogg's line of limited-time offering cereal brought the enticing smells of Mexican bakeries and a kitchen full of homemade sweets to the breakfast table. Flavors like churro, rollos de canela, pan de muerto, and concha bring back nostalgic memories of traditions passed down through generations. (Source: Mintel GNDP Mexico 2021; Desk Research)
Stand Out from the Crispy Crowd
Crispy and crunchy textures are seen throughout a variety of dishes. Crispy had a 60% operator menu penetration as of Q3 2021 (Source: Technomic Menu). Still, operators need to create more complex flavor profiles and unique substrates to differentiate their crisp offerings and stand out in a crowded space.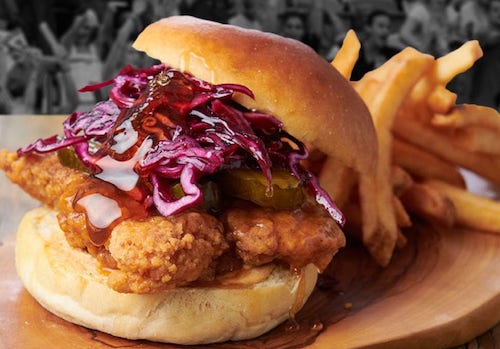 Wicked Hot and Honey Fried Chicken Sandwich
Firkin Pubs, a popular restaurant chain in Toronto, Canada, is offering a new fried chicken sandwich each week for four weeks. Guests are asked to vote on their favorite and the winning sandwich will earn a permanent spot on the menu. Week 2's Wicked Hot and Honey Fried Chicken Sandwich gets balance from Meryl's Deadly 7 hot sauce, honey, red cabbage slaw, and bread-and-butter pickles. (Image from Firkin Pub's website.)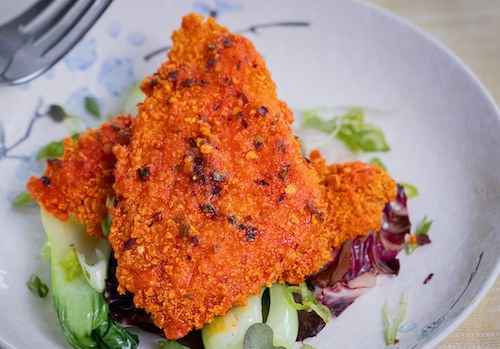 Rice-crusted Gochujang Cod
Griffith Foods' breading systems deliver on flavor, texture, and appearance. Rice-crusted Gochujang Cod gets a double dose of crisp thanks to our Rice Creative Coating System and Spicy Gochujang Flavour Glaze — two products designed to maintain flavor and texture integrity even through takeout or delivery.
Social Media — the Sixth Sense
Social media has taken just about every industry by storm, and the food industry is no exception. Whether consumers are Instagramming an over-the-top and imaginative dish or turning to TikTok for the latest cooking hack, social media has become a barometer for the next big thing in food.
28% of US consumers and 22% of Canadian consumers have tried a new food or drink product they discovered on social media. (Mintel Global Consumer – March 2021 – Food & Drink)
30% of Mexican consumers have shared food or drink information on social media. (Source: Mintel Global Consumer – March 2021 Food & Drink)
Expect the Unexpected
The Sensory Adventure trend gives operators and brands the freedom to be creative. Unexpected pairings and novel dishes not only entertain and impress consumers, but they tend to have longer lives when posted to social media.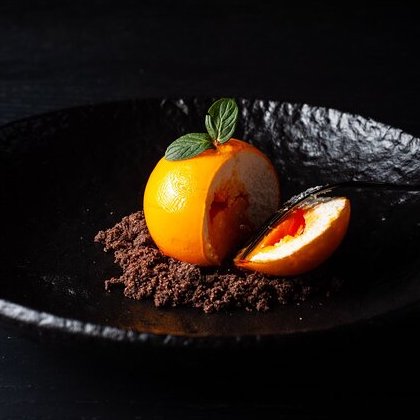 Orange Cheesecake
Holsteins San Pedro is an upscale restaurant in Monterrey, Mexico, serving a cheesecake dessert that looks like a recently harvested orange from the outside.
(Source: Holsteins Tripadvisor)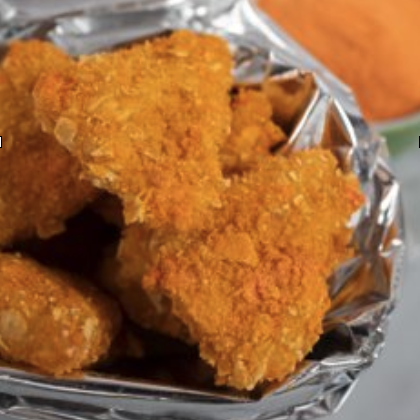 Nacho Tortilla Chip Chicken
Nacho Tortilla Chip Chicken turns a popular snack into a complete dish. Griffith Foods' Tortilla Chip Coating System and Nacho Cheese Seasoning amplify flavor and take fried chicken in a new direction.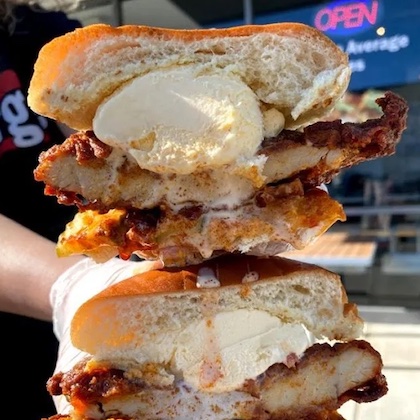 Nashville Hot Chicken & Ice Cream Sandwich
In California, US, a burger chain called iniBurger launched the Nashville Hot Chicken & Ice Cream Sandwich. The iniBurger founder, Abdul Popal, explained that the chain's "commitment to constantly push the envelope of flavor combinations and introduce the unexpected is what keeps diners coming back for more."
(Source: Trendhunter.com)
A Sensory Adventure toward Creating Better Together
From bold flavors to vibrant colors to unique textures, we've got a range of solutions to inspire creations that keep your product portfolio on trend. Contact your Griffith Foods representative or reach out to our sales team to learn more about our ongoing research, innovative offerings, or customized solutions.