Heaping nostalgia and hearty versatility—that's what Chef Martha Sanchez is serving with this culinary concept. Her Birria Loaded Fries give the classic potato-based dish a taste of traditional Mexican cuisine with just a few powerful ingredients.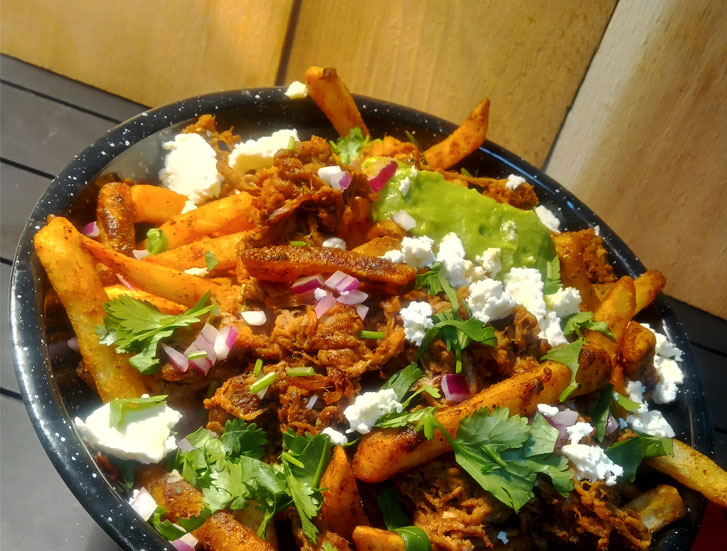 The Birria Background: What Makes This Dish Authentic
Memories of soft birria tacos in a small, old garage with her father inspire Chef Martha to incorporate the finely shredded meat into a contemporary dish. With origins in the state of Jalisco, birria came as a result of a combination of indigenous and Spanish cultures in the 16th century. Though traditionally made with goat or lamb meat, it can also be made using veal, beef, pork, or any combination of two meats. While the method used to cook the meat is important, it's the carefully crafted and balanced seasoning of a spicy marinade that determines birria's flavor.
Let the Flavour Glaze Do the Flexing
Slow-cooked, shredded brisket and deep-fried fries take on flavor that mirrors that of Jalisco from Griffith Foods Birria Flavour Glaze. Given that the perfect balance of spices characteristic of birria marinade requires careful attention, this glaze removes all of the guesswork and makes it easy to deliver authentic, bold flavor every time. Simply seasoning the meat and tossing the fries in the oil-based flavoring technology is all it takes to achieve crispy, juicy textures and even spice distribution.
Elevation Made Easy with Shelf-stable Guacamole
Take the taste of Mexico a bit further by topping the dish off with Griffith Foods Shelf-stable Guacamole, crema fresca, onion, and cilantro. Made with 45% real avocado pulp, the versatile guacamole makes a great base for additional ingredients to create unique and signature experiences.
How Else Can These Products Deliver High Impact with Minimal Effort?
Griffith Foods Birria Flavour Glaze saves time and ensures a delightful, consistent balance of bold spices in every bite. Not to mention, it preserves texture, provides vibrant color, extends hold times, and yields more than water-based sauces. Whether it's elevating pre-cooked meats or adding intriguing twists to neutral bases, the liquid seasoning can give a taste of Mexico to a variety of applications:
Most meats, including beef, pork, chicken, lamb, octopus, shrimp and fish
Any kind of potatoes
Pizza
Popcorn
Burgers and sandwiches
Cooked rice and pasta
The shelf-stable guacamole can also enhance a number of applications. While a natural fit for foods traditionally associated with Mexican cuisine (think: nachos, quesadillas, tacos, burritos, and tostadas), it pairs with salads, burgers, and sandwiches just as well.
Increase Consistency, Efficiency, and Authenticity with Griffith Foods
From boneless chicken wings to corn tortilla dough, the time is right to get creative with the popular birria flavor. If you're looking to add tradition and influence to a mainstream dish, preserve crispiness, simplify back-of-house processes, or elevate your globally inspired offerings, let's explore our flavour glazes and innovation technologies together.
Let's Create Better Together
We're here to help inspire creations that keep your product portfolio on trend. Contact your Griffith Foods representative or reach out to our sales team to learn more about our ongoing research and innovative offerings.