Bring contemporary touches to the world's oldest cooking method.
Cooking over a live fire is a culinary practice found across all continents and has been nurtured over tens of thousands of years (Raichlen, 2010). And while some regional methods showcase low-and-slow smoking, others focus on fast, direct grilling.
"Barbecue" is a mainstay descriptor for snacks all over the world—and the demand for intense flavour is growing. Bold options like beef brisket and pulled pork flavoured crunchy broad beans (UK). For those who crave healthier varieties, barbecue flavours are moving into new formats—think green pea crisps, plant-based tomato jerky and air-dried carrot chips.
In foodservice, we're seeing regional flavours transcend borders. In some cases, that means fusion dishes—with North American chain restaurants serving up Memphis-style barbecue chicken pizza, hot dogs with bulgogi and kimchi mayo and maple-whiskey BBQ burgers.
American barbecue is known for its diversity in proteins, seasonings, woods and sauces, which can help manufacturers bring authenticity to their offerings. Think Kansas City ribs slathered in sweet sauce, dry-rubbed Texas brisket, chicken with mayonnaise sauce in Alabama and Carolina pulled pork, dressed in vinegar or mustard sauce. And while the category is dominated by meat, diners looking for plant-forward options can turn to smoked "salmon" made from carrots, pea-protein steaks and plant-based barbacoa. Low-sugar sauces made with hibiscus tea, balsamic vinegar and beetroot powder are filling a gap in the marketplace, too (Mintel, 2023).
Whether you're serving classic meats or plant-based options, slathered in sauce or simply dry-rubbed to perfection, one thing is certain—the bold, robust flavours of barbecue deliver universal appeal.
Segment Snapshot
QSR/FOODSERVICE:
Restaurants serving barbecue or grilled options frequently reflect local culinary traditions, but inspiration from other markets is taking shape in regions with strong international influence.
PROTEIN PROCESSORS:
Sauces, seasonings and ready-to-cook meal options provide consumers with shortcuts to elevated smoky flavours. Plant-based proteins are also proliferating across regions.
SNACKING:
CPG brands are differentiating their offerings by leveraging specific meat barbecue or grilling flavours. High-protein, satiating ingredients such as legumes and meat are being used to satisfy the appetites of consumers between meals.
---
Create And Innovate – Simple Techniques, Mouthwatering Results
Whether they're rubbed, marinated, basted or glazed, BBQ dishes have one thing in common—it's all about coaxing the most flavour out of every bite. To put your signature spin on a on old favorite, or to reimagine a regional style. Chefs Calson Madlala and Ramadhan Sindayigaya, show how to leverage Griffith Foods products to create flavour profiles shaped by authentic barbecue traditions from around the world.
Sorghum with BBQ pearls, mushroom & bean croquettes
Flame-grilled mushrooms blended with sugar beans to create croquettes using a unique culinary coating system. BBQ pearls added to elevate the flavour and unify the dish.
Products featured:
Smokey BBQ sauce
Coating system – Panko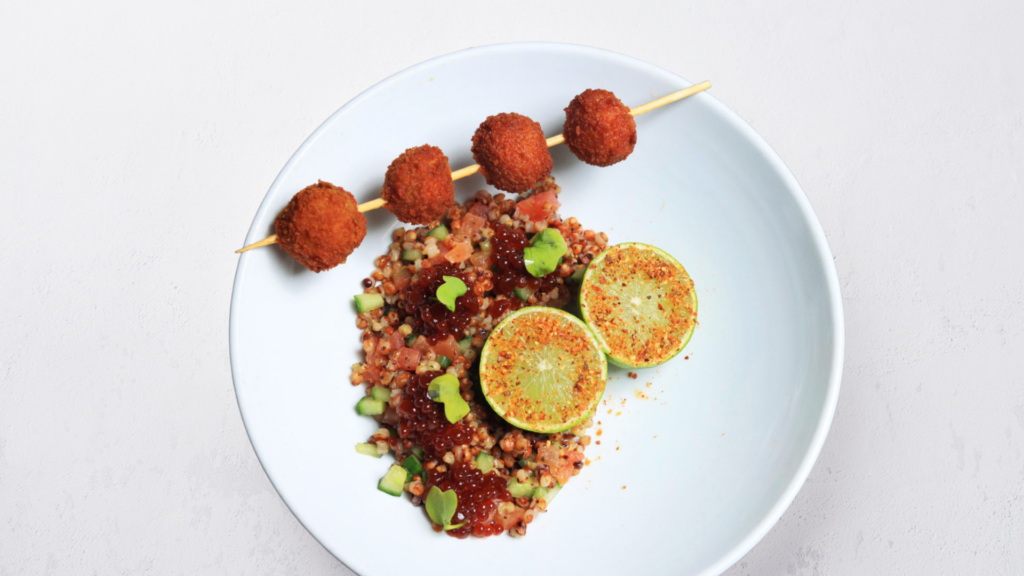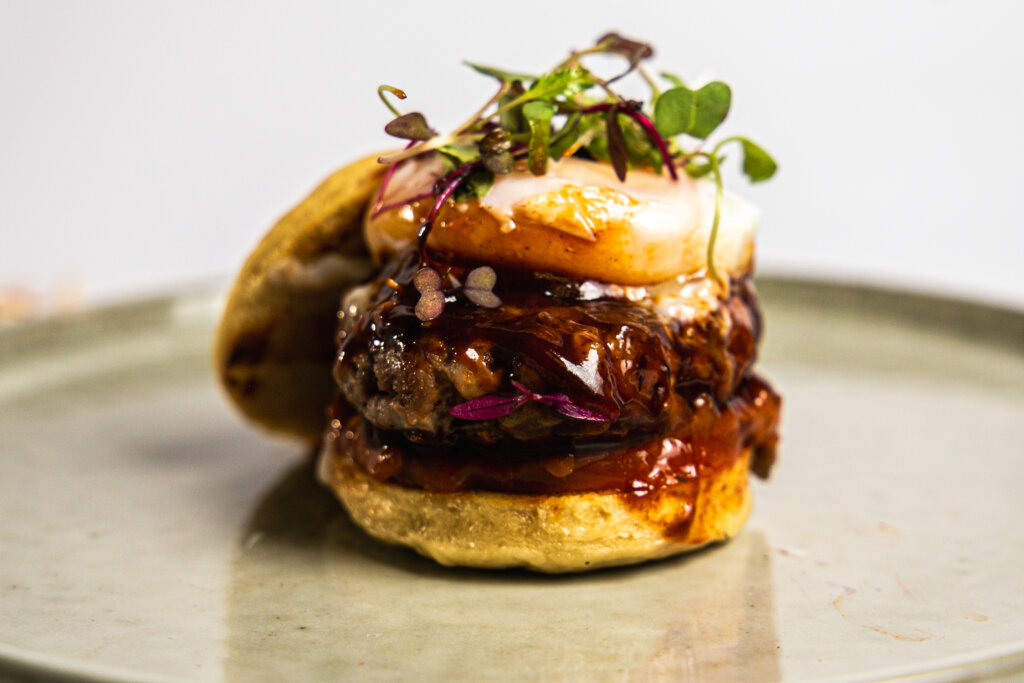 Boere bun
A combination of boerewors and spicy chakalaka to create a simple yet delicious dish. BBQ seasoning and sauce are complementing the flame-grilled beef patty perfectly. The dish is topped with an egg, adding a velvety texture.
Products featured:
Sweet BBQ seasoning
Hot BBQ sauce
Nyama Choma Ribs
Nyama choma is a grilled goat meat delicacy that is highly favored in East Africa, especially in Kenya where it is regarded as the national dish.
Products featured: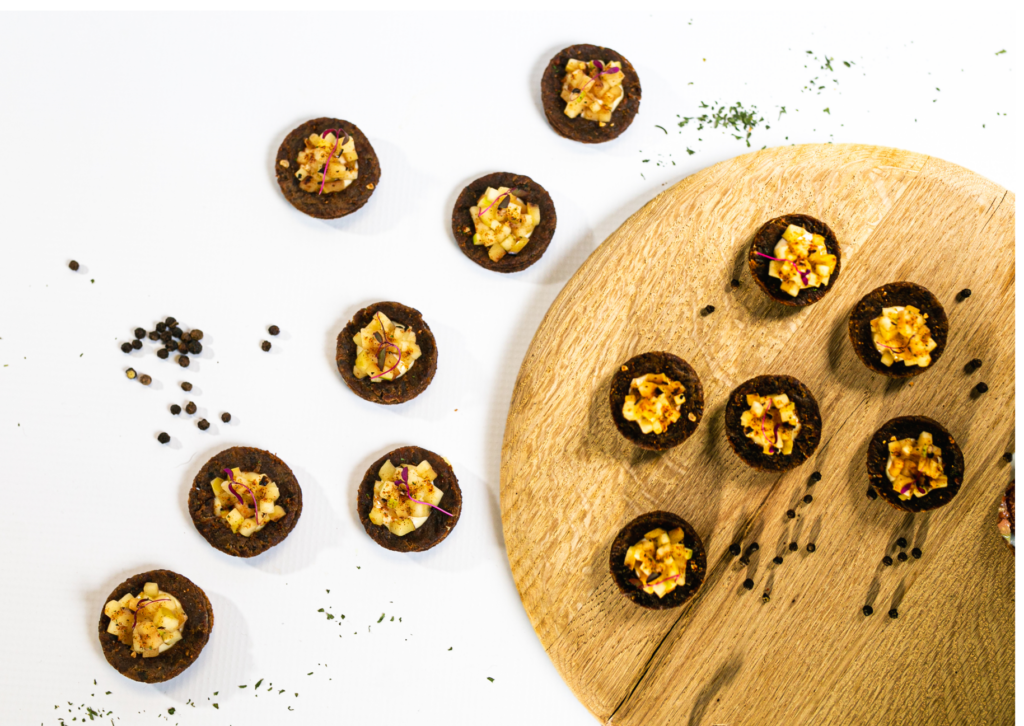 Tshotlo bites
Traditional Tshwana dish of braised and pulled meat served with Pap into a crispy snack concept.
Products featured:
Applewood smoke seasoning
Smokey sauce
Chicken mimic on bed of Cajun Fonio
This glazed chicken mimic is served with a unique blend of West African Fonio and Rwandan iron beans, creating a bold and flavourful dish with a story to tell.
Products featured:
Chicken mimic seasoning + binder
Cajun seasoning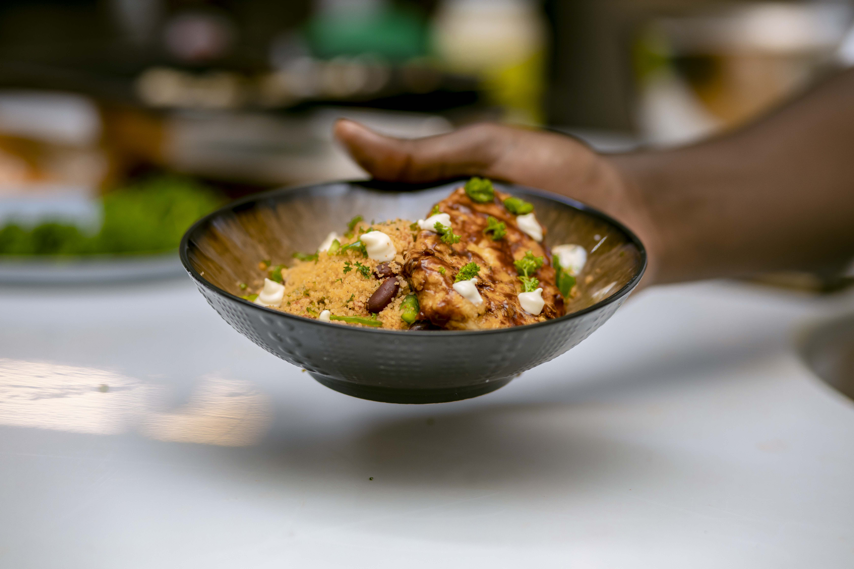 Looking to heat up your barbecue offerings? – Take them to the next level!
Contact your Griffith Foods representative or the chefs to learn how these exciting, versatile products can enhance your product and menu offerings that span the world of barbecue.
---
Chef Tip: "It's not just about the meat. Barbecue techniques can be applied to the preparation of pineapple, pears, peaches or plums, resulting in grilled fruit that adds flavour, texture and overall interest to barbecued meat entrées. Grilled fruit also makes for an excellent dessert, especially when paired with spice-infused cream."
–Chef Mark Serice, Vice President Global Culinary, Griffith Foods
---
Looking Forward: What's next in the world of barbecue?
BBQ SAVVY:
Consumers will expand their knowledge base, both in terms of globally inspired BBQ flavours and new protein formats. Brands will need to specify beyond simply "barbecue" on menus and packaging labels.
A LIGHTER TAKE:
Healthier snack formats can bring traditionally heavy, meat-centric flavours into new territories. Whole grains, legumes and nuts will incorporate barbecue flavours for everyday snacking.
PREMIUMIZATION:
Thanks to international awareness of various barbecue types, there are opportunities to elevate offerings with more specific/authentic flavours and cooking techniques.
© 2023 Griffith Foods. All rights reserved.

Sources:
"Carolina Barbecue: The popular slow-cooked pork," Nation's Restaurant News, September 26, 2022.
Datassential MenuTrends, "Most Popularly Menued Regional BBQ Styles," 2018-2022.
Mintel, 2023 FlavorIQ® Food and Flavor Outlook Report, January 2023.
Nick Solares, "The American Barbecue Regional Style Guide," Eater.com, June 16, 2016.
Steven Raichlen, Planet Barbecue! New York, Workman Publishing, 2010.