Experience Asia
Striking the balance between what's new and what's familiar can be a challenge when it comes to satisfying consumer demand for global fare. Luckily, when it comes to Asian cuisine, culinary creativity knows no bounds. Every city, region and country has a rich history and signature dishes that can drive innovation.
All around the globe, travel and immigration have created unique fusion fare influenced by Asian cuisines. For example, 74% of the population of Richmond, British Columbia, claims Asian heritage. The city's renowned Night Market brings dishes like Taiwanese popcorn chicken and Filipino crispy pata to the west coast of Canada. And in Peru, dishes like tallarin saltado (chicken chow mein), sopa wantan (wonton soup) and arroz chaufa (fried rice) combine Chinese and Peruvian ingredients to create what's known as chifa cuisine.
Asian-inspired flavors and techniques are making their way into the global snack category as well. In the UK, popped lotus seeds are positioned as a "better-for-you" popcorn alternative, in varieties like smoky Thai, wasabi and Himalayan pink pepper. Cracker nuts are a popular snack originally created by a Japanese immigrant in Mexico. These Japanese-style peanuts are booming in Central and South America, with such mashup-style flavors as pizza, ham and chili-lime.
For manufacturers and operators looking to create truly authentic new products or menu offerings, start with a well-known dish and study the differences in preparation or flavor across countries. For instance, nasi goreng, an aromatic and smoky take on fried rice, is the national dish of Indonesia. Even if your customers aren't familiar with that exact cuisine, seeing a food item that's not too far from their comfort zone is a great way to test the waters. Another great example is lumpia, or Filipino egg rolls, which are showing strong growth on US menus.
When in doubt, turn to regional street food for inspiration. Okonomiyaki (savory pancakes) from the Kansai region of Japan, jianbing (stuffed breakfast crepes) from China's Shandong Province and kumbilappam (jackfruit dumplings) from Kerala, India, are just a few of the dishes with the potential to make a splash on menus and retail shelves around the world.
Eight Culinary Traditions of China
Historically, Chinese cuisine had been described in terms of the Four Great Traditions representing West, North, South and East China. Today, the definition has expanded to include eight regional cuisines:
Anhui (notable dish: Bagongshan tofu)
Fujian (notable dish: pork belly buns)
Guangdong (notable dish: Cantonese-style fried rice)
Hunan (notable dish: Mao's braised pork)
Jiangsu (notable dish: braised spare ribs)
Shandong (notable dish: sweet potato with caramelized sugar)
Sichuan (notable dish: Dandan noodles)
Zhejiang (notable dish: "A Hundred Birds Facing the Phoenix" chicken with steamed dumplings)
Products and ingredients of high adoption in Central & South America
ANDEAN

BRAZIL

CENAM

Korean BBQ
Ramen
Poke
Tandoori
Hoisin
Bao
Thai Chilli
Edamame
Wasabi
Sriracha
Shoyu
Soy
Ginger
Panko
Bittersweet
Sesame
Fruit and citrus
Mandarin
Orange
Mango
Pineapple
Ginger
Sesame
Soy
Bittersweet
---
---
With hundreds of regional culinary styles found across Asia, the possibilities for menu and product inspiration are truly endless. In our latest video, Chef Mark Serice encourages you to explore the tastes, textures and cooking methods of different countries, noting the balance of sweet, sour, bitter and umami flavors that bring these dishes to life.
INSIGHTS AND INDUSTRY APPLICATIONS
---
---
---
AUTHENTICITY:

The uniqueness of a food or drink, for example authentic or unusual flavors, is so important now as before the pandemic for 49% of Latinos.
(Globaldata, Aug 2020).
SNACKING:

CPG snacks are a fun, low-commitment way for consumers to try new Asian flavors—think crackers/crisps, nuts and meat snacks with Asian-inspired seasoning blends. Another great opportunity is in the traditional but seasoned snacks with local flavor characteristic of the Asian continent.
TECHNIQUE

61% of Colombians prefer Thai Helado-an iron plate-made ice cream technique or I-Tim-Pad, or Rolled Ice Cream-that uses a artisan techniques from Thailand (Southeast Asia).
(Technomic, Sep 2020).
PROTEIN PROCESSORS:

Asian flavors and recipes continue to be popular in protein-based retail products and restaurant dishes around the world, and the introduction of plant-forward meat analogues is taking innovation even further.
ADAPTATION:

New launches of Japanese peanuts in Brazil have grown by 300% in the last 4 years and there is a great opportunity for innovation in flavor. Another growth opportunity is forseen for others Asian-inspired snacks such as dumplings and egg rolls, in Central and South America. [Mintel, Dec 2020].
QSR/FOODSERVICE:

Asian restaurants are prevalent across all regions, many of which have the culinary influence of Asian immigrant populations.
Culinary Inspiration
Get inspired by these on-trend concepts to create innovative offerings using Griffith Foods products. Please contact your Griffith Foods representative to learn how this trend can be customized to your product portfolio.
Glazed Thai Wings
The technique of "glazing" food is used in different Asian countries, such as Thailand and China. It consists of adding a sauce during cooking process, which will caramelize and adhere to food. Besides being very versatile, this technique adds a lot of flavor and improves the appearance of dishes. One application idea is to add a Thai Sweet Chili sauce at the time of finishing a cook process of chicken wings. This step can be performed in the oven or in a hot pan, always being careful not to burn the product.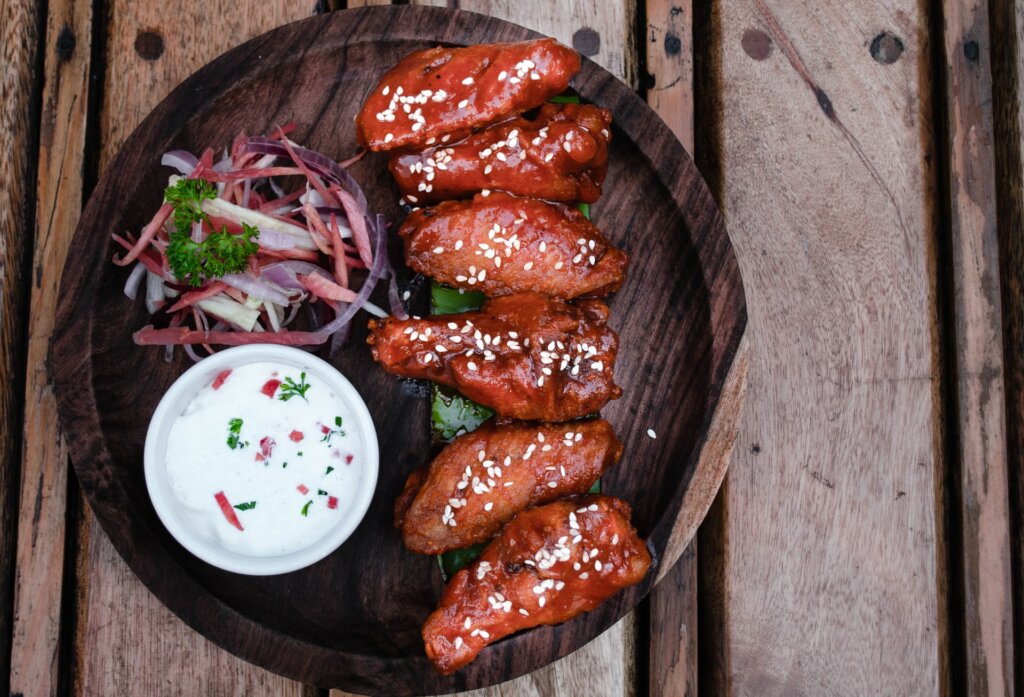 "Asian cuisine uses many ingredients that contribute to the umami taste of the preparations. One of these ingredients is miso paste, which can be used both to make soups and to give a special touch to a sauce."

Chef Daniel Roseira, Brazil.
Pad Thai
This dish has become an option that takes us have an experience of Thai flavors and textures out of the ordinary. It is considered a balanced dish and has its
gluten free version, vegetarian option and we can see new versions in KETO recipes. The base of this dish is rice noodles, egg, fish sauce, tamarind paste, red pepper, and any combination of protein, chicken, shrimp or tofu. Decorated with chopped or roasted peanuts and cilantro, some Korean experts can use even two types of soy sauce. It is usually served with a lemon wedge.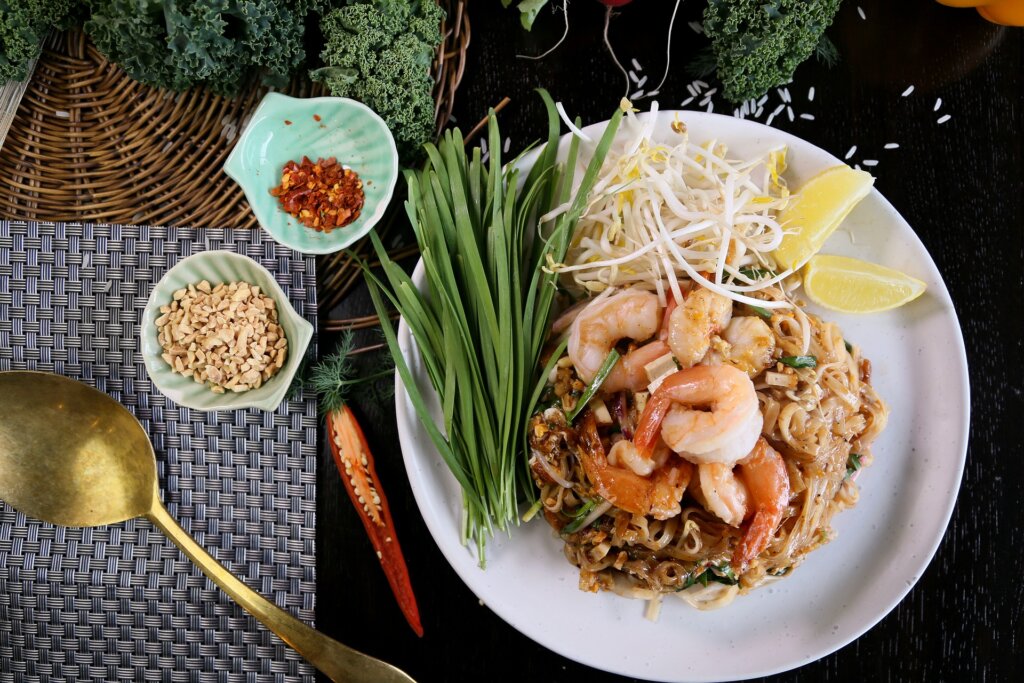 "Use low sodium soy sauce. If you want to use peanuts or some seeds, brown them at medium temperature in a pan to highlight their aromatic attributes and obtain more pronounced flavors. Did you know that rice pasta does not require long cooking? You can put it in a bowl with room temperature water and let it rest for about 10 minutes. To make a keto variation you can use zucchini or carrot paste."

Chef Valeria Hernández, Costa Rica
Sauteed or Grilled Tofu
Tofu is a basic product of Japanese gastronomy. It's flavor is neutral, however you can find smoked and flavored tofu. It can be firm or softer in texture, and in the kitchen it is easy to use. To prepare it, cut the tofu into 2×2 cm cubes and flavor it with a mixture of Mustard and Teriyaki sauce. Add sesame oil and fresh Chinese onion. Marinate 1 hour and then sauté to caramelize it. It is an excellent option to add to salads. To prepare it on the grill, you have to cut the tofu into slices of a centimeter and a half of wide, marinate in soy sauce, lemon, seaweed and sugar. Before putting it on the grill, pass it through some oil and grill until golden brown. The nutritional benefits of tofu are excellent as it provides protein and iron, as well as being easy to digest.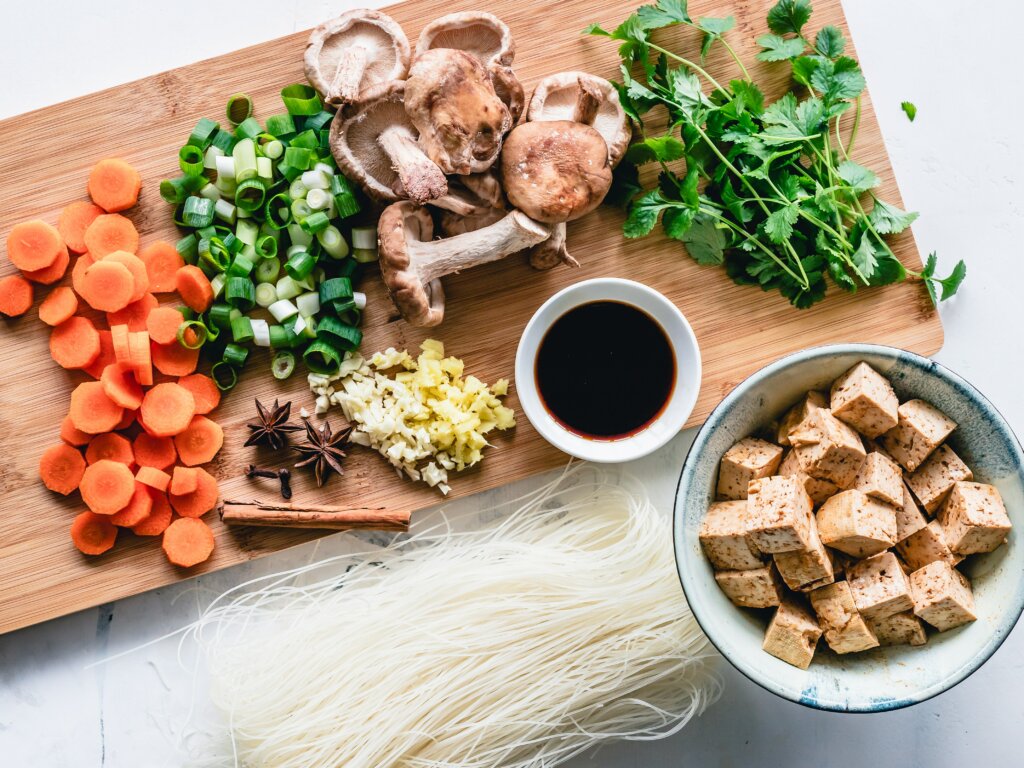 "The most used cooking method in Chinese and South-East Asian cuisine is the "Sauté", or sauteed. This method allows you to keep all the sensotial attributes of food in terms of taste, texture and visual. The art of the table in Asian cuisine usually consists of: a medium bowl on a flat plate, chopsticks on bamboo, a spoon on ceramic with short sleeves, small bowls for sauces, a glass for the alcoholic beverage and a cup for tea at the end of the meal. The hot and scented napkins are put on before starting the meal or during the time of dishes that require to be eaten with the fingers"

Chef Davide Bossi, Colombia.
At Griffith Foods, sustainability is at the core of our business strategy and our Purpose as a company. Our triple bottom-line approach to doing business is embedded in everything we do, guiding us to think about People, Planet and Performance at all times. Our sustainability mindset not only informs our decisions but also provides the lens through which we view the future of our entire business and our role in creating a better nourished world. Learn more about our goals and initiatives in our recently released Griffith Foods 2020 Sustainability Report. (Available in English, Spanish and Portuguese)
---
---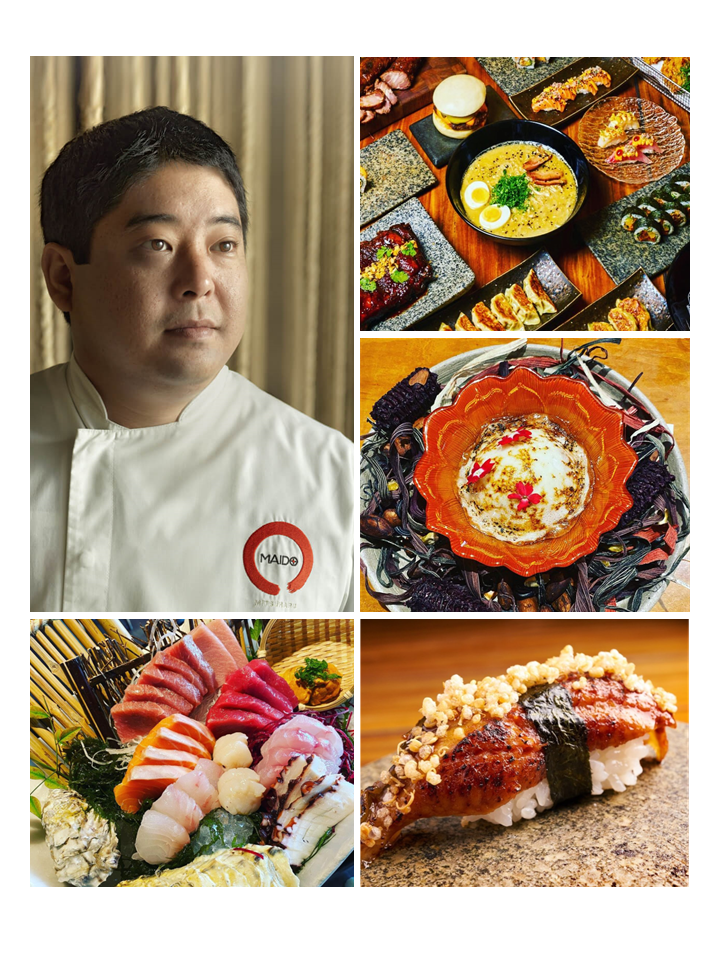 Food Service Inspiration:
MAIDO RESTAURANT – Peru
According to the San Pellegrino guide to the best restaurants in the world, "Maido" is the best restaurant in Latin America. It is located in Lima, the capital city of Peru, where thanks to the Japanese origin of chef Mitsuharu "Micha" Tsumura and the access to high-quality Asian raw materials, they prepare authentic and unique dishes.
The promise of this restaurant is that the customer has a unforgetable experience. Nikkey cuisine -Peruvian/Japanese fusion- and Japanese cuisine alternate in its tasting menus that also include a 100% vegetarian menu.
For more information visit https://maido.pe/#conoce
Images from: https://www.instagram.com/mitsuharu_maido/
Sources:
"China," TasteAtlas, accessed August 2021.
Maggie Hiufu Wong, "Regional Chinese food: 8 lesser-known cuisines worth trying," CNN, July 11, 2019.
Mintel, 2021 FlavorIQ® Global Trends and Insights Report, January 2021.